We Recommend These Resources:

Bach Steel - Experts at historic truss bridge restoration.

Metropolis Bridge
Primary Photographer(s): Nathan Holth
Bridge Documented: November 2, 2013
Key Facts
Location
Metropolis: Massac County, Illinois and McCracken County, Kentucky: United States
Technical Facts
Rehabilitation Date
Not Available or Not Applicable
Main Span Length
720 Feet (219.5 Meters)
Structure Length
5,701 Feet (1737.5 Meters)
Roadway Width
37 Feet (11.28 Meters)
Spans
5 Main Span(s)
NBI Number
Not Applicable


View Information About HSR Ratings
Bridge Documentation
This railroad bridge is nationally significant for having broke the world record for the longest simple truss span when completed, thanks to one of its spans being 720 foot long. Even today, the span likely remains among the longest simple truss spans in existence. There were several reasons why a simple span was selected instead of what might be expected for a span of this size, a cantilever truss, one of them being the presence of sand in the area as opposed to solid bedrock.
The bridge was built jointly under the direction of both the Chicago, Burlington and Quincy Railroad Company and the Nashville, Chattanooga, and St. Louis Railway Company. They formed a joint venture called the Paducah and Illinois Railroad Company. The first train crossed the bridge on December 15, 1917.
The initial design of this bridge was carried out with C. H. Cartlidge as Chief Engineer and Ralph Modejski as consulting engineer. Cartlidge was the bridge engineer of the Chicago, Burlington and Quincy Railroad. However, Cartlidge died during the design, and Modjeski took complete design control from that point forward. Ralph Modesjki is one of the most prolific and significant bridge engineers in North America. Many of the largest and most significant historic bridges in North America are associated with him. Even if he was not the lead designer, it was not uncommon for engineers to at least hire Modjeski to serve as a consultant to review plans for large suspension and truss bridges.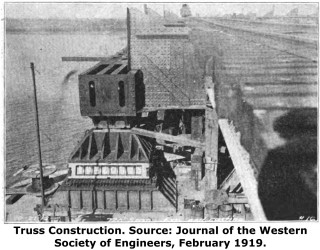 As originally designed, the main portion of the bridge consists from north to south, a 300' nine panel Parker through truss, four 551 foot Pennsylvania through truss spans, a 720 foot Pennsylvania through truss span, and a 246 foot eight panel Pratt deck truss span. The bridge connections are a combination of riveted connections and riveted connections. The location of the main navigation channel along the southern shore of the river and a requirement by the government for a 700 foot clear navigation channel is what determined the placement and size of the 720 foot span. South of the main spans is a 604 foot series of approach deck plate girder spans, and north of the main spans is a 1593 foot series of approach deck plate girder spans. The total weight of steel in the bridge as built is 33,678,826 pounds. The 720 foot span alone has 8,023,499 pounds of steel.
The Parker truss span is a bit of a mystery. The bridge has a grey paint on it unlike the other spans. It also looks stylistically different. Some have speculated that this span was replaced for some reasons. However, it is not known if this is the case, or if the bridge just looks different because it is shorter. In any case, it is old since it is of riveted construction. Assuming the span is original, one has to wonder why it is painted differently.
The bridge superstructure was constructed using the caisson method, and the caissons are of unusually large dimensions, another result of the unusual soil conditions at this location.
This bridge was built around the same time as another record-breaking bridge that Modjeski was involved with, the Quebec Bridge. The K-truss system was invented for the use of this bridge. Therefore it is unsurprising that Modjeski considered using the newly developed K-truss configuration here for the 720 foot span. However, it was found to be uneconomical.
The bridge was designed to accommodate two sets of tracks, however has always only carried one. The through truss spans are wide enough for the two tracks, however the approach deck plate girder spans were only laid out for a single track. Adding a track would have required adding another pair of girders on the unused half of the two-track width bents. The two girders for the existing single track were placed centrally on the bents, so they would have to be slid over a bit to hold the extra two girders for a second track.
Be sure to view the historical report made about the design and construction of this bridge by Ralph Modeski. The report was digitized by Google, which was very helpful, but the folks at Google were apparantly too lazy to unfold the fold-out drawings of the bridge that this report included. As such, until HistoricBridges.org can get a paper copy of the report and take photos of fold-out drawings, those are not available. However, the full text and historical photos are available.

Photo Galleries and Videos: Metropolis Bridge

Maps and Links: Metropolis Bridge
Coordinates (Latitude, Longitude):

View Bridge Location In:
Bridgehunter.com: View listed bridges within a half mile of this bridge.

Bridgehunter.com: View listed bridges within 10 miles of this bridge.
Google Streetview (If Available)
Apple Maps (Via DuckDuckGo Search)
Apple Maps (Apple devices only)
Android: Open Location In Your Map or GPS App
Flickr Gallery (Find Nearby Photos)
Wikimedia Commons (Find Nearby Photos)
Directions Via Sygic For Android
Directions Via Sygic For iOS and Android Dolphin Browser
USGS National Map (United States Only)
Historical USGS Topo Maps (United States Only)
CalTopo Maps (United States Only)


© Copyright 2003-2022, HistoricBridges.org. All Rights Reserved. Disclaimer: HistoricBridges.org is a volunteer group of private citizens. HistoricBridges.org is NOT a government agency, does not represent or work with any governmental agencies, nor is it in any way associated with any government agency or any non-profit organization. While we strive for accuracy in our factual content, HistoricBridges.org offers no guarantee of accuracy. Information is provided "as is" without warranty of any kind, either expressed or implied. Information could include technical inaccuracies or errors of omission. Opinions and commentary are the opinions of the respective HistoricBridges.org member who made them and do not necessarily represent the views of anyone else, including any outside photographers whose images may appear on the page in which the commentary appears. HistoricBridges.org does not bear any responsibility for any consequences resulting from the use of this or any other HistoricBridges.org information. Owners and users of bridges have the responsibility of correctly following all applicable laws, rules, and regulations, regardless of any HistoricBridges.org information.