We Recommend These Resources:

Bach Steel - Experts at historic truss bridge restoration.

Upper Bluffton Bridge
Iowa Bridge Number 348810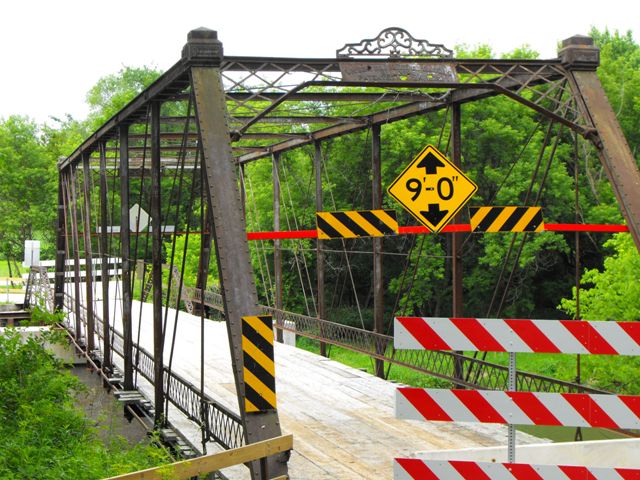 Primary Photographer(s): Nathan Holth and Rick McOmber
Bridge Documented: June 30, 2009
Key Facts
Location
Bluffton: Winneshiek County, Iowa: United States
Technical Facts
Rehabilitation Date
Not Available or Not Applicable
Main Span Length
116 Feet (35.4 Meters)
Structure Length
154 Feet (46.9 Meters)
Roadway Width
14.8 Feet (4.51 Meters)
Spans
1 Main Span(s) and 1 Approach Span(s)
NBI Number
348810


View Information About HSR Ratings
Bridge Documentation
This bridge no longer exists!
This historic bridge was demolished and replaced!
This bridge's through truss main span is a textbook Wrought Iron Bridge Company bridge, meaning it retains unparalleled historic integrity and is essentially an exact copy of a design that can be found in catalogs for the company at the time. Most noteworthy is it retains the distinctive cast iron caps over the top chord / end post connection at the hip vertical, which the company placed on bridges built during this period. Cast iron bearing plates and bridge shoe details are present on this bridge. It also is very noteworthy for its approach span, which is an extremely rare example of a Queenpost truss.
Information and Findings From Iowa's Historic Bridge Inventory
Discussion of Bridge
In the 1870s Winneshiek County embarked on an ambitious bridge construction program, in which many of the earliest wooden structures were replaced with more substantial iron spans on stone substructures. Beginning in 1873, the county, under the direction of bridge commissioner George Winship, built several bowstring arch-trusses, most of which were supplied by the Wrought Iron Bridge Company, of Canton, Ohio.

By 1880 the county had erected a total of 32 iron bridges, all built under Winship's supervision. That year the county contracted with WIBCo for two medium-span bridge superstructures. The first was the Lawrence Bridge. The other was a 166-foot-span Pratt through truss replacement structure for the Upper Bluffton Bridge, placed over the Upper Iowa River on existing abutments. Costing $2,831.23, the Upper Bluffton Bridge featured a pin-connected Pratt truss based on patents held by David Hammond, WIBCo's president.

The Upper Bluffton and Lawrence Bridges marked a watershed for bridge building in Winneshiek County. The county supervisors had contracted for small-scale, all-iron trusses in the 1870s (Pratt half-hips and bedsteads, primarily), but these two trusses marked the first time that the county purchased longer-span trusses instead of bowstrings for rural crossings. The bridges presaged the building trend in the county for the rest of the 19th century. Winneshiek County continued to build iron, and later steel, trusses on its rural roads in the 1880s and 1890s. This change in character of bridges occurred well within the mainstream of state and national trends, for after the 1880 bowstring was specified increasingly less frequently for roadway crossings. WIBCo, at the forefront of bowstring innovation in the 1870s, was also a leader in the shift toward other structural configurations a decade later. David Hammond foresaw the decline of the bowstring in the mid-1870s, as his company was reaching its zenith on the basis of bowstring sales, and he directed his patent activities more toward straight-chorded trusses after that point.

WIBCo maintained an extensive catalog of bridge types that ranged from the exotic to the commonplace. With its pinned connections and patented Pratt web configuration, the Upper Bluffton Bridge represented the former rather than the latter. It was one of thousands of such pinned Pratts erected throughout Iowa in the late 19th century. The Upper Bluffton Bridge is technologically significant as a very early, well-preserved example of this mainstay wagon bridge type. In Winneshiek County it represented the first time the county used a truss rather than a bowstring for a rural crossings. A local harbinger of prevailing bridge trends, the Upper Bluffton Bridge is a significant transportation-related resource [adapted from Crow-Dolby and Fraser 1992].
Bridge Considered Historic By Survey: Yes

Photo Galleries and Videos: Upper Bluffton Bridge

Maps and Links: Upper Bluffton Bridge
This historic bridge has been demolished. This map is shown for reference purposes only.
Coordinates (Latitude, Longitude):

View Bridge Location In:
Bridgehunter.com: View listed bridges within a half mile of this bridge.

Bridgehunter.com: View listed bridges within 10 miles of this bridge.
Google Streetview (If Available)
Apple Maps (Via DuckDuckGo Search)
Apple Maps (Apple devices only)
Android: Open Location In Your Map or GPS App
Flickr Gallery (Find Nearby Photos)
Wikimedia Commons (Find Nearby Photos)
Directions Via Sygic For Android
Directions Via Sygic For iOS and Android Dolphin Browser
USGS National Map (United States Only)
Historical USGS Topo Maps (United States Only)
CalTopo Maps (United States Only)


© Copyright 2003-2021, HistoricBridges.org. All Rights Reserved. Disclaimer: HistoricBridges.org is a volunteer group of private citizens. HistoricBridges.org is NOT a government agency, does not represent or work with any governmental agencies, nor is it in any way associated with any government agency or any non-profit organization. While we strive for accuracy in our factual content, HistoricBridges.org offers no guarantee of accuracy. Information is provided "as is" without warranty of any kind, either expressed or implied. Information could include technical inaccuracies or errors of omission. Opinions and commentary are the opinions of the respective HistoricBridges.org member who made them and do not necessarily represent the views of anyone else, including any outside photographers whose images may appear on the page in which the commentary appears. HistoricBridges.org does not bear any responsibility for any consequences resulting from the use of this or any other HistoricBridges.org information. Owners and users of bridges have the responsibility of correctly following all applicable laws, rules, and regulations, regardless of any HistoricBridges.org information.