We Recommend These Resources:

Bach Steel - Experts at historic truss bridge restoration.

Zoarville Station Bridge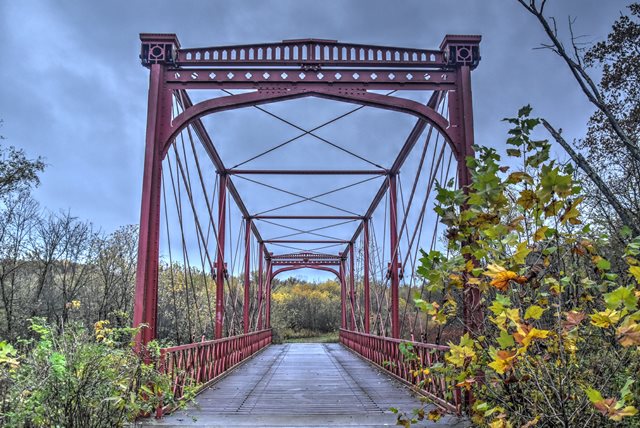 Primary Photographer(s): Nathan Holth and Rick McOmber
Bridge Documented: July 31, 2007 and October 30, 2016
Key Facts
Location
Rural: Tuscarawas County, Ohio: United States
Technical Facts
Rehabilitation Date
2007
Main Span Length
111 Feet (33.9 Meters)
Structure Length
111 Feet (33.9 Meters)
Roadway Width
17 Feet (5.18 Meters)
Spans
1 Main Span(s)
NBI Number
Not Applicable


View Information About HSR Ratings
Bridge Documentation

This bridge is well-known among historic bridge enthusiasts because it is such an important structure. The bridge has been disassembled for many years as it was restored. Today, the waiting is over. This bridge, one of only two remaining Fink truss bridges in the entire country now stands again as a testimony to the creativity and durability of the metal truss bridge as a bridge type. Because it is the last of its type, features unique engineering, uses Phoenix columns in its structure, and is ancient with an 1868 construction date, this is a bridge that is rivaled by few in terms of importance.
The bridge features the highly unusual Fink truss configuration. These endposts are vertical and utilize a modified Phoenix Column. Phoenix columns are also used for the top chord and vertical members. Phoenix columns were a special patented type of built-up member. Very few examples of them remain today.
The bridge is also noteworthy for its high levels of aesthetic value. Most notably, the portal of this bridge has a very unique and stunning design to it that makes standing before this bridge quite a visual experience.
This bridge was originally part of a three span structure at Canal Dover, Ohio. The existing span was recovered from that bridge and relocated in 1905. That crossing was abandoned in the 1940s, and no further changes occurred until the 21st century, when restoration of the bridge began.
The restoration of this bridge was done with excruciating attention paid to maintaining the historic integrity of the bridge. Unfortunately, some of the original materials were too deteriorated to use, but whenever something was replaced, it was replicated exactly, including the use of rivets. As a result, some of the Phoenix Columns are not original, but they have been designed identically to the originals.
The Historic American Engineering Record provides a quality historic and technical narrative for this structure, and notes some very interesting facts about the design of this structure. Viewing their data pages for this structure is highly recommended.
Information and Findings From Ohio's Historic Bridge Inventory
Summary of Significance
The Zoarville Station Bridge, built in 1868, is a rare and very technologically significant Fink thru truss (see HAER OH-84). It is NR listed (1996). The bridge, which is now out of vehicular service, was rehabilitated ca. 2000 as part of a cooperative project directed by the Tuscarawas County Engineer and the Camp Tuscazoar Foundation. TEA funding was used and an official determination of no adverse effect was made in 2000. It reopened to pedestrians at a dedication ceremony in 2007. This is among the most historically significant bridges in the nation, documenting an important design that developed along with metal trusses and railroads in the mid 19th century but that is now all but gone save for this bridge.
Justification
A nationally rare example of its type and design, the bridge has been altered. It has high significance because it is rare.
Bridge Considered Historic By Survey: Yes
This bridge is tagged with the following special condition(s): Phoenix Columns and Reused

Photo Galleries and Videos: Zoarville Station Bridge

Maps and Links: Zoarville Station Bridge
Coordinates (Latitude, Longitude):

View Bridge Location In:
Bridgehunter.com: View listed bridges within a half mile of this bridge.

Bridgehunter.com: View listed bridges within 10 miles of this bridge.
Google Streetview (If Available)
Apple Maps (Via DuckDuckGo Search)
Apple Maps (Apple devices only)
Android: Open Location In Your Map or GPS App
Flickr Gallery (Find Nearby Photos)
Wikimedia Commons (Find Nearby Photos)
Directions Via Sygic For Android
Directions Via Sygic For iOS and Android Dolphin Browser
USGS National Map (United States Only)
Historical USGS Topo Maps (United States Only)
CalTopo Maps (United States Only)


© Copyright 2003-2021, HistoricBridges.org. All Rights Reserved. Disclaimer: HistoricBridges.org is a volunteer group of private citizens. HistoricBridges.org is NOT a government agency, does not represent or work with any governmental agencies, nor is it in any way associated with any government agency or any non-profit organization. While we strive for accuracy in our factual content, HistoricBridges.org offers no guarantee of accuracy. Information is provided "as is" without warranty of any kind, either expressed or implied. Information could include technical inaccuracies or errors of omission. Opinions and commentary are the opinions of the respective HistoricBridges.org member who made them and do not necessarily represent the views of anyone else, including any outside photographers whose images may appear on the page in which the commentary appears. HistoricBridges.org does not bear any responsibility for any consequences resulting from the use of this or any other HistoricBridges.org information. Owners and users of bridges have the responsibility of correctly following all applicable laws, rules, and regulations, regardless of any HistoricBridges.org information.