We Recommend These Resources:

Bach Steel - Experts at historic truss bridge restoration.
Historic Bridge Finder App: Find Nearby Bridges

Eastern Avenue Bridge
Primary Photographer(s): Nathan Holth
Bridge Documented: June 20, 2013
Key Facts
Technical Facts
Rehabilitation Date
Not Available or Not Applicable
Main Span Length
148 Feet (45.11 Meters)
Structure Length
148 Feet (45.11 Meters)
Roadway Width
62 Feet (18.9 Meters)
Spans
1 Main Span(s)
NBI Number
Not Applicable

Bridge Documentation
This bridge was built in 1933 and is a rare example of a highway Baltimore truss bridge, and an even more rare example of a truss bridge with three truss lines in Canada. The use of a three truss line design allowed for a wider roadway. The third truss line, positioned in the center of the roadway, divides the bridge roadway into two halves. This bridge was reportedly built for $70,864.07. The bridge was abandoned in 1964 when the Don Valley Parkway's construction cut the road off. A new Eastern Avenue Bridge that was compatible with the Don Valley Parkway was constructed some distance to the north of this bridge.
This bridge is located right beside the Gas Line Bridge, which is also a very unusual structure.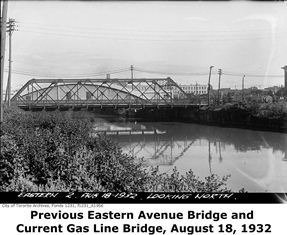 The previous bridge at this location was reportedly built in 1900 by the Hamilton Bridge Company of Hamilton, Ontario. This is based on a 1900 Toronto Annual Report of the City Engineer that states that contracts were awarded to the Hamilton Bridge Company for an Eastern Avenue Bridge. Its dimensions were described in this document as "132 foot span, 22 foot roadway, two seven foot sidewalks." Historical photos show the bridge as a rivet-connected double-Warren through truss bridge. A photo found in the City of Toronto archives and labeled with the date ca. 1890s may in reality by a ca. 1900 showing the bridge newly completed. At this time, the Gas Line Bridge did not exist, although sometime after the bridge was built, the first Gas Line Bridge (which a metal truss bridge) was completed. Reportedly, the previous Eastern Avenue Bridge was destroyed in spring floods in 1933, which prompted construction of the current bridge.

Photo Galleries and Videos: Eastern Avenue Bridge


© Copyright 2003-2019, HistoricBridges.org. All Rights Reserved. Disclaimer: HistoricBridges.org is a volunteer group of private citizens. HistoricBridges.org is NOT a government agency, does not represent or work with any governmental agencies, nor is it in any way associated with any government agency or any non-profit organization. While we strive for accuracy in our factual content, HistoricBridges.org offers no guarantee of accuracy. Information is provided "as is" without warranty of any kind, either expressed or implied. Information could include technical inaccuracies or errors of omission. Opinions and commentary are the opinions of the respective HistoricBridges.org member who made them and do not necessarily represent the views of anyone else, including any outside photographers whose images may appear on the page in which the commentary appears. HistoricBridges.org does not bear any responsibility for any consequences resulting from the use of this or any other HistoricBridges.org information. Owners and users of bridges have the responsibility of correctly following all applicable laws, rules, and regulations, regardless of any HistoricBridges.org information.