We Recommend:

Bach Steel - Experts at historic truss bridge restoration.

Minersville Bridge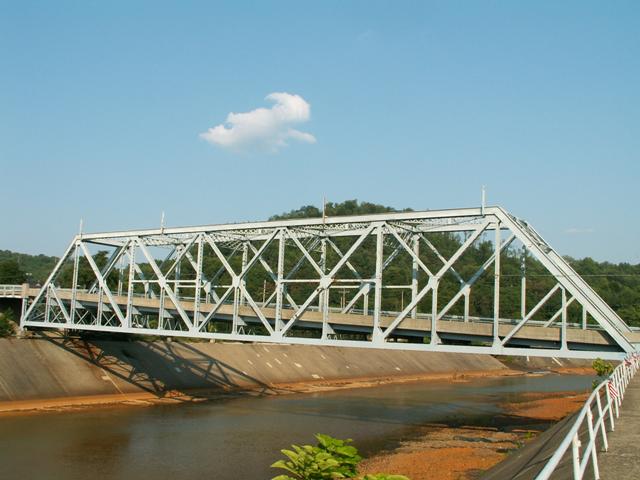 Primary Photographer(s): Nathan Holth and Rick McOmber
Bridge Documented: August 1, 2007
Location
Johnstown: Cambria County, Pennsylvania: United States
Rehabilitation Date
2001
Main Span Length
269.0 Feet (82 Meters)
Structure Length
453.0 Feet (138.1 Meters)
Roadway Width
22 Feet (6.71 Meters)
Spans
1 Main Span(s) and 4 Approach Span(s)
Inventory Number
113039001007660


View Information About HSR Ratings
Bridge Documentation
This is one of the most unusual bridges ever to be seen. The truss structure run either level or slightly inclined, while the deck runs at a noticeable incline through the truss, meaning the deck is not parallel to the chords of the truss. This is not an alteration, and is how the bridge was originally designed. As a result of this bizarre design, there is some very unique details to the bridge. The most obvious is that the higher end of the bridge has less vertical clearance. The builders solved this problem by using a different design of portal bracing at this end, which is a single, solid box beam, which keeps the portal bracing to a minimum. At the lower end where clearance is not a concern, a more standard lattice design portal bracing is present. In addition, the support system for the deck as it runs through the truss varies from end to end. The floor beams rise along with the deck through the panels, but the bottom chord remains parallel. As a result, at the high end, an elaborate system of steel supports and braces connect the deck and floor beams to the bottom chord.
This bridge is, needless to say, among the most unusual of Johnstown's rich collection of historic bridges. It has a high level of historic significance for its unique engineering and design alone. However, it is significant for more reasons than just that. The bridge is significant as a local monument to Johnstown based Cambria Iron Works, a steel fabrication company that was prolific enough that many surviving truss bridges today across the country bear their name on their members. The Minersville Bridge was also apparently actually built by Cambria Iron Works, beyond just fabricating the steel for the bridge. As such, it is a noteworthy memorial to the company. In addition, the Minersville Bridge is noteworthy as a highway truss bridge displaying the uncommon Baltimore truss configuration. Finally, the bridge enjoys even more significance since it is a contributing part of the Cambria City Historic District.
Clearly, this is an important bridge. The routine maintenance and preservation of this beautiful, unique, and historic engineering achievement should come without thinking.

Photo Galleries and Videos: Minersville Bridge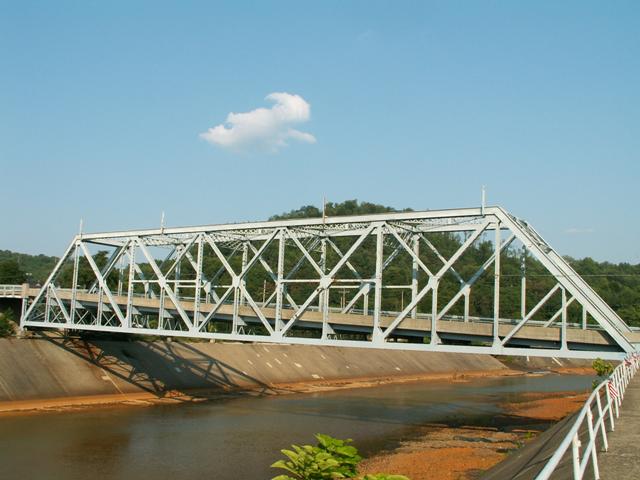 A collection of overview and detail photos. This photo gallery contains a combination of Original Size photos and Mobile Optimized photos in a touch-friendly popup viewer.
Alternatively,
Browse Without Using Viewer

Maps and Links: Minersville Bridge
Coordinates (Latitude, Longitude):

Search For Additional Bridge Listings:
Bridgehunter.com: View listed bridges within 0.5 miles (0.8 kilometers) of this bridge.

Bridgehunter.com: View listed bridges within 10 miles (16 kilometers) of this bridge.
HistoricBridges.org Bridge Browser: View listed bridges within 0.5 miles (0.8 kilometers) of this bridge.
HistoricBridges.org Bridge Browser: View listed bridges within 10 miles (16 kilometers) of this bridge.
2021 National Bridge Inventory: View listed bridges within 0.5 miles (0.8 kilometers) of this bridge.

Additional Maps:
Google Streetview (If Available)
GeoHack (Additional Links and Coordinates)
Apple Maps (Via DuckDuckGo Search)
Apple Maps (Apple devices only)
Android: Open Location In Your Map or GPS App
Flickr Gallery (Find Nearby Photos)
Wikimedia Commons (Find Nearby Photos)
Directions Via Sygic For Android
Directions Via Sygic For iOS and Android Dolphin Browser
USGS National Map (United States Only)
Historical USGS Topo Maps (United States Only)
Historic Aerials (United States Only)
CalTopo Maps (United States Only)


© Copyright 2003-2023, HistoricBridges.org. All Rights Reserved. Disclaimer: HistoricBridges.org is a volunteer group of private citizens. HistoricBridges.org is NOT a government agency, does not represent or work with any governmental agencies, nor is it in any way associated with any government agency or any non-profit organization. While we strive for accuracy in our factual content, HistoricBridges.org offers no guarantee of accuracy. Information is provided "as is" without warranty of any kind, either expressed or implied. Information could include technical inaccuracies or errors of omission. Opinions and commentary are the opinions of the respective HistoricBridges.org member who made them and do not necessarily represent the views of anyone else, including any outside photographers whose images may appear on the page in which the commentary appears. HistoricBridges.org does not bear any responsibility for any consequences resulting from the use of this or any other HistoricBridges.org information. Owners and users of bridges have the responsibility of correctly following all applicable laws, rules, and regulations, regardless of any HistoricBridges.org information.