We Recommend These Resources:

Bach Steel - Experts at historic truss bridge restoration.
Historic Bridge Finder App: Find Nearby Bridges

Martins Creek Viaduct
Kingsley Bridge
Primary Photographer(s): Nathan Holth
Bridge Documented: May 26, 2007
Key Facts
Location
Rural: Susquehanna County, Pennsylvania: United States
Technical Facts
Rehabilitation Date
Not Available or Not Applicable
Main Span Length
150 Feet (45.72 Meters)
Structure Length
1600 Feet (487.68 Meters)
Roadway Width
Not Available
Spans
10 Main Span(s)
NBI Number
Not Applicable

Bridge Documentation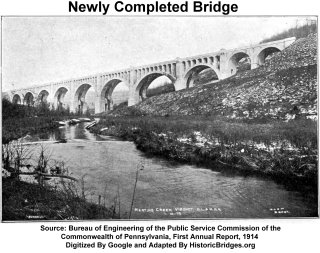 This bridge, which features seven main spans and some smaller approach arch spans, is the "little" brother of the Tunkhannock Viaduct. If you have never visited either bridge, you might want to visit this bridge first, and then continue south to the Tunkhannock Viaduct, because if you haven't seen the Tunkhannock Viaduct, this bridge will still drop your jaw in terms of how large and impressive it is. Indeed, the Kingsley Bridge is a large bridge, it is just overshadowed by the incredible record-breaking size of the Tunkhannock Viaduct. Both bridges however are essential stops on any area bridge trip, and both are rare, large, and historic structures worthy of preservation.
Sadly, the Kingsley Bridge does not feature any interpretive signage like the Tunkhannock Viaduct does. HistoricBridges.org was unable to locate an original plaque on the bridge either, although it is possible it was on the other end of the bridge, on the other side of the creek.
In many ways, this bridge is as much worth a visit as the Tunkhannock Viaduct, because this bridge is easier to get a look at as far as details. The Tunkhannock Viaduct is so high up you can hardly get a good look at the architectural details on the arch and railings. It is worth noting that the details on the Kingsley Bridge are slightly different however, including railing and pier details. It is unknown if the railings on the Kingsley Bridge are additions like the Tunkhannock Viaduct.
Finally, EBay had the below postcard on an auction some time ago, showing a postcard of the bridge many years ago. It offers a nice view of the bridge. It is unclear how many more postcards like this one there might be out there.

Photo Galleries and Videos: Martins Creek Viaduct


© Copyright 2003-2019, HistoricBridges.org. All Rights Reserved. Disclaimer: HistoricBridges.org is a volunteer group of private citizens. HistoricBridges.org is NOT a government agency, does not represent or work with any governmental agencies, nor is it in any way associated with any government agency or any non-profit organization. While we strive for accuracy in our factual content, HistoricBridges.org offers no guarantee of accuracy. Information is provided "as is" without warranty of any kind, either expressed or implied. Information could include technical inaccuracies or errors of omission. Opinions and commentary are the opinions of the respective HistoricBridges.org member who made them and do not necessarily represent the views of anyone else, including any outside photographers whose images may appear on the page in which the commentary appears. HistoricBridges.org does not bear any responsibility for any consequences resulting from the use of this or any other HistoricBridges.org information. Owners and users of bridges have the responsibility of correctly following all applicable laws, rules, and regulations, regardless of any HistoricBridges.org information.