We Recommend These Resources:

Bach Steel - Experts at historic truss bridge restoration.

Folks Road Bridge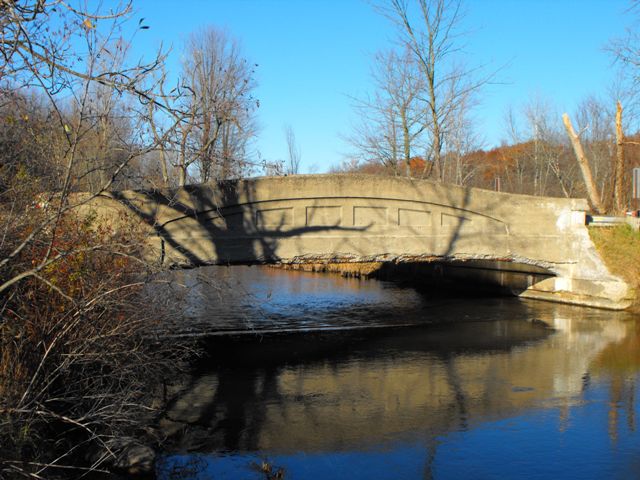 Primary Photographer(s): Nathan Holth
Bridge Documented: 2006 and November 1, 2010
Key Facts
Location
Rural: Jackson County, Michigan: United States
Technical Facts
Rehabilitation Date
Not Available or Not Applicable
Main Span Length
48 Feet (14.6 Meters)
Structure Length
50 Feet (15.2 Meters)
Roadway Width
10.8 Feet (3.29 Meters)
Spans
1 Main Span(s)
NBI Number
38200009000B010


View Information About HSR Ratings
Bridge Documentation
This bridge no longer exists!
This historic bridge was demolished and replaced in 2013!
In terms of historic significance, these bridges should in fact be considered just as important as metal truss bridges for two reasons. One being that there are less concrete camelbacks left in the state than truss bridges. Second, concrete camelbacks were mainly only built in Michigan and only isolated examples have been found outside of Michigan (mainly in neighboring Ohio), making them nationally rare. Unfortunately, this does not discourage road commissions from demolishing them. Although there is some spalling at the ends of the girders, this is an otherwise good example of a 50 foot long concrete camelback bridge. The bridge was built in 1923, making it a relatively old example of the type as well. This is the last remaining concrete camelback in Jackson County and is significant in that regard as well.
In 2006, the bridge was posted at a 28-30-45 ton weight limit. Narrow Bridge signage was posted as of 2006. By 2010, the bridge had been narrowed to one lane, with traffic using the north side of the bridge. Plans for demolition and replacement were also being made at this time. Why were these actions taken? This appeared to be due to spalling and deterioration on the underside of the southern half of the deck. The application of an asphalt overlay on the deck of the bridge is of particular concern here. While this overlay may improve riding quality for the bridge and provide a short term improvement in appearance, this act traps moisture within the concrete deck which can lead to rapid deterioration of the deck. Further, dirt builds up in the crack between the overlay and the girder, which causes grass to grow, only further adding to the amount of moisture that can be retained in contact with the deck. Field observations in 2006 by HistoricBridges.org indicated that this dirt buildup was not being routinely removed from the deck. This bridge demonstrates that either changes in funding or training for local county road commissions is needed so that short-term repairs that have an adverse effect on the long term service life of a bridge are avoided, and instead more sensitive repair measures are taken. Concrete decks on bridges such as the Folks Road Bridge that develop potholes should be carefully patched with concrete, and no asphalt overlay should be applied. Also, any dirt buildup along the edges of the roadway should be cleaned away at minimum, on an annual basis. Simple measures such as these could drastically increase the service life of bridges such as this, both preserving history and saving taxpayer dollars.
This beautiful bridge is to be demolished and replaced with a hideously ugly slab of concrete devoid of any aesthetic treatment and will visually look like exactly like what has been passing for a "bridge" in Michigan for the past couple decades.
Instead of the current plan to completely remove this beautiful historic bridge, an innovative solution would be to remove the deck of the historic bridge and insert a new superstructure, deck, and a potentially heavily rebuilt abutment system in between and under the girders of the bridge. This new structure would support the load of traffic, with the girders serving only as barriers and decorative elements for the new bridge. The bridge would retain its existing narrow width, however the relatively low volume of traffic on this road suggests the current width is sufficient.
The fact that a concrete camelback bridge need to be replaced due to structural deficiency at anything less than 200 years of service life is alarming to say the least. Built during the roaring 20s, Michigan's concrete camelback bridges were ridiculously overbuilt. 21st Century engineers favoring demolition and replacement of these bridges like to condemn the girders as non-redundant (meaning if one girder fails the whole bridge could collapse). In theory, this would be true for a two-girder bridge. That being the case, one has to wonder what modern engineers think when they see this photo of the Wadhams Road Bridge demolition. In that photo, both curved girders have been demolished, leaving only the bottom chord and the deck itself, which has already been broken off at one end. In this condition, with both non-redundant girders removed, the bridge is seen holding a full size excavator, which was parked there. Luckily for the contractors, these concrete camelback bridges were seriously overbuilt, and the Wadhams Road Bridge they were replacing did not even need to be replaced, and was structurally sound.

Photo Galleries and Videos: Folks Road Bridge

Maps and Links: Folks Road Bridge
This historic bridge has been demolished. This map is shown for reference purposes only.
Coordinates (Latitude, Longitude):

View Bridge Location In:
Bridgehunter.com: View listed bridges within a half mile of this bridge.

Bridgehunter.com: View listed bridges within 10 miles of this bridge.
Google Streetview (If Available)
Apple Maps (Via DuckDuckGo Search)
Apple Maps (Apple devices only)
Android: Open Location In Your Map or GPS App
Flickr Gallery (Find Nearby Photos)
Wikimedia Commons (Find Nearby Photos)
Directions Via Sygic For Android
Directions Via Sygic For iOS and Android Dolphin Browser
USGS National Map (United States Only)
Historical USGS Topo Maps (United States Only)
CalTopo Maps (United States Only)


© Copyright 2003-2021, HistoricBridges.org. All Rights Reserved. Disclaimer: HistoricBridges.org is a volunteer group of private citizens. HistoricBridges.org is NOT a government agency, does not represent or work with any governmental agencies, nor is it in any way associated with any government agency or any non-profit organization. While we strive for accuracy in our factual content, HistoricBridges.org offers no guarantee of accuracy. Information is provided "as is" without warranty of any kind, either expressed or implied. Information could include technical inaccuracies or errors of omission. Opinions and commentary are the opinions of the respective HistoricBridges.org member who made them and do not necessarily represent the views of anyone else, including any outside photographers whose images may appear on the page in which the commentary appears. HistoricBridges.org does not bear any responsibility for any consequences resulting from the use of this or any other HistoricBridges.org information. Owners and users of bridges have the responsibility of correctly following all applicable laws, rules, and regulations, regardless of any HistoricBridges.org information.