We Recommend:

Bach Steel - Experts at historic truss bridge restoration.

Lincoln Memorial Bridge
George Rogers Clark Bridge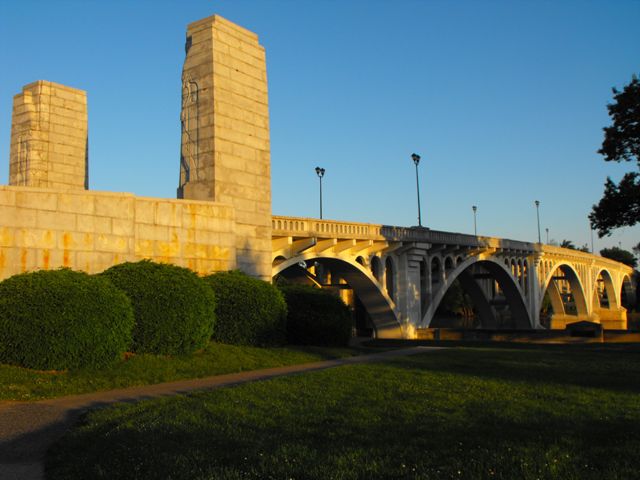 Primary Photographer(s): Nathan Holth and Rick McOmber
Bridge Documented: May 9, 2010
Location
Vincennes: Lawrence County, Illinois and Knox County, Indiana: United States
Rehabilitation Date
1992
Main Span Length
180.0 Feet (54.9 Meters)
Structure Length
1,020.0 Feet (310.9 Meters)
Roadway Width
22 Feet (6.71 Meters)
Spans
7 Main Span(s)
Inventory Number
32670


View Information About HSR Ratings
Bridge Documentation
The Lincoln Memorial Bridge is a very special bridge because it so beautifully unites engineering and architecture making it one of the most beautiful concrete arch bridges encountered on today's roads. The arches themselves are beautifully designed with the curves of the arch spans complimented by the decorative arches that run under the deck line. The design of the railings and cantilevered sidewalks also shows an attention to detail, with the stepped design under the deck at the pier points, where the balustrade railings give way to a paneled design as well. Two massive decorative pylons at the Indiana corners of the bridge depict Native Americans and inscribed on these pylons is "Raovl Josset SC" which refers to Raoul Josset, Sculptor, a French artist. Thanks to a good rehabilitation and what appears to be continuing maintenance, the bridge continues to be in good condition.
The bridge is located next to the large and eye-catching George Rogers Clark Memorial which is the centerpiece for the National Historic Park which is adjacent to the bridge. The bridge itself is in a way part of the memorial, thanks to the decorative pylons. The bridge also could be considered a symbol of the other aspect of American heritage being remembered at this historic crossing, specifically a crossing where Abraham Lincoln crossed on a ferry to enter Illinois for the first time in his life. A small plaque on the Indiana side, and a larger monument on the Illinois side commemorates this event.
The Chicago firm Bennett, Parsons, and Frost was involved with the design of this bridge, likely as architects. Reportedly, the Indiana Highway Commission did the actual structural engineering.
Information and Findings From DHPA Historic Bridge Survey
Statement of Significance
The IDH built very few open-spandrel arches in the 1930s, and none is as decorated as this bridge. The structure is the longest of its kind in Indiana and has an unusually wide center span. The bridge retains its architectural integrity.

Architectural Description
The Main Street, Vincennes, crossing of the Wabash dates at least to 1805 when Colonel Francis Vigo received the first ferry license on the river. In 1868 a timber-truss structure replaced the ferry. A tornado damaged two spans adjacent to Vincennes in 1869, leading in 1875 to their replacement with wrought and cast iron bowstrings of Massillon Iron Bridge Company design and fabrication for $10,000. In 1926 two Parker through-truss spans replaced the timber trusses on the Illinois side, and in 1929 a pair of Warren pony trusses was substituted for the center swing span. Vincennes officials began to talk about the need for a new bridge as early as 1918 but regarded the estimated cost of $200,000 as beyond their means. In 1923 the two state highway departments first announced plans for replacement spans. Then, by 1925, they decided to build a completely new 1,600 structure at a cost of $2,000,000. The Indiana legislature appropriated funds for a memorial to George Rogers Clark on the site of Fort Sackville in 1927, and the sponsors of the memorial urged that the new bridge harmonize with the memorial.

Consequently the Indiana Highway Commission designed a seven-span reinforced concrete arch bridge with open spandrels. The bridge had a central span of 180' flanked on each side by arches of 170', 145', and 80' consecutively. The arch rings consist of two near-segmental ribs springing from fairly high up on the large piers. Spandrel columns braced with arched upper curtain walls transfer the loads from the deck to the ribs. Extended about 4' beyond the columns and ribs on each side, floor beams carry the 20' roadway and 5' sidewalks. The Vincennes approach is decorated with cut stone rails and pylons.
Bibliography
Engineering News-Record, 7 Feb, 7 March 1918, v80, p45, 451: Construction News, 13 Sept 1923, v91, p146; Construction News, 4 June 1925, v94, p320; 21 Jan 1926, v96, p122; 6 Jan 1927, v98, p36; 20 Nov 1930, v105, p811-12; 30 June 1932, v108, p930
Bridge Considered Historic By Survey: Yes

Photo Galleries and Videos: Lincoln Memorial Bridge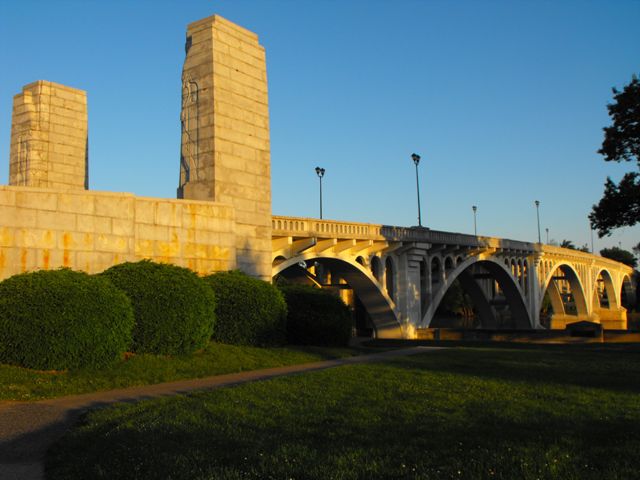 Original / Full Size Photos
A collection of overview and detail photos. This gallery offers photos in the highest available resolution and file size in a touch-friendly popup viewer.
Alternatively,
Browse Without Using Viewer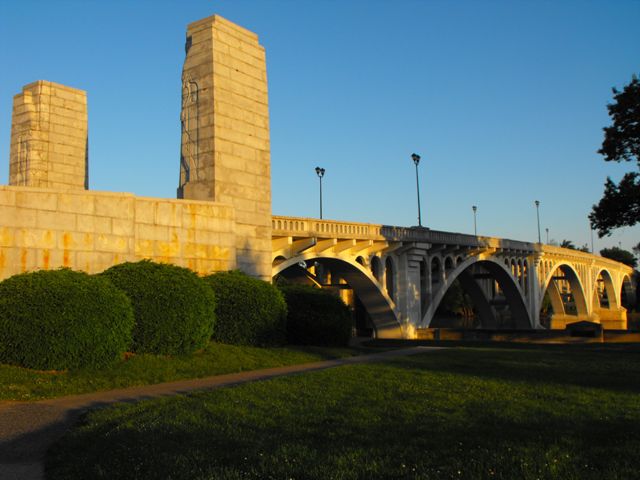 Mobile Optimized Photos
A collection of overview and detail photos. This gallery features data-friendly, fast-loading photos in a touch-friendly popup viewer.
Alternatively,
Browse Without Using Viewer

Maps and Links: Lincoln Memorial Bridge
Coordinates (Latitude, Longitude):

Search For Additional Bridge Listings:
Bridgehunter.com: View listed bridges within 0.5 miles (0.8 kilometers) of this bridge.

Bridgehunter.com: View listed bridges within 10 miles (16 kilometers) of this bridge.
HistoricBridges.org Bridge Browser: View listed bridges within 0.5 miles (0.8 kilometers) of this bridge.
HistoricBridges.org Bridge Browser: View listed bridges within 10 miles (16 kilometers) of this bridge.
2021 National Bridge Inventory: View listed bridges within 0.5 miles (0.8 kilometers) of this bridge.

Additional Maps:
Google Streetview (If Available)
GeoHack (Additional Links and Coordinates)
Apple Maps (Via DuckDuckGo Search)
Apple Maps (Apple devices only)
Android: Open Location In Your Map or GPS App
Flickr Gallery (Find Nearby Photos)
Wikimedia Commons (Find Nearby Photos)
Directions Via Sygic For Android
Directions Via Sygic For iOS and Android Dolphin Browser
USGS National Map (United States Only)
Historical USGS Topo Maps (United States Only)
Historic Aerials (United States Only)
CalTopo Maps (United States Only)


© Copyright 2003-2023, HistoricBridges.org. All Rights Reserved. Disclaimer: HistoricBridges.org is a volunteer group of private citizens. HistoricBridges.org is NOT a government agency, does not represent or work with any governmental agencies, nor is it in any way associated with any government agency or any non-profit organization. While we strive for accuracy in our factual content, HistoricBridges.org offers no guarantee of accuracy. Information is provided "as is" without warranty of any kind, either expressed or implied. Information could include technical inaccuracies or errors of omission. Opinions and commentary are the opinions of the respective HistoricBridges.org member who made them and do not necessarily represent the views of anyone else, including any outside photographers whose images may appear on the page in which the commentary appears. HistoricBridges.org does not bear any responsibility for any consequences resulting from the use of this or any other HistoricBridges.org information. Owners and users of bridges have the responsibility of correctly following all applicable laws, rules, and regulations, regardless of any HistoricBridges.org information.