We Recommend These Resources:

Bach Steel - Experts at historic truss bridge restoration.

Swan Drive Bridge
Primary Photographer(s): Nathan Holth
Bridge Documented: October 11, 2009
Key Facts
Location
Grosse Ile: Wayne County, Michigan: United States
Construction Date and Builder / Engineer
By Builder/Contractor:
Unknown
Technical Facts
Rehabilitation Date
1950
Main Span Length
80 Feet (24.3 Meters)
Structure Length
88 Feet (26.8 Meters)
Roadway Width
20 Feet (6.1 Meters)
Spans
1 Main Span(s)
NBI Number
82303H00024B010


View Information About HSR Ratings
Bridge Documentation
This bridge's future is at risk!
Bridge Status: At risk for demolition and replacement in 2021.
This bridge is an attractive pony truss, and is the only truss bridge on the interior of the island of Grosse Ile. The bridge displays unused holes on the bottom chord and on gusset plate extending beyond the verticals / outriggers and this suggests that the bridge once most likely held sidewalks, or less likely a pipe attachment. The bridge also has a supplemental pier placed under the hip vertical on the eastern end of the bridge. All of these elements together suggest that the bridge was relocated from another location. The bridge also had a 1950 construction date listed in the National Bridge Inventory. However, the source of that date is unknown. The bridge was placed here in 1923. The bridge was originally an approach span from the previous Belle Isle Bridge in Detroit. The main spans of the previous Belle Isle Bridge were pin-connected through truss, but some short approach spans were rivet-connected pony truss bridges... early examples of rivet-connected truss bridge construction in Michigan. When the Belle Isle Bridge burned in 1915, this approach span eventually made its way here as a reused span. This bridge, although relocated, is significant as a surviving span from a large bridge that no longer exists, and also as an early example of a rivet-connected truss bridge in Michigan.
The bridge's members display an unusual plate-like design to them, on account of angles and plates composing most of the built-up beams on the bridge. The floorbeams on this bridge, also built-up, are original. The bridge retains otherwise good historic integrity, and steel on the bridge was fabricated by both Carnegie and Bethlehem steel. The builder for this bridge is unknown.
Steven M. Kish did some research and contributed the following information which helps unravel the mystery:
It was built between 1890 and 1899. It replaced the five wooden sections nearest Belle Isle. They were built to replace the all wooden bridge that sat on wooden pilings. The pilings forced boaters out into the channel and were replaced with the 88' steel and wood deck sections mounted on steel supports on smaller pilings that allowed boaters to row much closer to the Belle Isle shoreline. When most of the bridge caught fire on April 27, 1915, the five 88' Pony truss sections survived and were move downstream about a 150' to be part of the temporary bridge from 1916 ( I found a plaque showing 1917-1923) that was replaced by the current concrete bridge (George Washington, renamed MacArthur in 1943). When the new bridge opened in 1923, the Swan family of southern Grosse Ile bought one 88' section of the surviving steel and wood decking bridge and had it floated down the Detroit River on a barge owned by Dunbar and Sullivan. Dunbar and Sullivan had dredged out a 75' canal between Southpoint and Swan Island prior to the move of the bridge. I have found pictures that show that the Swan Island bridge was not built during the original Belle Isle Bridge construction of 1887-1889. But I did find a photo dated 1899 showing the five 88' Pony Truss sections in place of the all wooden section leading to Belle Isle. So it looks like the Swan Island Bridge was built sometime between 1890-1899. I have also found a postcard dated 1905 show the 88' Pony Truss sections in place.
About the Old Belle Isle Bridge
Since this bridge is the only surviving remnant of the old Belle Isle Bridge, (and since the webpage for the existing historic concrete arch Belle Isle Bridge is already filled with a detailed history of the concrete bridge), this webpage is home to a short photographic history of the old Belle Isle Bridge, which also explains how this pony truss span fits into the story. Many of these photos are the ones that Steven Kish refers to in his comments above. Please visit the concrete arch Belle Isle Bridge page to learn more about the current historic bridge. Click on any photo below to view an enlarged photo.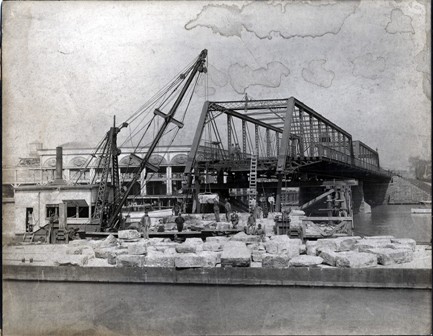 Above: This photo shows the 1889 construction of the Belle Isle Bridge.
Above: These two photos show the 1889 Belle Isle Bridge as built originally. Note the timber trestle approach spans leading up to the truss spans.
Above: A portal view on the bridge showing the ornate design.
Above: This photo shows the swing span of the 1889 bridge opening.
Above: These two photos both show the timber trestle approach spans replaced with the rivet-connected pony truss spans. One of these spans is the Swan Drive Bridge today.
Above: After the 1889 Belle Isle Bridge burned, destroying the main truss spans, but sparing the riveted pony truss spans from destruction, the bridge was rebuilt quickly as a temporary bridge, which also made use of the five pony truss spans. This temporary bridge was dismantled as part of the project to build the 1923 concrete arch bridge; at this time one of the pony truss spans was moved to its current location on Swan Drive.

Photo Galleries and Videos: Swan Drive Bridge

Maps and Links: Swan Drive Bridge
Coordinates (Latitude, Longitude):

View Bridge Location In:
Bridgehunter.com: View listed bridges within a half mile of this bridge.

Bridgehunter.com: View listed bridges within 10 miles of this bridge.
Google Streetview (If Available)
Apple Maps (Via DuckDuckGo Search)
Apple Maps (Apple devices only)
Android: Open Location In Your Map or GPS App
Flickr Gallery (Find Nearby Photos)
Wikimedia Commons (Find Nearby Photos)
Directions Via Sygic For Android
Directions Via Sygic For iOS and Android Dolphin Browser
USGS National Map (United States Only)
Historical USGS Topo Maps (United States Only)
CalTopo Maps (United States Only)


© Copyright 2003-2021, HistoricBridges.org. All Rights Reserved. Disclaimer: HistoricBridges.org is a volunteer group of private citizens. HistoricBridges.org is NOT a government agency, does not represent or work with any governmental agencies, nor is it in any way associated with any government agency or any non-profit organization. While we strive for accuracy in our factual content, HistoricBridges.org offers no guarantee of accuracy. Information is provided "as is" without warranty of any kind, either expressed or implied. Information could include technical inaccuracies or errors of omission. Opinions and commentary are the opinions of the respective HistoricBridges.org member who made them and do not necessarily represent the views of anyone else, including any outside photographers whose images may appear on the page in which the commentary appears. HistoricBridges.org does not bear any responsibility for any consequences resulting from the use of this or any other HistoricBridges.org information. Owners and users of bridges have the responsibility of correctly following all applicable laws, rules, and regulations, regardless of any HistoricBridges.org information.