We Recommend:

Bach Steel - Experts at historic truss bridge restoration.

Canyon Falls Bridge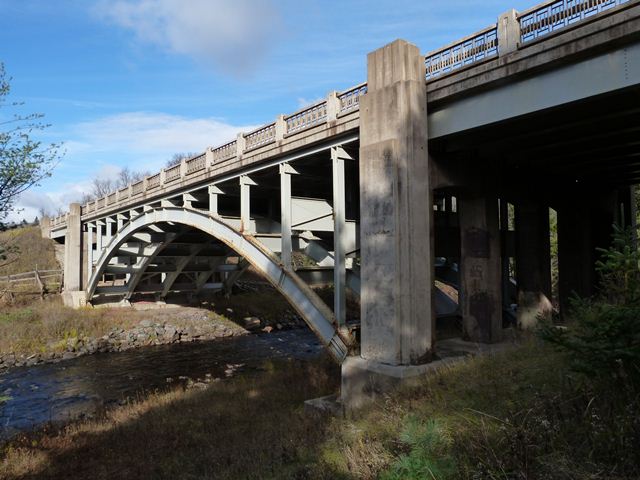 Primary Photographer(s): Nathan Holth
Bridge Documented: October 1, 2012
Location
Rural: Baraga County, Michigan: United States
Rehabilitation Date
1998
Main Span Length
128.0 Feet (39 Meters)
Structure Length
232.0 Feet (70.7 Meters)
Roadway Width
42 Feet (12.8 Meters)
Spans
1 Main Span(s) and 2 Approach Span(s)
Inventory Number
482


View Information About HSR Ratings
Bridge Documentation
This bridge is one of a couple magnificent steel deck arch bridges found in the Upper Peninsula. Highway bridges of this structure type are otherwise essentially unheard of in Michigan. This example has a very graceful appearance with its main arch span. The bridge also displays Michigan's distinctive Type R4 railings, which compliment the beauty of the arch. The piers have decorative pillars that extend above the deck and provide architectural expression for both the railing system and the piers. The bridge's solid ribs are built-up riveted steel. The columns of the bridge are rolled beams. The bridge has steel stringer approach spans. The bridge has been rehabilitated with the interest of historic preservation apparently in mind, since the bridge retains good historic integrity and was not adversely altered.
Narrative Description
Located on US-41, 1.4 miles south of Alberta, this long-span steel bridge crosses the Sturgeon River in L'Anse Township. Known locally as the Canyon Falls Bridge for its proximity to this natural feature, the structure is comprised of a two-hinged, girder-ribbed arch over the river's channel. This is flanked on each side by a 52-foot, steel stringer approach span. The main span extends 128 feet from pin to pin of the end hinges. It is comprised of five, riveted girder ribs that support a 45-foot wide concrete deck. Each rib is made up of two back-to-back built -up channels, riveted to batten plates and a continuous cover plate. These ribs bear into a massive concrete pedestal by means of cast-steel bearing shoes. The asphalt-surfaced, concrete roadway is borne by the ribs through a series of wide-flange columns, which are braced laterally by steel plate diaphragms. As on most MSHD-designed highway bridges, the configuration and details of the Canyon Falls Bridge have been simplified to the extent possible, with decorative treatment limited to the ancillary components. The guardrails are made up of ornamental steel rails and balusters, supported by paneled concrete posts and bulkheads. Mounted on top of each arch pedestal is a decorative concrete pylon with stepped vertical planes. Each pylon extends above, and is integrated with, the guardrail. The streamlined profile of the arch ribs, combined with the stepped bulkheads and pylons, give the bridge a distinctive Art Moderne character, typical of MSHD detailing for the period. Other than the recent installation of Armco beams inside the original guardrails, the Canyon Falls Bridge remains essentially unaltered and in excellent condition.
Statement of Significance
During the 1947-1948 biennium, the state highway department let contracts for eleven trunk line bridges on the Upper Peninsula. Five of these carried US-41, which the department was then reconstructing on a new alignment between L'Anse and Ishpeming. The largest and most striking of the M-41 structures was this span over the Sturgeon River. For the Canyon Falls Bridge, MSHD engineers delineated a steel arch in 1947. The highway department designated the structure as Bridge No. B2 of 7-4-5 C2 and awarded a contract for its construction for $116,389.42 (plus $58,200 for structural steel). Completed the following summer, the Canyon Falls Bridge has since carried vehicular traffic, in essentially unaltered condition. The Canyon Falls Bridge is technologically significant for its representation of steel arch design by the state highway department. MSHD had previously used girder-rib deck arches for other structures, notably the Ontonagon River Bridge (1930) in Ontonagon County. This esoteric structural type was rarely used in the state, however, due largely to the fact that few river crossings in Michigan provided adequate vertical clearance to allow the intrinsically high profile of a deck arch bridge. The 128-foot arch on the Canyon Falls Bridge is modest compared with such cantilever spans as the Mortimer Cooley Bridge (1935) in Manistee County and the Cut River Bridge (1946) in Mackinac County. Within the context of Michigan bridge design, though, it is important for its relatively rare configuration. A much more streamlined structure than a comparably scaled through truss, it represents MSHD's emphasis on bridge aesthetics and efficiency. The Canyon Falls Bridge is a visually striking span, a well preserved example of an uncommon structural type, built as part of a regionally important highway.

Photo Galleries and Videos: Canyon Falls Bridge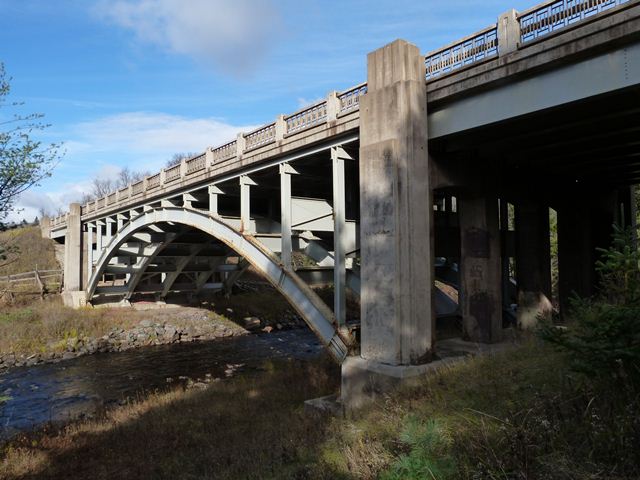 Original / Full Size Photos
A collection of overview and detail photos. This gallery offers photos in the highest available resolution and file size in a touch-friendly popup viewer.
Alternatively,
Browse Without Using Viewer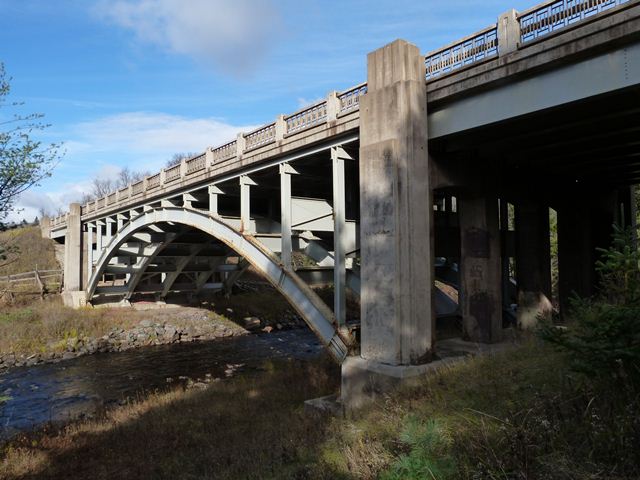 Mobile Optimized Photos
A collection of overview and detail photos. This gallery features data-friendly, fast-loading photos in a touch-friendly popup viewer.
Alternatively,
Browse Without Using Viewer

Maps and Links: Canyon Falls Bridge
Coordinates (Latitude, Longitude):

Search For Additional Bridge Listings:
Bridgehunter.com: View listed bridges within 0.5 miles (0.8 kilometers) of this bridge.

Bridgehunter.com: View listed bridges within 10 miles (16 kilometers) of this bridge.
HistoricBridges.org Bridge Browser: View listed bridges within 0.5 miles (0.8 kilometers) of this bridge.
HistoricBridges.org Bridge Browser: View listed bridges within 10 miles (16 kilometers) of this bridge.
2021 National Bridge Inventory: View listed bridges within 0.5 miles (0.8 kilometers) of this bridge.

Additional Maps:
Google Streetview (If Available)
GeoHack (Additional Links and Coordinates)
Apple Maps (Via DuckDuckGo Search)
Apple Maps (Apple devices only)
Android: Open Location In Your Map or GPS App
Flickr Gallery (Find Nearby Photos)
Wikimedia Commons (Find Nearby Photos)
Directions Via Sygic For Android
Directions Via Sygic For iOS and Android Dolphin Browser
USGS National Map (United States Only)
Historical USGS Topo Maps (United States Only)
Historic Aerials (United States Only)
CalTopo Maps (United States Only)


© Copyright 2003-2023, HistoricBridges.org. All Rights Reserved. Disclaimer: HistoricBridges.org is a volunteer group of private citizens. HistoricBridges.org is NOT a government agency, does not represent or work with any governmental agencies, nor is it in any way associated with any government agency or any non-profit organization. While we strive for accuracy in our factual content, HistoricBridges.org offers no guarantee of accuracy. Information is provided "as is" without warranty of any kind, either expressed or implied. Information could include technical inaccuracies or errors of omission. Opinions and commentary are the opinions of the respective HistoricBridges.org member who made them and do not necessarily represent the views of anyone else, including any outside photographers whose images may appear on the page in which the commentary appears. HistoricBridges.org does not bear any responsibility for any consequences resulting from the use of this or any other HistoricBridges.org information. Owners and users of bridges have the responsibility of correctly following all applicable laws, rules, and regulations, regardless of any HistoricBridges.org information.