We Recommend:

Bach Steel - Experts at historic truss bridge restoration.

Jefferson Avenue Bridge
Primary Photographer(s): Nathan Holth and Rick McOmber
Bridge Documented: July 1, 2007, May 25, 2013, and March 21, 2017
Location
Detroit: Wayne County, Michigan: United States
Rehabilitation Date
1982
Main Span Length
91.0 Feet (27.7 Meters)
Structure Length
248.0 Feet (75.6 Meters)
Roadway Width
46 Feet (14.02 Meters)
Spans
1 Main Span(s) and 4 Approach Span(s)
Inventory Number
82200204000B010


View Information About HSR Ratings
Bridge Documentation
This bridge is the only surviving example of a pony truss bascule bridge in the entire state of Michigan. The city of Chicago has a bunch of historic pony truss bascule bridges like this one, but in Michigan most bascule bridges that survive are plate girders. The design of the Jefferson Avenue Bridge is indeed very similar to those found in Chicago, and moreover was actually designed by Hugh E. Young, who worked as engineer of bridges for the City of Chicago which undoubtedly accounts for the similarities. Young found such success with the bridges he worked on in Chicago that he worked on bridges for other cities on the side. The historic integrity of the structure is decent, although railings and sidewalk deck do not appear to be original. Small sections of concrete balustrade railings remain on the approach to the bridge. Bridgetender houses are original. Portions of old cable car fixtures remain, today used as lampposts.
In 2013, the bridge was lowered onto a freighter prematurely causing severe damage to the center of the bridge. It was closed for years before being repaired and reopened. The center section (originally riveted) was replaced with a bolted replica, matching the original design, except for the use of bolts.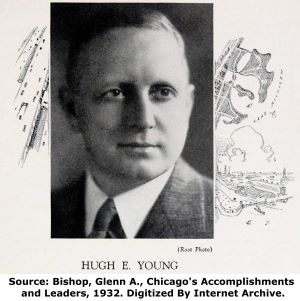 Above: The original 1882 Jefferson Avenue Bridge, which was replaced in the 1890s by a swing bridge.
Narrative Description
main span number: 2 main span length: 91.0 structure length: 248.0 roadway width: 46.0 structure width: 70.0 The West Jefferson Bridge over the Rouge River is located about five miles southwest of the heart of downtown Detroit. The river forms the northeast border of the industrial community of River Rouge, which was organized as a village in 1899 and as a city in 1921. To the east, the river empties into the Detroit River through a deepwater canal dredged by Henry Ford to provide access to his Rouge River plant. The canal created Zug Island, a heavy industry zone. The centerline of the bridge is oriented northeast-southwest. The trunions are separated by 183 feet. Each leaf of the bascule consists of a pair of substantial riveted steel truss webs which extend above the bridge deck. The trusses contain the following members: upper chord: built-up channels with X-lacing and plates; lower chord: built-up channels with X-lacing; verticals: built-up channels with X-lacing, paired angles with X-lacing; diagonals: paired angles with X-lacing, and a variety of built-up beams; bottom lateral: perforated I-beams. The roadway runs between the webs. Sidewalks 8.5 feet wide extend outside the webs, supported by metal brackets. Replacement railings consist of four pipes. Two-story stone operators' houses are at the northwest and southeast ends of the bridge. Each hold stairways which descend to mechanical rooms below the concrete girder approach spans. During a renovation undertaken in 1981 funded by the state's Critical Bridge Replacement Program, the bridge's concrete counterweights were removed, the original railing was removed, steel guardrails were added, floor beams were repaired, and stringers and steel deck grating were replaced. Reinforcing plates were apparently added to the top and bottom chords of the trusses. A new General Electric electrical panel was installed.
Statement of Significance
The city of Detroit was responsible for maintaining bridges over the Rouge River at West Jefferson Avenue and West Fort Street. By the late 1910s, new bridges were urgently needed for both crossings, which were served by narrow swing bridges. The swing spans also interfered with the federal government's plans to dredge a deep channel in the river, so that Great lakes freighters could reach the Ford Motor Company's expanding Rouge plant and other factories upstream. The city and county agreed that the county could better oversee the construction, but legal restrictions prohibited county involvement until a change in state legislation 1919. By September 1920, plans were drawn up for a "Chicago city type of single trunnion, double-leaf bascule bridge" for both crossings, with a combined cost estimated at $2 million. A plate on the West Jefferson Bridge credits Hugh E. Young as designing engineer and Lewis M. Gram as consulting engineer; Harry A. Shuptrine was chief bridge engineer for the county road commission. Gram, who had worked for a number of bridge and engineering companies, joined the faculty of the University of Michigan's civil engineering department in 1912 and was involved with the design and construction of the Belle Isle Bridge in Detroit in the late 1910s. The Wayne County Board of Supervisors planned to issue bonds to help fund the construction. Voters approved of the bond in May 1920, but questions about the legality of the bonds delayed construction for many months. In the meantime, engineers worked to devise and adequate detour to handle the heavy traffic demands on Jefferson Avenue. They developed a route that crossed the river about 200 yards upstream, but concluded that the existing structure at Jefferson was too weak to be moved there. Ultimately, the commission obtained an old truss that the Michigan Central Railroad was replacing half a mile upstream. To move the span, the county arranged "a flotilla of scows" which they "pumped nearly full of water and towed under the [railroad] bridge... By unwatering the scows the 600,000-lb. bridge was raised clear of its foundations and towed downstream to its new resting place as a detour for Jefferson Ave. traffic. By filling the scows with water again the bridge was successfully landed on its new foundations." The old bridge was closed and the detour opened on 13 November 1920. When the bonds were finally issued, the county was ready to proceed with construction almost immediately. The Missouri Valley Bridge and Iron Company of Leavenworth, Kansas, signed a contract on 1 December to build the substructure for $408,280. The road commission's 1920-1921 annual report observed that the work "presents some of the most difficult problems of underground and underwater foundation work, which are further complicated by the dangerous nature of the soil of the Rouge River district." Below each leaf were four 12-foot-square concrete footings, which were sunk pneumatically to bedrock 70 feet below the water line. The footings supported a 50 by 80 foot reinforced concrete pit, which was built within a coffer dam, for the counterweights and machinery. THe Strobel Steel Construction Company of Chicago won the bid to provide the superstructure for $34,809 contract for electrical equipment. Other contractors involved on the project included the Grilling Brothers, Bethlehem Steel, the Electrical Equipment Company, and the Wolverine Engineering Company. Work to grade and pave the approaches was done by county crews. The two bascule leaves were lowered simultaneously for the first time on 21 August 1922. The Bridge was opened to traffic on 17 October, while work on the approaches was still underway, since the operating machinery on the detour bridge failed and the temporary span, which was blocking river traffic, had to be removed. In 1923, the federal government completed dredging the Rouge River to permit passage of the largest lake freighters in operation. In the early 1980s, the city completed $2.2 million in repairs on the West Jefferson Bridge with the assistance of federal funds, as well as similar work on the Dix Avenue bascule. While the repairs altered the West Jefferson Bridge, it retains sufficient integrity to qualify for the National Register under Criterion C as a significant monument to early twentieth-century engineering. It is also eligible under Criterion A, as a noteworthy product of the Wayne County Road Commission.
This bridge is tagged with the following special condition(s): Unorganized Photos

Photo Galleries and Videos: Jefferson Avenue Bridge
A collection of overview and detail photos. This photo gallery contains a combination of Original Size photos and Mobile Optimized photos in a touch-friendly popup viewer.
Alternatively,
Browse Without Using Viewer

Original / Full Size Photos
A supplemental collection of photos that are from additional visit(s) to the bridge and have not been organized or captioned. This gallery offers photos in the highest available resolution and file size in a touch-friendly popup viewer.
Alternatively,
Browse Without Using Viewer

Mobile Optimized Photos
A supplemental collection of photos that are from additional visit(s) to the bridge and have not been organized or captioned. This gallery features data-friendly, fast-loading photos in a touch-friendly popup viewer.
Alternatively,
Browse Without Using Viewer

Maps and Links: Jefferson Avenue Bridge
Coordinates (Latitude, Longitude):

Search For Additional Bridge Listings:
Bridgehunter.com: View listed bridges within 0.5 miles (0.8 kilometers) of this bridge.

Bridgehunter.com: View listed bridges within 10 miles (16 kilometers) of this bridge.
HistoricBridges.org Bridge Browser: View listed bridges within 0.5 miles (0.8 kilometers) of this bridge.
HistoricBridges.org Bridge Browser: View listed bridges within 10 miles (16 kilometers) of this bridge.
2021 National Bridge Inventory: View listed bridges within 0.5 miles (0.8 kilometers) of this bridge.

Additional Maps:
Google Streetview (If Available)
GeoHack (Additional Links and Coordinates)
Apple Maps (Via DuckDuckGo Search)
Apple Maps (Apple devices only)
Android: Open Location In Your Map or GPS App
Flickr Gallery (Find Nearby Photos)
Wikimedia Commons (Find Nearby Photos)
Directions Via Sygic For Android
Directions Via Sygic For iOS and Android Dolphin Browser
USGS National Map (United States Only)
Historical USGS Topo Maps (United States Only)
Historic Aerials (United States Only)
CalTopo Maps (United States Only)


© Copyright 2003-2023, HistoricBridges.org. All Rights Reserved. Disclaimer: HistoricBridges.org is a volunteer group of private citizens. HistoricBridges.org is NOT a government agency, does not represent or work with any governmental agencies, nor is it in any way associated with any government agency or any non-profit organization. While we strive for accuracy in our factual content, HistoricBridges.org offers no guarantee of accuracy. Information is provided "as is" without warranty of any kind, either expressed or implied. Information could include technical inaccuracies or errors of omission. Opinions and commentary are the opinions of the respective HistoricBridges.org member who made them and do not necessarily represent the views of anyone else, including any outside photographers whose images may appear on the page in which the commentary appears. HistoricBridges.org does not bear any responsibility for any consequences resulting from the use of this or any other HistoricBridges.org information. Owners and users of bridges have the responsibility of correctly following all applicable laws, rules, and regulations, regardless of any HistoricBridges.org information.