We Recommend These Resources:

Bach Steel - Experts at historic truss bridge restoration.

Frodsham Viaduct
Viaduct Number 53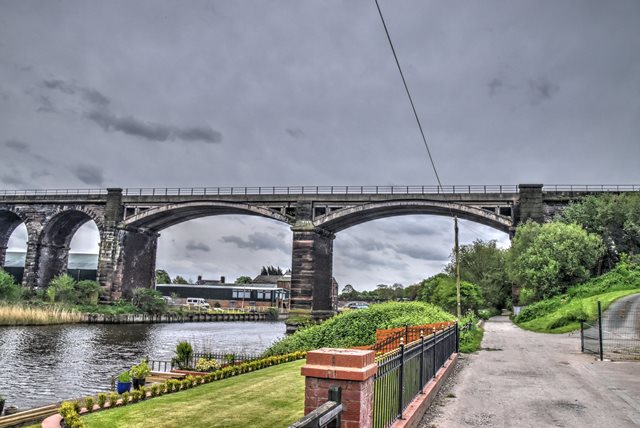 Primary Photographer(s): Nathan Holth
Bridge Documented: May 12, 2018
Key Facts
Location
Frodsham: North West, England: United Kingdom
Technical Facts
Rehabilitation Date
Not Available or Not Applicable
Main Span Length
92 Feet (28 Meters)
Structure Length
1,313 Feet (400.2 Meters)
Roadway Width
Not Available
Spans
2 Main Span(s) and 23 Approach Span(s)
NBI Number
Not Applicable


View Information About HSR Ratings
Bridge Documentation
This is one of two similar nearby viaducts featuring cast iron main spans and brick arch approach spans. This bridge's brick arch spans are faced in stone. The cast iron arches have been altered by the addition of concrete, but the cast iron arches nevertheless remains visually prominent.
Official Heritage Listing Information and Findings
Listed At: Grade II
Discussion:
List Entry Number: 1253269

Railway viaduct over River Weaver and adjoining land, 1848-1850, by A Rendel, Engineer, Thomas Brassey, contractor, for Birkenhead, Lancs & Cheshire Junction Railway Co. Red sandstone, brown brick and cast iron. 2 segmental-arched iron spans of circa 30 metres over river; 2 round arches on west bank (Frodsham C.P.) and 21 on east bank (Sutton C.P.). Piers to iron spans are rusticated tooled ashlar; the other spans have rusticated voussoirs, pier faces and quoins and rock-faced spandrelsl brick reveals. Cornice to iron-span piers, plainer imposts to others. Top of central pier to river modified to take mid C20 concrete track bed.

This bridge is tagged with the following special condition(s): Cast Iron

Photo Galleries and Videos: Frodsham Viaduct

Maps and Links: Frodsham Viaduct
Coordinates (Latitude, Longitude):

View Bridge Location In:
Google Streetview (If Available)
Apple Maps (Via DuckDuckGo Search)
Apple Maps (Apple devices only)
Android: Open Location In Your Map or GPS App
Flickr Gallery (Find Nearby Photos)
Wikimedia Commons (Find Nearby Photos)
Directions Via Sygic For Android
Directions Via Sygic For iOS and Android Dolphin Browser
Ordnance Survey Maps (UK Only)


© Copyright 2003-2021, HistoricBridges.org. All Rights Reserved. Disclaimer: HistoricBridges.org is a volunteer group of private citizens. HistoricBridges.org is NOT a government agency, does not represent or work with any governmental agencies, nor is it in any way associated with any government agency or any non-profit organization. While we strive for accuracy in our factual content, HistoricBridges.org offers no guarantee of accuracy. Information is provided "as is" without warranty of any kind, either expressed or implied. Information could include technical inaccuracies or errors of omission. Opinions and commentary are the opinions of the respective HistoricBridges.org member who made them and do not necessarily represent the views of anyone else, including any outside photographers whose images may appear on the page in which the commentary appears. HistoricBridges.org does not bear any responsibility for any consequences resulting from the use of this or any other HistoricBridges.org information. Owners and users of bridges have the responsibility of correctly following all applicable laws, rules, and regulations, regardless of any HistoricBridges.org information.