We Recommend:

Bach Steel - Experts at historic truss bridge restoration.

Prince George Railway Bridge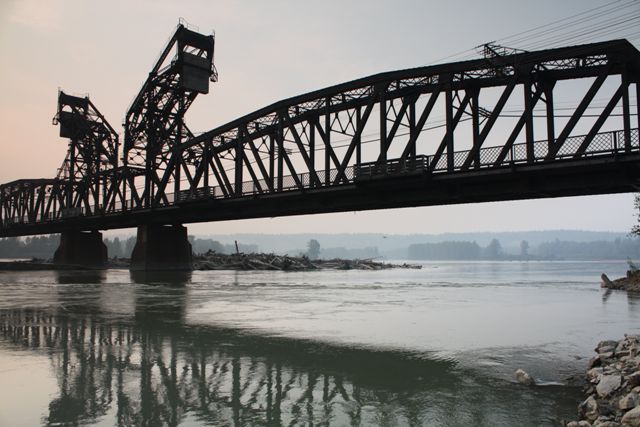 Primary Photographer(s): C. Hanchey
Bridge Documented: August 16, 2010
Location
Rural: Fraser-Fort George District, British Columbia: Canada
Rehabilitation Date
Not Available or Not Applicable
Main Span Length
100.0 Feet (30.5 Meters)
Structure Length
2,658.8 Feet (810.4 Meters)
Roadway Width
18.3 Feet (5.58 Meters)
Spans
1 Main Span(s) and 12 Approach Span(s)
Inventory Number
Not Applicable


View Information About HSR Ratings
Bridge Documentation
2019 update to the below narrative: When this bridge was first added to the website, little was known about it. It is now known that Joseph Strauss did indeed design the lift span. However, the overall bridge was designed by French engineer Joseph Legrand. Noted Chicago, Illinois contractor Bates and Rogers Construction Company held the contract for the substructure. Thanks to Eric Charest for providing a link to an article detailing the involvement of Legrand at https://www.princegeorgecitizen.com/news/local-news/railway-bridge-an-iconic-piece-of-local-history-1.1131336
This large bridge would be noteworthy on its own as a very long multi-span through truss bridge, however it is just one of its spans, indeed the one which is shortest in length, that makes this bridge one of the most historically significant bridges in Canada and North America. This particular span is a vertical lift span, an extremely unusual design of lift bridge called the "direct lift" bridge that was originally invented and patented by renowned movable bridge engineer Joseph Strauss. Only three bridges of this type were reported ever built in the United States although more had originally been planned, and only one remains in the United States today. It is not known how many were built in Canada, but this bridge is the only currently known example. For this reason, the bridge is considered nationally significant.
The direct lift bridge avoided the use of tall towers that hold and operate a lift span via a system of cables which is the design seen on traditional vertical lift bridges, and instead uses counterweights directly attached to the truss bridge via a parallelogram-shaped arm. When the bridge lifts, the arm rotates to lift the bridge up. Although this bridge is a vertical lift bridge, it is not too hard to see how some of the concepts of how a trunnion bascule works as well as the way a counterweight functions on a bascule bridge being applied here in a lift bridge. This is unsurprising, given that Joseph Strauss was a leader in the design of trunnion bascule bridges.
Because the Prince George Railway Bridge stylistically follows the details shown in the Strauss patent, and the fact that the bridge was built soon after the patent was issued, it is assumed that this bridge was designed by Strauss and is a genuine example of the patented design, however this assumption has not yet been proven by any documented evidence. Further research into this bridge might provide definitive confirmation of Strauss involvement.
Although the bridge has reportedly not lifted for decades, the lift span retains all the key elements that convey the patented design, including the parallelogram arms that connect the counterweight to the truss span and the truss span and counterweights themselves. Flickr has an additional photo of this bridge that is worth taking a look at.
This bridge was originally built by the Grand Trunk Pacific Railway.

Photo Galleries and Videos: Prince George Railway Bridge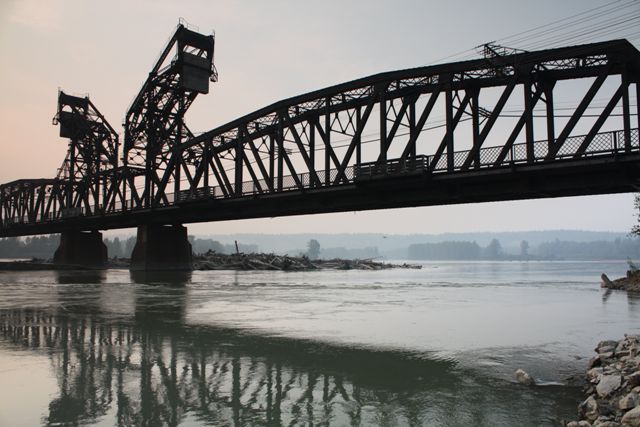 Original / Full Size Photos
A collection of overview and detail photos. This gallery offers photos in the highest available resolution and file size in a touch-friendly popup viewer.
Alternatively,
Browse Without Using Viewer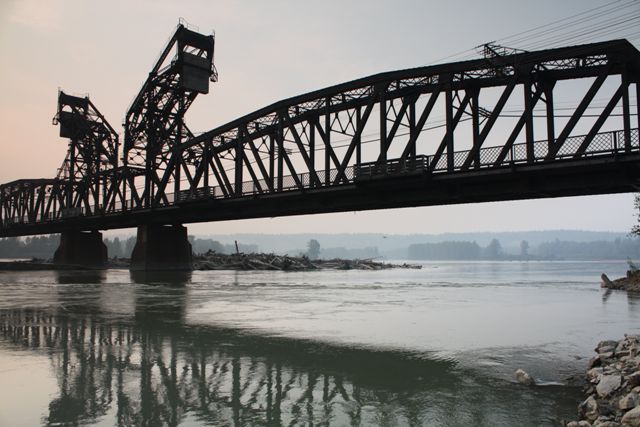 Mobile Optimized Photos
A collection of overview and detail photos. This gallery features data-friendly, fast-loading photos in a touch-friendly popup viewer.
Alternatively,
Browse Without Using Viewer

Maps and Links: Prince George Railway Bridge
Coordinates (Latitude, Longitude):

Search For Additional Bridge Listings:
HistoricBridges.org Bridge Browser: View listed bridges within 0.5 miles (0.8 kilometers) of this bridge.
HistoricBridges.org Bridge Browser: View listed bridges within 10 miles (16 kilometers) of this bridge.
Additional Maps:
Google Streetview (If Available)
GeoHack (Additional Links and Coordinates)
Apple Maps (Via DuckDuckGo Search)
Apple Maps (Apple devices only)
Android: Open Location In Your Map or GPS App
Flickr Gallery (Find Nearby Photos)
Wikimedia Commons (Find Nearby Photos)
Directions Via Sygic For Android
Directions Via Sygic For iOS and Android Dolphin Browser


© Copyright 2003-2023, HistoricBridges.org. All Rights Reserved. Disclaimer: HistoricBridges.org is a volunteer group of private citizens. HistoricBridges.org is NOT a government agency, does not represent or work with any governmental agencies, nor is it in any way associated with any government agency or any non-profit organization. While we strive for accuracy in our factual content, HistoricBridges.org offers no guarantee of accuracy. Information is provided "as is" without warranty of any kind, either expressed or implied. Information could include technical inaccuracies or errors of omission. Opinions and commentary are the opinions of the respective HistoricBridges.org member who made them and do not necessarily represent the views of anyone else, including any outside photographers whose images may appear on the page in which the commentary appears. HistoricBridges.org does not bear any responsibility for any consequences resulting from the use of this or any other HistoricBridges.org information. Owners and users of bridges have the responsibility of correctly following all applicable laws, rules, and regulations, regardless of any HistoricBridges.org information.