We Recommend:

Bach Steel - Experts at historic truss bridge restoration.

110th Street Bridge
Iowa Bridge Number 78120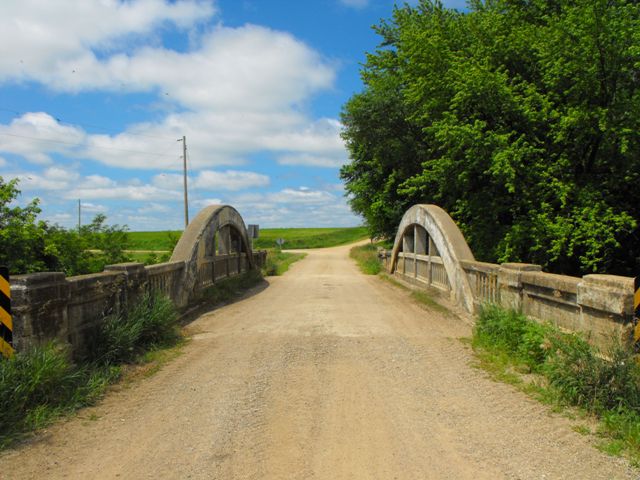 Primary Photographer(s): Nathan Holth and Rick McOmber
Bridge Documented: July 2, 2009
Location
Rural: Boone County, Iowa: United States
Rehabilitation Date
Not Available or Not Applicable
Main Span Length
60.0 Feet (18.3 Meters)
Structure Length
88.0 Feet (26.8 Meters)
Roadway Width
17.1 Feet (5.21 Meters)
Spans
1 Main Span(s)
Inventory Number
78120


View Information About HSR Ratings
Bridge Documentation
Brief Overview of Marsh Rainbow Arch Bridges
What is a Marsh Rainbow Arch bridge? It is a very specific type of arch bridge. First, consider some of the more general bridge types in this realm. Rainbow arch bridges are a commonplace name for a type of bridge that is technically described as a concrete through arch, or they have alternatively been described as concrete bowstring arch bridges. Rainbow arch bridges have some sort of metal reinforcing within, the exact type of which may vary, from reinforcing rods (re-bar) to very complex and sturdy built-up beams and plate that are so sturdy even in their own right that they could be thought of as a steel arch bridge encased in concrete. Bridge builder James Marsh who owned the Marsh Engineering Company was one of the people responsible for designing a rainbow arch bridge with a complex design of built-up beams to act as reinforcing for the concrete, which he filed a patent for in 1912. His particular use of built-up beams as the reinforcing differed from other more common methods of reinforcing concrete such as modern reinforcing rods (rebar) or the patented Melan system that was common during Marsh's period. By creating this unique "Marsh" form of reinforcing, James Marsh was able to avoid having to pay to use the other patented forms of reinforcing available at the time. As a result, rainbow arch bridges built under the specifications of the James Marsh patent are termed "Marsh Rainbow Arch" bridges. Finally, it is worth noting that the term "marsh arch" is sometimes used more generically to describe any arch form where there is a steel arch encased in concrete, whether or not they directly follow the Marsh patent.
Rainbow arch bridges of any type built within the appropriate period (1900-1940) are rare and should be considered historically and technologically significant. Further, they tend to be among the more beautiful of historic bridge types, with their graceful arches that can be appreciated even when simply driving over the bridge, since the arches are always in the "through" rather than "deck" format. However, true Marsh Rainbow Arch bridges are even more rare and historically significant. Their additional significance is derived from their association with a creative, prolific, and noteworthy engineer and bridge builder, and also as physical examples of an unusual, patented bridge technology. The accurate identification of true Marsh Rainbow Arch bridges can be difficult if information is lacking. Recognition of style can aid in identification, but often documentation (plaque, plans, county minutes etc) or physical inspection of damaged and spalling concrete that may reveal the reinforcing below may be required for positive identification. Also, geographic location can be a guiding aid, since the majority of Marsh Rainbow Arch Bridges were built in Iowa and Kansas.
About the 110th Street Bridge
The 110th Street Bridge is a medium sized example of a Marsh Rainbow Arch bridge. The bridge retains excellent historic integrity and appears to be unaltered. It is an excellent representative example of a rare and significant structure type.
Overall, the bridge appears in decent structural condition. The National Bridge Inventory still managed to find the bridge "structurally deficient" however this should be interpreted as a call to restore this historic bridge, not replace it. Any structural deterioration on this bridge does not appear to be at an advanced state yet. Short term preservation work for this bridge should also include washing or otherwise removing dirt buildup at the edges of the bridge deck, where grass was observed growing on the bridge. This condition can trap moisture and increase the rate of deterioration, yet is easy to correct.
Additional Information and Resources
View Historic American Engineering Record (HAER) Overview Of Iowa's Bridges (PDF)
Historic American Engineering Record created a large and very informative historical overview and context for Iowa's bridges, and it is offered here by HistoricBridges.org in convenient PDF format for easy printing or offline viewing. The HAER source for the documents composing the PDF is here.
View Marsh Rainbow Arch Bridges in Iowa (44mb PDF)
James C. Hippen has composed a concise yet detailed overview of Iowa's beautiful historic Marsh Rainbow arch bridges. It has been made available for free by Iowa Department of Transportation.
View The First Marsh Arch Patent (PDF)
James Marsh first patented a concrete through arch patent in 1912, and later filed a second patent in 1921. This is the first patent, and is the patent which applies to the 110th Street Bridge.
View The Second Marsh Arch Patent (PDF)
James Marsh first patented a concrete through arch patent in 1912, and later filed a second patent in 1921. This is the second patent. Since it was filed after the construction of the 110th Street Bridge, this patent does not apply to the history of the 110th Street Bridge, but it has been included here for general reference and research convenience.
View Adapted HAER Drawings Showing Typical Marsh Arch Construction Details (PDF).
Historic American Engineering Record never prepared measured drawings for the 100th Street Bridge. However, they did create drawings for other March Arch bridges. HistoricBridges.org has taken one of these drawings and adapted it to make it generic and applicable to all true Marsh arch bridges. This document shows the typical design of a Marsh Arch bridge, including exterior as well as the interior reinforcing. The drawing includes labels. An alternative to the PDF version listed above is a large size PNG version.
Information and Findings From Iowa's Historic Bridge Inventory
Discussion of Bridge
Crossing Squaw Creek some seven miles northeast of Ridgeport in the northeastern corner of Boone County, this concrete fixed Marsh arch dates to 1918. The Squaw Creek Bridge features slotted concrete guardrails with paneled concrete bulkheads and is supported by concrete abutments. The county supervisors awarded a construction contract to the Marsh Engineering Company to erect the structure for an undocumented amount of money. The Des Moines-based firm used a design created by James Marsh, a civil engineer and rainbow arch patent holder. Since its construction in 1918, the Squaw Creek Bridge continues to carry vehicular traffic in essentially unaltered condition.
This medium-scale arch marks a noteworthy innovation in bridge design, an achievement engineered and patented by James Marsh in 1912. Marsh's design represented the hybridization of continuous concrete and segmental steel-arch designs, a radical departure from standard engineering practice. Concrete can withstand a nominal amount of tension. For this reason, most previous concrete arches--both reinforced and mass arches in filled and open spandrel configurations--were built with the arch below the deck, where the downward force of the deck could be carried in compression by the arch ribs and spandrel wall or columns. Marsh's suspended arch reversed this.
His arches, of course, act in compression; but the hangers and floor beams carry the deck in tension. Furthermore, the novel treatment of the deck over sliding steel plates on the floor beams and the use of pin-connected, articulated steel hangers for the end panel points were devices more suited to steel construction than concrete. To make the concrete thus act against its nature, Marsh inserted large amounts of structural steel. His bridges may look like concrete spans, but the arch ribs and hangers carry such heavy and complicated reinforcing that they are, in reality, steel structures encased in concrete. Marsh designed his bridges with either tied (with the arches attached to the abutments at the floor beam level) or fixed (arches extending below the floor beams to the abutments) configurations. Aside from this, all of his rainbow arches were similar, varying only in span length, arch rise and number of hangers.
Marsh's invention did not foretell a new direction in reinforced concrete design. The industry would later turn to other, simpler slab and beam configurations as it developed more sophisticated reinforcing techniques in the 1930s and 1940s. The rainbow arch did, however, denote one of the more interesting early experiments in concrete engineering and represented the proliferation of concrete for road and bridge construction. It is not known how many Marsh arches were built in Iowa in the 1910s and 1920s: judging from county records perhaps not more than one hundred. The large amount of reinforcing steel sheathed within a relatively thin skin of concrete has made them particularly vulnerable to rusting and spalling. As a result, only a few are known to remain. The Squaw Creek Bridge is distinguished as a well-preserved example of an indigenous structural type [adapted from Fraser 1992].
Bridge Considered Historic By Survey: Yes
This bridge is tagged with the following special condition(s): Marsh

Photo Galleries and Videos: 110th Street Bridge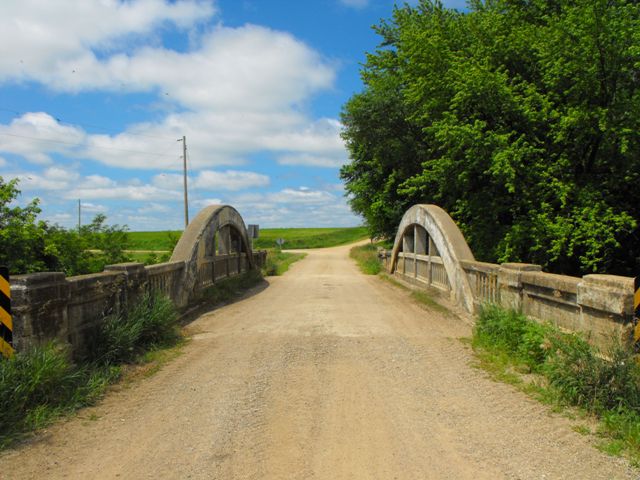 Original / Full Size Photos
A collection of overview and detail photos. This gallery offers photos in the highest available resolution and file size in a touch-friendly popup viewer.
Alternatively,
Browse Without Using Viewer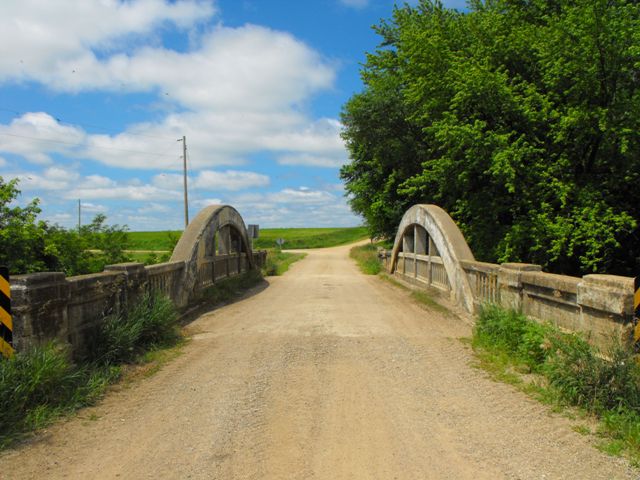 Mobile Optimized Photos
A collection of overview and detail photos. This gallery features data-friendly, fast-loading photos in a touch-friendly popup viewer.
Alternatively,
Browse Without Using Viewer

Maps and Links: 110th Street Bridge
Coordinates (Latitude, Longitude):

Search For Additional Bridge Listings:
Bridgehunter.com: View listed bridges within 0.5 miles (0.8 kilometers) of this bridge.

Bridgehunter.com: View listed bridges within 10 miles (16 kilometers) of this bridge.
HistoricBridges.org Bridge Browser: View listed bridges within 0.5 miles (0.8 kilometers) of this bridge.
HistoricBridges.org Bridge Browser: View listed bridges within 10 miles (16 kilometers) of this bridge.
2021 National Bridge Inventory: View listed bridges within 0.5 miles (0.8 kilometers) of this bridge.

Additional Maps:
Google Streetview (If Available)
GeoHack (Additional Links and Coordinates)
Apple Maps (Via DuckDuckGo Search)
Apple Maps (Apple devices only)
Android: Open Location In Your Map or GPS App
Flickr Gallery (Find Nearby Photos)
Wikimedia Commons (Find Nearby Photos)
Directions Via Sygic For Android
Directions Via Sygic For iOS and Android Dolphin Browser
USGS National Map (United States Only)
Historical USGS Topo Maps (United States Only)
Historic Aerials (United States Only)
CalTopo Maps (United States Only)


© Copyright 2003-2023, HistoricBridges.org. All Rights Reserved. Disclaimer: HistoricBridges.org is a volunteer group of private citizens. HistoricBridges.org is NOT a government agency, does not represent or work with any governmental agencies, nor is it in any way associated with any government agency or any non-profit organization. While we strive for accuracy in our factual content, HistoricBridges.org offers no guarantee of accuracy. Information is provided "as is" without warranty of any kind, either expressed or implied. Information could include technical inaccuracies or errors of omission. Opinions and commentary are the opinions of the respective HistoricBridges.org member who made them and do not necessarily represent the views of anyone else, including any outside photographers whose images may appear on the page in which the commentary appears. HistoricBridges.org does not bear any responsibility for any consequences resulting from the use of this or any other HistoricBridges.org information. Owners and users of bridges have the responsibility of correctly following all applicable laws, rules, and regulations, regardless of any HistoricBridges.org information.