We Recommend These Resources:

Bach Steel - Experts at historic truss bridge restoration.

Bay Shore Road Bridge
Escanaba River Bridge Ruins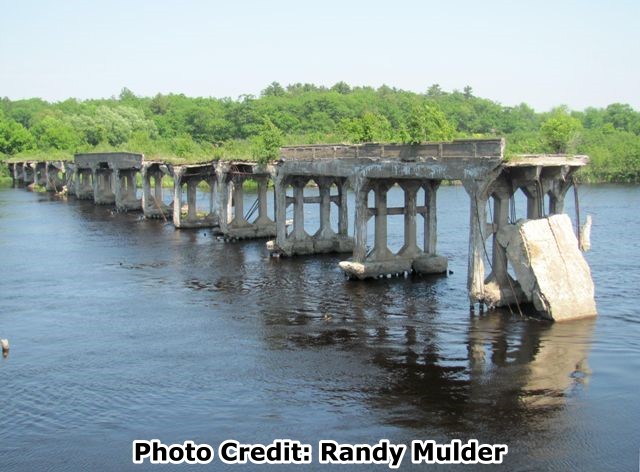 Primary Photographer(s): Nathan Holth
Bridge Documented: June 25, 2011 and October 22, 2012
Key Facts
Location
Escanaba: Delta County, Michigan: United States
Technical Facts
Rehabilitation Date
Not Available or Not Applicable
Main Span Length
40 Feet (12 Meters)
Structure Length
840 Feet (256 Meters)
Roadway Width
Not Available
Spans
21 Main Span(s)
NBI Number
Not Applicable

Bridge Documentation
This bridge no longer exists!
About This Bridge
This bridge is perhaps the most deteriorated concrete bridge to still exist in Michigan. To say it is still standing would be incorrect, as a significant portion of the bridge has collapsed completely although some sections still barely stand in the most extreme state of deterioration. Despite this, the bridge has been left and has not been removed. Despite their condition, these ruins still offer value to the world for their interpretive value. This continuous concrete t-beam bridge was built in 1911 by the Delta County Road Commission and is 840 feet long. As such, not only is it one of the earliest concrete t-beam bridges in Michigan its extremely long length is either the longest in Michigan or one of the longest. Below, two photos of the bridge when first constructed is shown, as well as an account from the 1912 Biennial Report of the Michigan State Highway Department where the road commission engineer discusses the construction of the bridge. In the article, it is noted that the engineer managed to get the bridge constructed for over 30% less money than contractors were originally bidding. It may be this insistence on a substantially less expensive "bare bones" bridge that resulted not only in an unusual application of the concrete t-beam for a long bridge, but also resulted in a bridge that did not stand the test of time and ultimately collapsed.
Discussion Copied From 1912 Biennial Report of the Michigan State Highway Department
D. A. Brotherton, Engineer, Board County Road Commissioners, Delta County, furnished the pictures on this page and writes as follows:
"Enclosed find two views of the new bridge built last year at Wells on the Bay Shore Road over the Escanaba River.
"The Board of County Road Commissioners had $40,000 with which to construct a bridge. Most of the bridge builders claimed we could not build it for less than $60,000. I informed them all that Delta County had no money to spend for frills or banquets, but wanted $40,000 of concrete and steel put in such shape as to safely carry traffic over the Escanaba River and that they would have to get 'down to brass tacks.'
"As engineer for the Board I drew up an outline of what I considered we should get, specifying the requirements we would insist on and this bridge is the result.
"While it is somewhat plain, it is well proportioned and presents a neat, substantial and very good appearance. Both the steel and concrete are so proportioned and placed as to make the most economical construction and there is no waste material, that is no material which adds weight without having its specific use in caring for some particular strains.
"The bridge is 840 feet in length, divided into 21 40-foot spans. Two expansion joints allow for expansion and contraction. The south end crosses overhead the Escanaba & Lake Superior R. R. at an angle making it necessary to build two piers on a skew of 30 degrees. The west end of the piers were left 40 feet centers, throwing the east ends to the south about 10 feet. You will notice in one of the views the consequent lengthening of span on one side and increased depth of that girder.
"The south approach is on a 0% grade and the bridge north of the span over the E. & L. S. Railroad descends on a 2.11% grade."

Photo Galleries and Videos: Bay Shore Road Bridge

Maps and Links: Bay Shore Road Bridge
This historic bridge has been demolished. This map is shown for reference purposes only.
Coordinates (Latitude, Longitude):

View Bridge Location In:
Bridgehunter.com: View listed bridges within a half mile of this bridge.

Bridgehunter.com: View listed bridges within 10 miles of this bridge.
Google Streetview (If Available)
Apple Maps (Via DuckDuckGo Search)
Apple Maps (Apple devices only)
Android: Open Location In Your Map or GPS App
Flickr Gallery (Find Nearby Photos)
Wikimedia Commons (Find Nearby Photos)
Directions Via Sygic For Android
Directions Via Sygic For iOS and Android Dolphin Browser
USGS National Map (United States Only)
Historical USGS Topo Maps (United States Only)
CalTopo Maps (United States Only)


© Copyright 2003-2020, HistoricBridges.org. All Rights Reserved. Disclaimer: HistoricBridges.org is a volunteer group of private citizens. HistoricBridges.org is NOT a government agency, does not represent or work with any governmental agencies, nor is it in any way associated with any government agency or any non-profit organization. While we strive for accuracy in our factual content, HistoricBridges.org offers no guarantee of accuracy. Information is provided "as is" without warranty of any kind, either expressed or implied. Information could include technical inaccuracies or errors of omission. Opinions and commentary are the opinions of the respective HistoricBridges.org member who made them and do not necessarily represent the views of anyone else, including any outside photographers whose images may appear on the page in which the commentary appears. HistoricBridges.org does not bear any responsibility for any consequences resulting from the use of this or any other HistoricBridges.org information. Owners and users of bridges have the responsibility of correctly following all applicable laws, rules, and regulations, regardless of any HistoricBridges.org information.