We Recommend:

Bach Steel - Experts at historic truss bridge restoration.

Lansdowne Bridge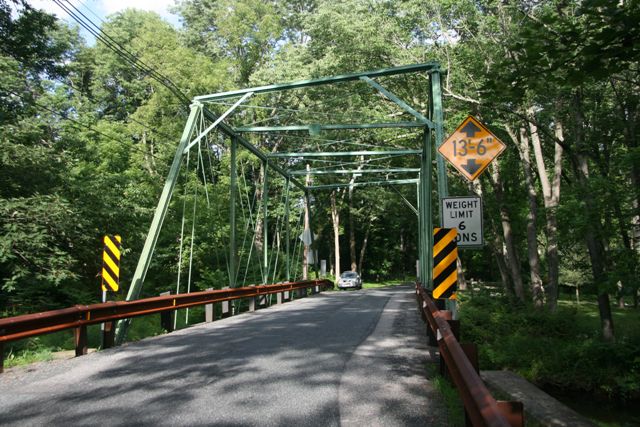 Primary Photographer(s): Nathan Holth and Rick McOmber
Bridge Documented: July 11, 2008
Location
Lansdowne: Hunterdon County, New Jersey: United States
Rehabilitation Date
1982
Main Span Length
88.0 Feet (26.8 Meters)
Structure Length
94.2 Feet (28.7 Meters)
Roadway Width
15.7 Feet (4.79 Meters)
Spans
1 Main Span(s)
Inventory Number
10XXF82


View Information About HSR Ratings
Bridge Documentation
This bridge is a rare example of a skewed through truss that uses the unique Phoenix columns for its built-up beams. This bridge makes more extensive use of the Phoenix columns than some other bridges with Phoenix columns do. All compression members on this bridge are Phoenix columns.
The true strength of the Phoenix column is evident in this bridge, since it clearly is a much less massive bridge than the traditional Pratt truss bridge with built-up beams fabricated from rolled channels, angles, lacing, lattice, etc. In fact, this bridge is so lightweight that it appears to defy physics, seeming to be too light for the job. However a 6 ton weight limit and large, riveted floor beams under the bridge show that this bridge is indeed functioning well even today after well over a century of use.
Information and Findings From New Jersey's Historic Bridge Inventory
Discussion of Bridge
SUMMARY: The skewed 5-panel pin-connected 1885 Pratt thru truss bridge is supported on random ashlar abutments and has Phoenix columns for the compression members. The Phoenix section members are joined by compression fittings into cast iron nodes at the panel points. Shop marks and numbers are cast into all parts. The well-preserved bridge, one of the earliest known examples of Dean & Westbrook of NYC, is historically and technologically significant. It is the only skewed Phoenix section span in NJ.
BIBLIOGRAPHY: Hunterdon County Engineer's Office, Bridge card F82.
Waddell, J.A.L. Bridge Engineering. New York: John Wiley & Sons, Inc., 1925.
Darnell, Victor C. A Directory of American Bridge-Building Companies, 1840-1900. Washington, D.C.: Society for Industrial Archeology, 1984.
Hagley Museum & Library. Phoenix Bridge Company Papers.
PHYSICAL DESCRIPTION: The skewed, single-span, Pratt thru-truss bridge is pin-connected and consists of Phoenix column sections for the portals, top chord and intermediate verticals. The bottom chord consists of circular-headed eyebars. The principal diagonals and end panel hangers consist of needle-headed or loop forged eyebars. The counters consist of rods with clevis which engage the pin at either end for adjustment. All connections except the vertical hangers consist of individual castings which receive the Phoenix- column sections on a flanged lip, and through which the pins pass. At the bearings the castings include integral bearing plates. The expansion bearings sit on nested rollers. The abutments consist of large rusticated ashlar masonry, with flared wingwalls. All pieces are marked with the order number of this span. A peculiar feature of this bridge is the manner in which the skew of the abutments was accommodated within the truss framing. All floor beams are perpendicular to the bridge centerline with the unequal panel length due to the skew taken up in the end panels. On this bridge the incline of the portals were kept parallel and the end panel of the top chords are of unequal length. This arrangement causes the top chord pins at the end panel points only to be offset from the bottom chord pins so that the end panel hangers are inclined. On the opposing sides are hanger inclines toward the support, while the other hanger inclines toward the floor beam. Alterations/modifications to the span are minimal and primarily non-intrusive to the original design. The stringers and deck have been recently replaced with a longitudinal laminated timber deck with an asphalt wearing surface. Timber railings have also been added on the inside face of the trusses. The original railings are gone. The intermediate floor beam hangers were strengthened by the addition of a welded "collar" around the Phoenix column section and an additional pair of rod hangers. That work is believed to have been done in 1958, according to county records.
HISTORICAL AND TECHNOLOGICAL SIGNIFICANCE: The 1885 bridge is historically and technologically significant as a well-preserved example of 19th-century bridge technology in both its design and its construction details (criterion C). The pin-connected Pratt truss became the most successful and technologically important of the late-19th century metal truss types. What distinguishes this cast- and wrought-iron example is the use of Phoenix section columns and cast nodes for connection of the Phoenix-section elements and the way the skew of the abutments was accommodated within the truss framing. Its historical significance is increased by the fact that it is a documented example of the work of New York City-based fabricator Dean & Westbrook, a firm that took over the erection of highway bridges through a contractual arrangement with the Phoenix Bridge Company of Phoenixville, PA. Dean & Westbrook built highway bridges with Phoenix columns until 1896. The Lower Lansdowne Road bridge is one of about ten bridges in New Jersey that are built with Phoenix sections between 1878 and 1895. All are evaluated as significant due to the presence of the important patented Phoenix section, a detail that did as much as any other to promulgate the acceptance of metal truss bridges in the 1870s and 1880s. The Phoenix column was developed in 1864 by David Reeves of the Phoenix Iron Company at Phoenixville, Pennsylvania. It is composed of at least four segmental wrought channels whose flanges were riveted together to produce a circular section with great compressive strength. The Phoenix column, and its cast iron connecting pieces for compression fittings of the various elements, also designed and patented by Phoenix Iron Company engineers, "was a great factor causing the substitution of wrought iron for cast iron in compression members of pin-connected bridges," according to noted engineer and author J.A.L. Waddell. They reflect the then-current understanding of tensile and compressive forces at the panel points. The bridge is one of three bridges with Phoenix sections, each of a different design, in Hunterdon County. Two of them were built by Dean and Westbrook, the fabricating firm based in New York City that was established in 1885, the same year they entered into an agreement with the Phoenix Bridge Company to act as agents for the construction of Phoenix-column highway bridges. From 1885 until 1895, Dean & Westbrook built over 280 Phoenix column highway bridges from Main to North Carolina, but most of their activity was in New York, New Jersey, and Pennsylvania. They built over 70 in New Jersey alone, and they remain in Mercer, Bergen, Somerset, Hunterdon, and Monmouth counties. This is the only skewed thru truss bridge. Correspondence in the Phoenix Iron Company records preserved at the Hagley Museum and Library reveals that when this bridge was ordered, the wrong skew connecting pieces were shipped to the site. The error was not discovered until the bridge was being erected. The correct connecting pieces had to be ordered from Phoenixville.
Boundary Description and Justification: The bridge is evaluated as individually distinguished. The boundary is limited to the substructure and superstructure of the span.
Discussion of Surrounding Area
The bridge carries one lane of a paved rural road over a minor stream. It is located in a wooded rural setting. Upstream is a railroad thru girder bridge. No buildings are visible from the bridge. The unspoiled setting contributes to the significance of the span.
Bridge Considered Historic By Survey: Yes
This bridge is tagged with the following special condition(s): Phoenix Columns

Photo Galleries and Videos: Lansdowne Bridge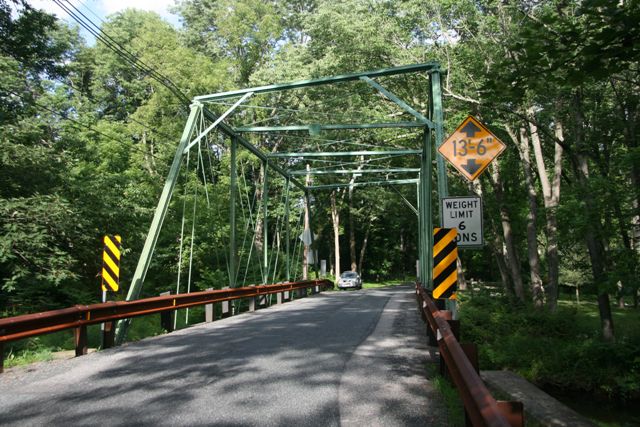 Original / Full Size Photos
A collection of overview and detail photos. This gallery offers photos in the highest available resolution and file size in a touch-friendly popup viewer.
Alternatively,
Browse Without Using Viewer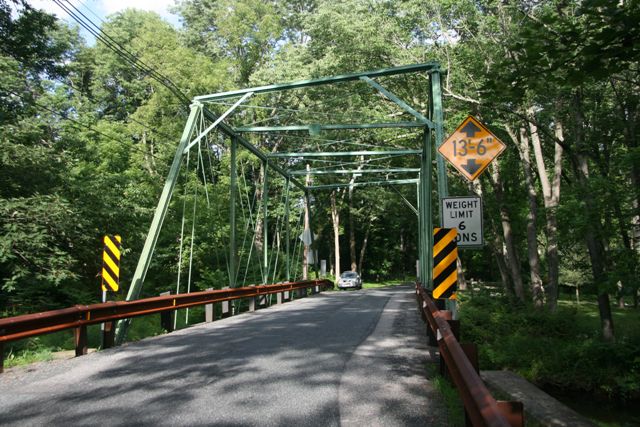 Mobile Optimized Photos
A collection of overview and detail photos. This gallery features data-friendly, fast-loading photos in a touch-friendly popup viewer.
Alternatively,
Browse Without Using Viewer

Maps and Links: Lansdowne Bridge
Coordinates (Latitude, Longitude):

Search For Additional Bridge Listings:
Bridgehunter.com: View listed bridges within 0.5 miles (0.8 kilometers) of this bridge.

Bridgehunter.com: View listed bridges within 10 miles (16 kilometers) of this bridge.
HistoricBridges.org Bridge Browser: View listed bridges within 0.5 miles (0.8 kilometers) of this bridge.
HistoricBridges.org Bridge Browser: View listed bridges within 10 miles (16 kilometers) of this bridge.
2021 National Bridge Inventory: View listed bridges within 0.5 miles (0.8 kilometers) of this bridge.

Additional Maps:
Google Streetview (If Available)
GeoHack (Additional Links and Coordinates)
Apple Maps (Via DuckDuckGo Search)
Apple Maps (Apple devices only)
Android: Open Location In Your Map or GPS App
Flickr Gallery (Find Nearby Photos)
Wikimedia Commons (Find Nearby Photos)
Directions Via Sygic For Android
Directions Via Sygic For iOS and Android Dolphin Browser
USGS National Map (United States Only)
Historical USGS Topo Maps (United States Only)
Historic Aerials (United States Only)
CalTopo Maps (United States Only)


© Copyright 2003-2023, HistoricBridges.org. All Rights Reserved. Disclaimer: HistoricBridges.org is a volunteer group of private citizens. HistoricBridges.org is NOT a government agency, does not represent or work with any governmental agencies, nor is it in any way associated with any government agency or any non-profit organization. While we strive for accuracy in our factual content, HistoricBridges.org offers no guarantee of accuracy. Information is provided "as is" without warranty of any kind, either expressed or implied. Information could include technical inaccuracies or errors of omission. Opinions and commentary are the opinions of the respective HistoricBridges.org member who made them and do not necessarily represent the views of anyone else, including any outside photographers whose images may appear on the page in which the commentary appears. HistoricBridges.org does not bear any responsibility for any consequences resulting from the use of this or any other HistoricBridges.org information. Owners and users of bridges have the responsibility of correctly following all applicable laws, rules, and regulations, regardless of any HistoricBridges.org information.