We Recommend:

Bach Steel - Experts at historic truss bridge restoration.

Wittpenn Bridge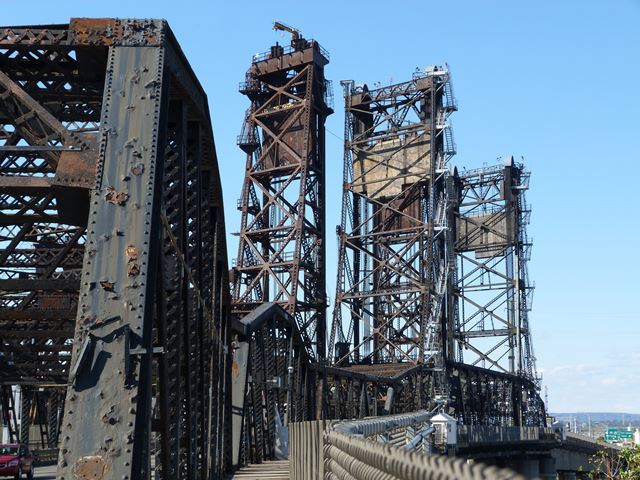 Primary Photographer(s): Nathan Holth
Bridge Documented: October 20, 2013
Location
Kearny and Jersey City: Hudson County, New Jersey: United States
Rehabilitation Date
1957
Main Span Length
206.0 Feet (62.8 Meters)
Structure Length
2,126.0 Feet (648 Meters)
Roadway Width
40 Feet (12.19 Meters)
Spans
1 Main Span(s) and 19 Approach Span(s)
Inventory Number
909150


View Information About HSR Ratings
Bridge Documentation
This bridge's future is at risk!
Bridge Status: As of October 2021: Replacement bridge is open, with demolition of this bridge to follow!
This historic bridge is being replaced and will be demolished!
This bridge is part of a unique setting where three historic vertical lift truss bridges are found side by side. The Wittpenn Bridge is the only one that carries highway traffic, the others are railroad bridges. A fourth lift bridge (also a railroad bridge) is located a bit north as well. Literally right beside this bridge immediately to the south is the Harsimus Branch Lift Bridge. The height of this bridge above the waterway is lower than the WittPenn Bridge. This means that sometimes the railroad bridge operates for boats when the Wittpenn Bridge does not. It is nearly impossible to photograph because of the way it is sandwiched between two bridges. South of that bridge a short distance is the PATH Lift Bridge.
This bridge has a through truss lift span with a horizontal top chord. However, the towers transition into short through truss spans at either end that have a polygonal top chord, which gives the illusion of a Parker through truss that is one span that includes the lift span and the two tower spans, one at each end. Moving southeast from the tower spans, there is a Pratt through truss with a horizontal top chord and vertical end posts. Then, there are two fixed Camelback through truss spans. As such, there is certainly an unusual variety of designs of trusses on this bridge. The truss spans are all visually linked by extensions of the trusses at each pier point that make the bridge look continuous even though the spans are all simple in nature. This bridge is also unique because of its curved roadway alignment. As such, the fixed through truss approach spans that lead up to the main through truss lift span do not line up with each other, giving the bridge a unique appearance. Additional complexity is found in the fact that this bridge's lift span is skewed. Lift bridges appear to have been preferred for skewed crossings because they were easier to design than skewed bascule bridges. This bridge also has a long series of girder approach spans. Because of all these unique designs, this is a bridge that has no twin to be sure!
The bridge was designed by the same engineer who designed the nearby Pulaski Skyway, Sigvald Johannesson. He hired Harrington, Howard and Ash as consultants. This firm was earlier known as Waddell and Harrington, and they invented the modern vertical lift bridge, and remained experts in the design of such bridges. The contractor was the Strobel Steel Construction Company of Chicago, unsurprising since this contractor erected many movable bridges in Chicago, making the construction of this bridge a typical affair for their company.
This historic bridge is as of 2013 being replaced by a new fixed high level bridge. The replacement bridge will be next to the historic bridge. As such, the historic bridge is not in the way of its replacement. As such, this bridge does not deserve to be demolished. It should be left standing next to its replacement. Its lift span could be raised permanently and it could be closed off and left standing as a non-functional historic monument. Alternatively, it could be left operable and used as a pedestrian bridge. However, these preservation solutions appear to have been ignored in favor of the short-sighted decision to demolish the bridge.
Information and Findings From New Jersey's Historic Bridge Inventory
Discussion of Bridge
The bridge is a major movable lift bridge which is especially impressive in the context of three such bridges. The vertical lift span is a skewed Parker truss, and the east approach spans are two camelback thru trusses and a modified Pratt thru truss span. Sources credit Stroebel Steel with building all the superstructure; Harrington, Howard and Ash with consulting on the movable span; Johanneson as design engineer. W.J. Sloan was chief engineer of the NJ State Highway Department. It is individually eligible for listing in the National Register of Historic Places under Criteria A and C, and may be a contributing element to two potentially eligible historic districts -- Hackensack River Bridges and Pennsylvania Railroad Harsimus Branch (Jersey City to Kearny). These districts would focus on transportation and bridge historic resources.
Discussion of Surrounding Area
The bridge crosses a major navigable river in the Hackensack Meadows, while the east approaches are surrounded by an urban industrial district. It shares common piers with an adjacent railroad bridge of the same type built at the same time; all were built in response to a requirement to provide a minimum 35' vertical clearance when closed. It was named for Otto Wittpenn, member of the State Highway Commission, 1929-31.
Bridge Considered Historic By Survey: Yes

Photo Galleries and Videos: Wittpenn Bridge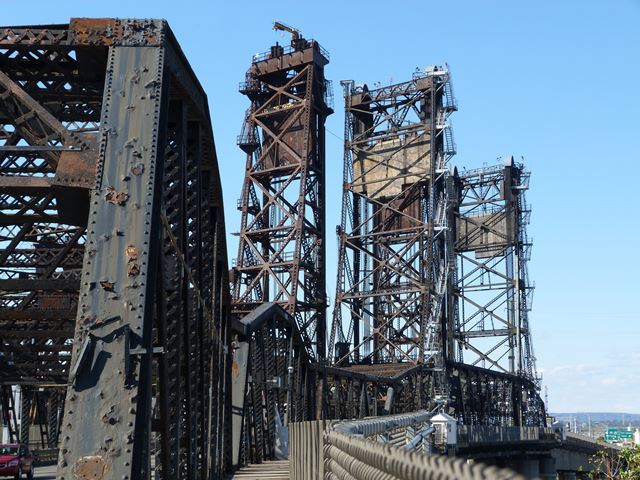 Original / Full Size Photos
A collection of overview and detail photos. This gallery offers photos in the highest available resolution and file size in a touch-friendly popup viewer.
Alternatively,
Browse Without Using Viewer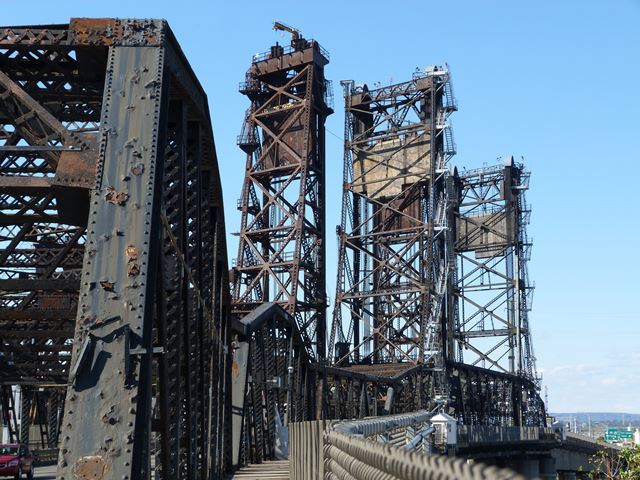 Mobile Optimized Photos
A collection of overview and detail photos. This gallery features data-friendly, fast-loading photos in a touch-friendly popup viewer.
Alternatively,
Browse Without Using Viewer

Maps and Links: Wittpenn Bridge
Coordinates (Latitude, Longitude):

Search For Additional Bridge Listings:
Bridgehunter.com: View listed bridges within 0.5 miles (0.8 kilometers) of this bridge.

Bridgehunter.com: View listed bridges within 10 miles (16 kilometers) of this bridge.
HistoricBridges.org Bridge Browser: View listed bridges within 0.5 miles (0.8 kilometers) of this bridge.
HistoricBridges.org Bridge Browser: View listed bridges within 10 miles (16 kilometers) of this bridge.
2021 National Bridge Inventory: View listed bridges within 0.5 miles (0.8 kilometers) of this bridge.

Additional Maps:
Google Streetview (If Available)
GeoHack (Additional Links and Coordinates)
Apple Maps (Via DuckDuckGo Search)
Apple Maps (Apple devices only)
Android: Open Location In Your Map or GPS App
Flickr Gallery (Find Nearby Photos)
Wikimedia Commons (Find Nearby Photos)
Directions Via Sygic For Android
Directions Via Sygic For iOS and Android Dolphin Browser
USGS National Map (United States Only)
Historical USGS Topo Maps (United States Only)
Historic Aerials (United States Only)
CalTopo Maps (United States Only)


© Copyright 2003-2022, HistoricBridges.org. All Rights Reserved. Disclaimer: HistoricBridges.org is a volunteer group of private citizens. HistoricBridges.org is NOT a government agency, does not represent or work with any governmental agencies, nor is it in any way associated with any government agency or any non-profit organization. While we strive for accuracy in our factual content, HistoricBridges.org offers no guarantee of accuracy. Information is provided "as is" without warranty of any kind, either expressed or implied. Information could include technical inaccuracies or errors of omission. Opinions and commentary are the opinions of the respective HistoricBridges.org member who made them and do not necessarily represent the views of anyone else, including any outside photographers whose images may appear on the page in which the commentary appears. HistoricBridges.org does not bear any responsibility for any consequences resulting from the use of this or any other HistoricBridges.org information. Owners and users of bridges have the responsibility of correctly following all applicable laws, rules, and regulations, regardless of any HistoricBridges.org information.