Information and Findings From Ohio's Historic Bridge Inventory
Setting/Context
The bridge carries a 4-lane highway and sidewalk over the Black River Ship Channel in Lorain in an industrial area. It was named for World War II hero from Lorain was killed at the Battle of Midway.
Physical Description
The 6-span, 1,704'-long high-level, continuous-cantilever thru truss bridge has a main span of 400' and side spans of 200' to 300' long. The trusses are riveted Pratt configurations with variable depth over the center piers where the stresses are greatest in a continuous design. The two-column concrete piers have struts with octagonal cut-outs.
Integrity
Rehabilitated in 1989.
Summary of Significance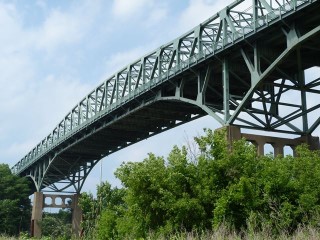 The 1939 continuous-cantilever truss bridge is a later example of a truss design that was pioneered in the late 19th century and rose to the fore nationally in the early 20th century. The variable-depth and slightly arched profile of the trusses provides the greatest depth of truss over the piers where the stresses are greatest in the continuous-cantilever design, and also results in a bridge with pleasing lines. The bridge was rehabilitated in 1989, including deck replacement, but it retains its character defining features. It is an eligible bridge from the prior inventory.
The cantilever truss type/design developed in the U.S. during the 1880s and had emerged by the early 20th century as one of the dominant types for longer spans crossing deep or long rivers where it was difficult, if not impossible, to erect falsework. Truss designs used with cantilever trusses, e.g., Pratt or Warren, mirrored those of the period in which the bridge was built, as did the use of pinned or riveted connections. The great advantage of the cantilever is that it can be built outwards from the towers without falsework to block the channel. Suspended spans can be lifted into place between the cantilever arms. Span lengths of up to 500' are not uncommon, and in the longest examples can exceed 1,000'. The Ohio inventory includes 12 cantilever truss highway bridges dating from 1922 to 1960 (Phase 1A, 2008). The bridge is named in honor of Lofton Henderson (1903-42) who was born in Lorain (his father worked for US Steel and the family later moved to Gary, IN) and killed at the Battle of Midway in June, 1942. He was recognized for his courage and valor leading his squadron in an attack on the Japanese fleet at the decisive battle. Knowing that he was hit, Major Henderson reportedly crashed his damaged plane into a Japanese carrier. He was reported missing in action. The airfield at Guadalcanal (Solomon Islands) was for him in August, 1942.
Justification
The bridge is one of 11 remaining examples of the design used for long, major crossings. They date from 1922 through the interstate era. This is not the most significant example. The bridge has moderate significance.
Bridge Considered Historic By Survey: Yes