We Recommend:

Bach Steel - Experts at historic truss bridge restoration.

Lofton Henderson Memorial Bridge
21st Street Bridge
Primary Photographer(s): Nathan Holth
Bridge Documented: July 7, 2014
Location
Lorain: Lorain County, Ohio: United States
Rehabilitation Date
1989
Main Span Length
390.0 Feet (118.9 Meters)
Structure Length
1,704.0 Feet (519.4 Meters)
Roadway Width
42 Feet (12.8 Meters)
Spans
6 Main Span(s)
Inventory Number
4707443


View Information About HSR Ratings
Bridge Documentation
This bridge is in general terms a rare example of a variety of cantilever truss that avoids traditional "pointy towers" associated with through cantilever trusses and instead provides a more smooth, aesthetically pleasing arch-like shape. However beyond that this is a very unusual and truly unique bridge. Built in 1939, the bridge's complete lack of lattice and v-lacing in its truss members and bracing would have been almost unheard of among truss bridges of this size built during this time. This undoubtedly gave the bridge a striking appearance compared to other bridges of the time. Even today, the bridge retains a rather striking appearance. In addition to the main span with its polygonal top chord, the approach through truss spans have parallel chords and lacking inclined end posts except at the ends of the bridge, this is a bridge with a striking "tunnel effect" when driven over. These approach spans also feature a cantilever design with a suspended span. The bridge has attractive sway bracing that features an arch-like shape to it. Technologically, its worth noting that the overhead sway and lateral bracing has a very unusual arrangement at the point where the suspended span connects to the cantilever arms. At this panel, their are two longitudinal sections of bracing in additional to the sway bracing. One of the bracing connections appears to have an unusual design that is partly pin-connected and appears to provide for the expansion function needed at the transition from cantilever arm to suspended span.
The bridge also has some unusual alterations. A few members are built-up with oval-shaped hand-holes, and these holes have been covered up with bolted plate. Cable appears to have been added at some of the piers connecting floor beam to pier. Rods have been added to a few of the diagonal and top chord segments.
Information and Findings From Ohio's Historic Bridge Inventory
Setting/Context
The bridge carries a 4-lane highway and sidewalk over the Black River Ship Channel in Lorain in an industrial area. It was named for World War II hero from Lorain was killed at the Battle of Midway.
Physical Description
The 6-span, 1,704'-long high-level, continuous-cantilever thru truss bridge has a main span of 400' and side spans of 200' to 300' long. The trusses are riveted Pratt configurations with variable depth over the center piers where the stresses are greatest in a continuous design. The two-column concrete piers have struts with octagonal cut-outs.
Integrity
Rehabilitated in 1989.
Summary of Significance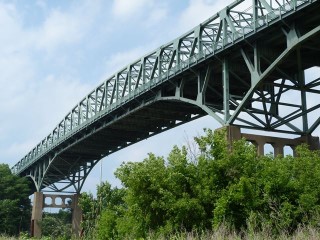 The 1939 continuous-cantilever truss bridge is a later example of a truss design that was pioneered in the late 19th century and rose to the fore nationally in the early 20th century. The variable-depth and slightly arched profile of the trusses provides the greatest depth of truss over the piers where the stresses are greatest in the continuous-cantilever design, and also results in a bridge with pleasing lines. The bridge was rehabilitated in 1989, including deck replacement, but it retains its character defining features. It is an eligible bridge from the prior inventory.
The cantilever truss type/design developed in the U.S. during the 1880s and had emerged by the early 20th century as one of the dominant types for longer spans crossing deep or long rivers where it was difficult, if not impossible, to erect falsework. Truss designs used with cantilever trusses, e.g., Pratt or Warren, mirrored those of the period in which the bridge was built, as did the use of pinned or riveted connections. The great advantage of the cantilever is that it can be built outwards from the towers without falsework to block the channel. Suspended spans can be lifted into place between the cantilever arms. Span lengths of up to 500' are not uncommon, and in the longest examples can exceed 1,000'. The Ohio inventory includes 12 cantilever truss highway bridges dating from 1922 to 1960 (Phase 1A, 2008). The bridge is named in honor of Lofton Henderson (1903-42) who was born in Lorain (his father worked for US Steel and the family later moved to Gary, IN) and killed at the Battle of Midway in June, 1942. He was recognized for his courage and valor leading his squadron in an attack on the Japanese fleet at the decisive battle. Knowing that he was hit, Major Henderson reportedly crashed his damaged plane into a Japanese carrier. He was reported missing in action. The airfield at Guadalcanal (Solomon Islands) was for him in August, 1942.
Justification
The bridge is one of 11 remaining examples of the design used for long, major crossings. They date from 1922 through the interstate era. This is not the most significant example. The bridge has moderate significance.
Bridge Considered Historic By Survey: Yes

Photo Galleries and Videos: Lofton Henderson Memorial Bridge
Original / Full Size Photos
A collection of overview and detail photos. This gallery offers photos in the highest available resolution and file size in a touch-friendly popup viewer.
Alternatively,
Browse Without Using Viewer

Mobile Optimized Photos
A collection of overview and detail photos. This gallery features data-friendly, fast-loading photos in a touch-friendly popup viewer.
Alternatively,
Browse Without Using Viewer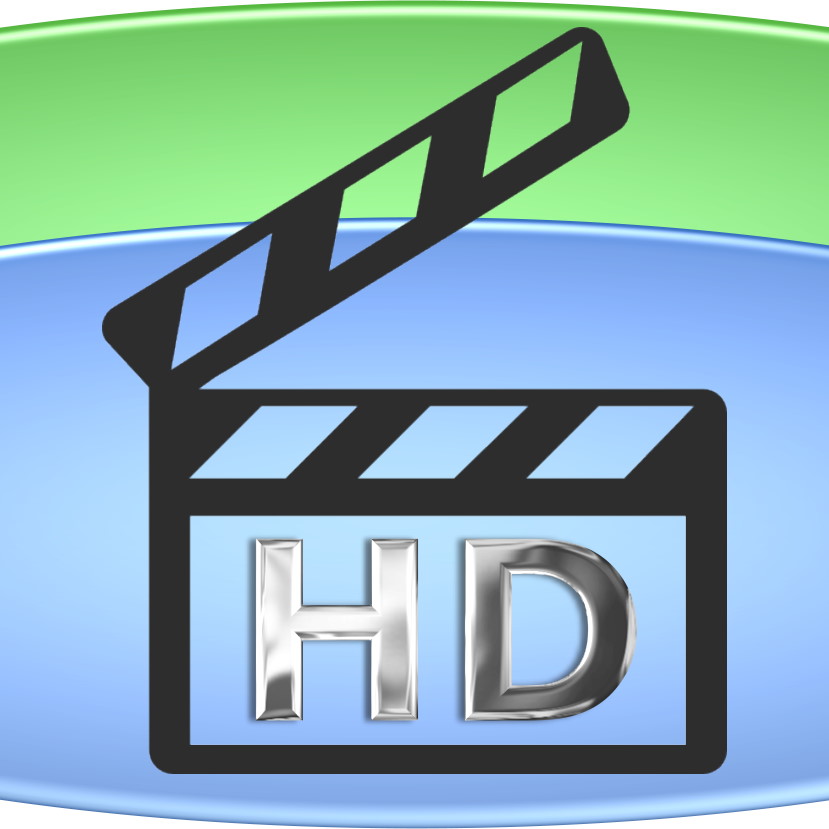 Full Motion Video
Note: The downloadable high quality version of this video (available on the video page) is well worth the download since it offers excellent 1080 HD detail and is vastly more impressive than the compressed streaming video. Streaming video of the bridge. Also includes a higher quality downloadable video for greater clarity or offline viewing.

Maps and Links: Lofton Henderson Memorial Bridge
Coordinates (Latitude, Longitude):

Search For Additional Bridge Listings:
Bridgehunter.com: View listed bridges within 0.5 miles (0.8 kilometers) of this bridge.

Bridgehunter.com: View listed bridges within 10 miles (16 kilometers) of this bridge.
HistoricBridges.org Bridge Browser: View listed bridges within 0.5 miles (0.8 kilometers) of this bridge.
HistoricBridges.org Bridge Browser: View listed bridges within 10 miles (16 kilometers) of this bridge.
2021 National Bridge Inventory: View listed bridges within 0.5 miles (0.8 kilometers) of this bridge.

Additional Maps:
Google Streetview (If Available)
GeoHack (Additional Links and Coordinates)
Apple Maps (Via DuckDuckGo Search)
Apple Maps (Apple devices only)
Android: Open Location In Your Map or GPS App
Flickr Gallery (Find Nearby Photos)
Wikimedia Commons (Find Nearby Photos)
Directions Via Sygic For Android
Directions Via Sygic For iOS and Android Dolphin Browser
USGS National Map (United States Only)
Historical USGS Topo Maps (United States Only)
Historic Aerials (United States Only)
CalTopo Maps (United States Only)


© Copyright 2003-2023, HistoricBridges.org. All Rights Reserved. Disclaimer: HistoricBridges.org is a volunteer group of private citizens. HistoricBridges.org is NOT a government agency, does not represent or work with any governmental agencies, nor is it in any way associated with any government agency or any non-profit organization. While we strive for accuracy in our factual content, HistoricBridges.org offers no guarantee of accuracy. Information is provided "as is" without warranty of any kind, either expressed or implied. Information could include technical inaccuracies or errors of omission. Opinions and commentary are the opinions of the respective HistoricBridges.org member who made them and do not necessarily represent the views of anyone else, including any outside photographers whose images may appear on the page in which the commentary appears. HistoricBridges.org does not bear any responsibility for any consequences resulting from the use of this or any other HistoricBridges.org information. Owners and users of bridges have the responsibility of correctly following all applicable laws, rules, and regulations, regardless of any HistoricBridges.org information.