We Recommend:

Bach Steel - Experts at historic truss bridge restoration.

Bender Bridge
Ficke Bridge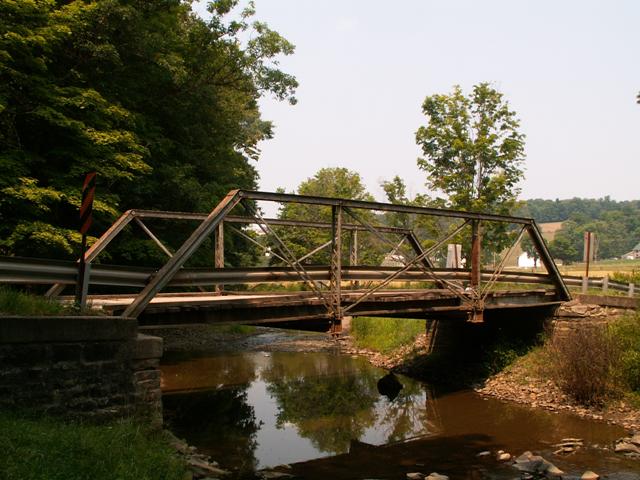 Primary Photographer(s): Nathan Holth and Rick McOmber
Bridge Documented: August 2, 2007
Location
Rural: Somerset County, Pennsylvania: United States
Rehabilitation Date
1993
Main Span Length
45.0 Feet (13.7 Meters)
Structure Length
48.0 Feet (14.6 Meters)
Roadway Width
13 Feet (3.96 Meters)
Spans
1 Main Span(s)
Inventory Number
557224050430670


View Information About HSR Ratings
Bridge Documentation
This bridge no longer exists!
Bridge Status: Destroyed and collapsed by a crash caused by a careless driver in September 3, 2020!
This small three panel pony truss is noteworthy as a relatively old and documented example of work done by an important Pennsylvania bridge company, the Penn Bridge Company. It does feature some alterations. Even so, this bridge is considered, even by the conservative Pennsylvania Historic Bridge Inventory, to be a noteworthy structure.
Often, historic bridges are not located in areas that are designated or considered potential historic districts. This bridge is an exception, and is located in a potential historic district. This should increase the importance of considering preservation for this bridge.
Information and Findings From Pennsylvania's Historic Bridge Inventory
Discussion of Bridge
The 48'-long, 3 panel, pin-connected, Pratt pony truss bridge was built in 1885 by the Penn Bridge Works of Beaver Falls, PA. It is supported on ashlar abutments with flared, stepped wingwalls. The substructure is concrete capped. In 1993 the bridge was rehabilitated, at which time the bearings were encased in concrete, and 2 inclined endposts and 1 vertical member were repaired with bolted splice plates. In spite of the modifications, because of its age and documentation, the bridge is significant as an early example of a pin-connected Pratt pony truss bridge. It is also significant because it is a contributing resource to a potential rural historic district.
Discussion of Surrounding Area
The bridge carries 1 lane of an unimproved township road on a horizontal curve over Elk Lick Creek in a wooded area surrounded by active farms near the village of Summit Mills. The bridge is located in, and contributes to the character of, a potential rural historic district around Summit Mills with a period of significance through 1947. The area consists of fields, pastures, and high meadows. There are mid- to late-19th century structures including a sawmill, church, and schoolhouse at Summit Mills.
Bridge Considered Historic By Survey: Yes

Photo Galleries and Videos: Bender Bridge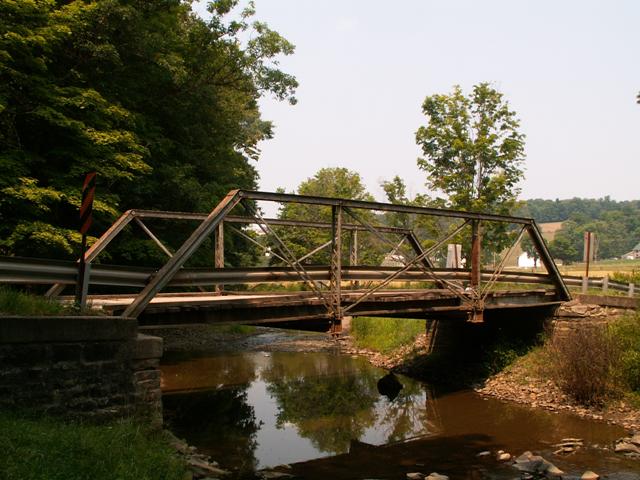 A collection of overview and detail photos. This photo gallery contains a combination of Original Size photos and Mobile Optimized photos in a touch-friendly popup viewer.
Alternatively,
Browse Without Using Viewer

Maps and Links: Bender Bridge
This historic bridge has been demolished. This map is shown for reference purposes only.
Coordinates (Latitude, Longitude):

Search For Additional Bridge Listings:
Bridgehunter.com: View listed bridges within 0.5 miles (0.8 kilometers) of this bridge.

Bridgehunter.com: View listed bridges within 10 miles (16 kilometers) of this bridge.
HistoricBridges.org Bridge Browser: View listed bridges within 0.5 miles (0.8 kilometers) of this bridge.
HistoricBridges.org Bridge Browser: View listed bridges within 10 miles (16 kilometers) of this bridge.
2021 National Bridge Inventory: View listed bridges within 0.5 miles (0.8 kilometers) of this bridge.

Additional Maps:
Google Streetview (If Available)
GeoHack (Additional Links and Coordinates)
Apple Maps (Via DuckDuckGo Search)
Apple Maps (Apple devices only)
Android: Open Location In Your Map or GPS App
Flickr Gallery (Find Nearby Photos)
Wikimedia Commons (Find Nearby Photos)
Directions Via Sygic For Android
Directions Via Sygic For iOS and Android Dolphin Browser
USGS National Map (United States Only)
Historical USGS Topo Maps (United States Only)
Historic Aerials (United States Only)
CalTopo Maps (United States Only)


© Copyright 2003-2023, HistoricBridges.org. All Rights Reserved. Disclaimer: HistoricBridges.org is a volunteer group of private citizens. HistoricBridges.org is NOT a government agency, does not represent or work with any governmental agencies, nor is it in any way associated with any government agency or any non-profit organization. While we strive for accuracy in our factual content, HistoricBridges.org offers no guarantee of accuracy. Information is provided "as is" without warranty of any kind, either expressed or implied. Information could include technical inaccuracies or errors of omission. Opinions and commentary are the opinions of the respective HistoricBridges.org member who made them and do not necessarily represent the views of anyone else, including any outside photographers whose images may appear on the page in which the commentary appears. HistoricBridges.org does not bear any responsibility for any consequences resulting from the use of this or any other HistoricBridges.org information. Owners and users of bridges have the responsibility of correctly following all applicable laws, rules, and regulations, regardless of any HistoricBridges.org information.