We Recommend:

Bach Steel - Experts at historic truss bridge restoration.

Birdsboro Bridge
Birdsboro Viaduct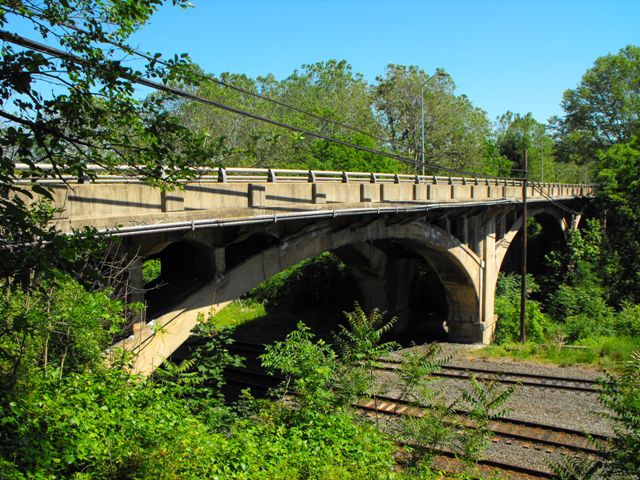 Primary Photographer(s): Nathan Holth and Rick McOmber
Bridge Documented: May 30, 2010
Location
Birdsboro: Berks County, Pennsylvania: United States
Rehabilitation Date
1980
Main Span Length
108.0 Feet (32.9 Meters)
Structure Length
1,123.0 Feet (342.3 Meters)
Roadway Width
25 Feet (7.62 Meters)
Spans
9 Main Span(s) and 10 Approach Span(s)
Inventory Number
6034501300531


View Information About HSR Ratings
Bridge Documentation
This bridge no longer exists!
This historic bridge is being replaced and will be demolished PennDOT!
This bridge is a very long example of a concrete arch bridge at over 1000 feet in length and with nine main spans. The bridge is particularly a unique structure because it also has a bridge ramp that serves a dead-end road called Bridge Street and intersects at a perpendicular angle at the main bridge. The main bridge has had its deck and railings replaced, but this ramp retains original concrete balustrade railings, and the real treasure: a genuine original and unaltered brick deck, a real rarity!
The builder of the bridge, Whittaker and Diehl bid to build the bridge at $286,964. They were able to bid low because their equipment was already nearby working on the Mineral Springs Viaduct. See this news article. The final cost was listed as $350,000. The previous bridge at this location was a wooden covered bridge that burned May 14, 1926. This news article has details.
Sadly, this bridge has not been maintained over the years. The bridge is listed in the National Bridge Inventory as having considerable superstructure and substructure problems, however the bridge was too overgrown for HistoricBridges.org to assess this deterioration for rehabilitation potential. The historic bridge has become extremely overgrown. Driving down the Bridge Street Ramp might be compared to driving into a jungle, getting decent photos showing a significant portion of the main bridge is nearly impossible if leaves are on the trees. These aspects of deferred maintenance may have also led to a decreased public awareness and appreciation of this impressive historic bridge. It is hard to appreciate a historic bridge when you cannot see the elements that make it historic, notably the arches below the deck. The bridge is now scheduled for replacement and demolition, even though the replacement bridge is to be built on a new alignment out of the way of the historic bridge.
The Historic Bridge Inventory, unbelievably, listed this bridge as ineligible for the National Register of Historic Places. This finding is not in line with how other states have conducted their historic bridge inventories, and it also does not recognize the significant engineering and construction achievement represented in a bridge that exceeds 1000 feet and was designed by county engineers. This finding also does not recognize how rare and unique a bridge from this period in history with the 90 degree intersecting Bridge Street Ramp truly is. The finding of ineligibility does not represent current populations and trends with historic bridges in Pennsylvania, and it does not acknowledge the noteworthy aspects of this bridge. A well-written nomination form likely could have been successful in getting the bridge listed on the National Register of Historic Places. The HistoricBridges.org Historic Significance Rating more accurately reflects the bridges as observed during a HistoricBridges.org field visit to the bridge.
Information and Findings From Pennsylvania's Historic Bridge Inventory
Discussion of Bridge
The 9-span, 1,123' long ribbed, open spandrel arch bridge was built in 1927. The spandrel columns are plain, and the deep cantilevered deck sections are supported on console-like brackets. There is a ramp composed or reinforced concrete deck girder spans down to the north bank of the river on the upstream side of the bridge. It retains the original balustrades, but those on the bridge proper were replaced with modern barriers in 1980. The bridge is a later and undistinguished example of a technology that is well represented in the county and state. There are 12 open spandrel arch bridges in Berks County dating from 1913 through 1955. Neither the bridge nor its setting are historically or technologically distinguished.
Discussion of Surrounding Area
The bridge carries a 2-lane state highway over the Schuylkill River and the Reading Railroad main line on the north edge of the borough of Birdsboro. When built, it also crossed the Schuylkill Navigation Co. canal (abandoned). There are ruins of a lock near by. There are undistinguished and altered late 19th and 20th century buildings at the south end of the bridge.
Bridge Considered Historic By Survey: Yes

Photo Galleries and Videos: Birdsboro Bridge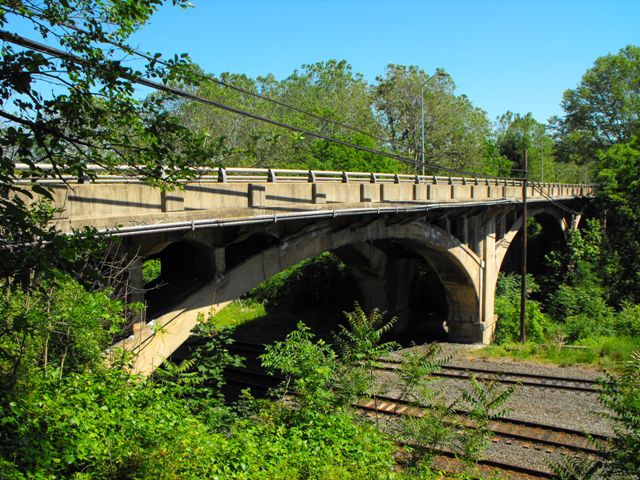 Original / Full Size Photos
A collection of overview and detail photos. This gallery offers photos in the highest available resolution and file size in a touch-friendly popup viewer.
Alternatively,
Browse Without Using Viewer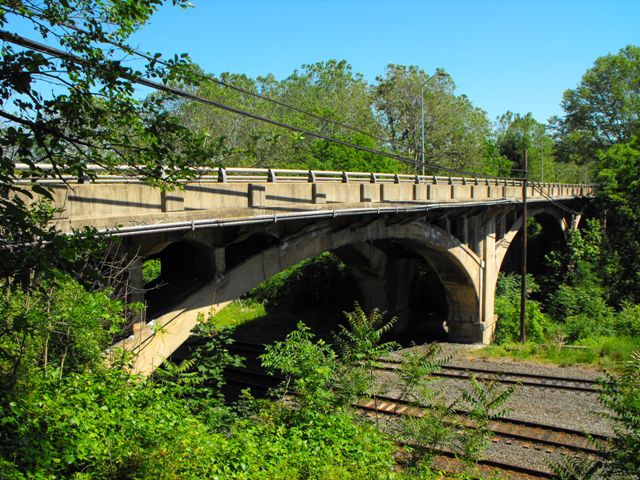 Mobile Optimized Photos
A collection of overview and detail photos. This gallery features data-friendly, fast-loading photos in a touch-friendly popup viewer.
Alternatively,
Browse Without Using Viewer

Maps and Links: Birdsboro Bridge
This historic bridge has been demolished. This map is shown for reference purposes only.
Coordinates (Latitude, Longitude):

Search For Additional Bridge Listings:
Bridgehunter.com: View listed bridges within 0.5 miles (0.8 kilometers) of this bridge.

Bridgehunter.com: View listed bridges within 10 miles (16 kilometers) of this bridge.
HistoricBridges.org Bridge Browser: View listed bridges within 0.5 miles (0.8 kilometers) of this bridge.
HistoricBridges.org Bridge Browser: View listed bridges within 10 miles (16 kilometers) of this bridge.
2021 National Bridge Inventory: View listed bridges within 0.5 miles (0.8 kilometers) of this bridge.

Additional Maps:
Google Streetview (If Available)
GeoHack (Additional Links and Coordinates)
Apple Maps (Via DuckDuckGo Search)
Apple Maps (Apple devices only)
Android: Open Location In Your Map or GPS App
Flickr Gallery (Find Nearby Photos)
Wikimedia Commons (Find Nearby Photos)
Directions Via Sygic For Android
Directions Via Sygic For iOS and Android Dolphin Browser
USGS National Map (United States Only)
Historical USGS Topo Maps (United States Only)
Historic Aerials (United States Only)
CalTopo Maps (United States Only)


© Copyright 2003-2022, HistoricBridges.org. All Rights Reserved. Disclaimer: HistoricBridges.org is a volunteer group of private citizens. HistoricBridges.org is NOT a government agency, does not represent or work with any governmental agencies, nor is it in any way associated with any government agency or any non-profit organization. While we strive for accuracy in our factual content, HistoricBridges.org offers no guarantee of accuracy. Information is provided "as is" without warranty of any kind, either expressed or implied. Information could include technical inaccuracies or errors of omission. Opinions and commentary are the opinions of the respective HistoricBridges.org member who made them and do not necessarily represent the views of anyone else, including any outside photographers whose images may appear on the page in which the commentary appears. HistoricBridges.org does not bear any responsibility for any consequences resulting from the use of this or any other HistoricBridges.org information. Owners and users of bridges have the responsibility of correctly following all applicable laws, rules, and regulations, regardless of any HistoricBridges.org information.