We Recommend These Resources:

Bach Steel - Experts at historic truss bridge restoration.
Historic Bridge Finder App: Find Nearby Bridges

Monaca - East Rochester Bridge
East Rochester Monaca Bridge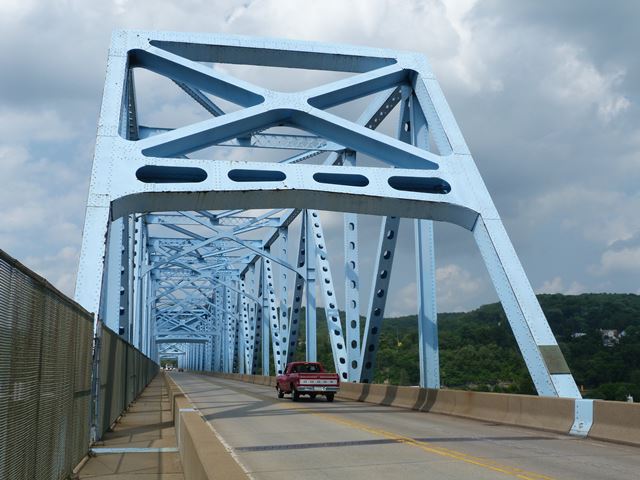 Primary Photographer(s): Nathan Holth
Bridge Documented: July 1, 2014
Key Facts
Location
Monaca and East Rochester: Beaver County, Pennsylvania: United States
Technical Facts
Rehabilitation Date
1993
Main Span Length
730 Feet (222.5 Meters)
Structure Length
2037 Feet (620.88 Meters)
Roadway Width
30 Feet (9.14 Meters)
Spans
3 Main Span(s) and 6 Approach Span(s)
NBI Number
3482

Bridge Documentation
This bridge is not an early example of a cantilever through truss bridge. However so many older cantilever truss bridges have been demolished, but in Pennsylvania and nationwide, that younger bridges like this one are increasingly rare examples of their type and should be considered for historic significance.
This riveted cantilever truss bridge enjoys a distinctive visual appearance, conveyed to bridge users in the form of a heavy, imposing portal bracing, which contrasts with the much lighter and open-looking sway bracing within the bridge. The bridge's central truss span has very short cantilever arms (only three panels), making the suspended span unusually long, occupying the majority of the central span with its fourteen panels.
Overall, the bridge trusses appear to retain good historic integrity with no major alterations.
The bridge includes a full size sidewalk, but the sidewalk is within the truss lines, not cantilevered on the outside.

Photo Galleries and Videos: Monaca - East Rochester Bridge

Bridge Photo-Documentation
Original / Full Size Photos
A collection of overview and detail photos. This gallery offers photos in the highest available resolution and file size in a touch-friendly popup viewer. Alternatively, Browse Without Using Viewer

Bridge Photo-Documentation
Mobile Optimized Photos
A collection of overview and detail photos. This gallery features data-friendly, fast-loading photos in a touch-friendly popup viewer. Alternatively, Browse Without Using Viewer

CarCam: Southbound Crossing
Full Motion Video
Note: The downloadable high quality version of this video (available on the video page) is well worth the download since it offers excellent 1080 HD detail and is vastly more impressive than the compressed streaming video. Streaming video of the bridge. Also includes a higher quality downloadable video for greater clarity or offline viewing.


© Copyright 2003-2019, HistoricBridges.org. All Rights Reserved. Disclaimer: HistoricBridges.org is a volunteer group of private citizens. HistoricBridges.org is NOT a government agency, does not represent or work with any governmental agencies, nor is it in any way associated with any government agency or any non-profit organization. While we strive for accuracy in our factual content, HistoricBridges.org offers no guarantee of accuracy. Information is provided "as is" without warranty of any kind, either expressed or implied. Information could include technical inaccuracies or errors of omission. Opinions and commentary are the opinions of the respective HistoricBridges.org member who made them and do not necessarily represent the views of anyone else, including any outside photographers whose images may appear on the page in which the commentary appears. HistoricBridges.org does not bear any responsibility for any consequences resulting from the use of this or any other HistoricBridges.org information. Owners and users of bridges have the responsibility of correctly following all applicable laws, rules, and regulations, regardless of any HistoricBridges.org information.