We Recommend These Resources:

Bach Steel - Experts at historic truss bridge restoration.

Pont Jean-de-Lalande
Pont Masson
Primary Photographer(s): Nathan Holth and Rick McOmber
Bridge Documented: April 13, 2011 and July 4, 2019
Key Facts
Location
Salaberry-de-Valleyfield: Montérégie, Québec: Canada
Technical Facts
Rehabilitation Date
2011
Main Span Length
160 Feet (48.8 Meters)
Structure Length
160 Feet (48.8 Meters)
Roadway Width
16 Feet (4.88 Meters)
Spans
1 Main Span(s)
NBI Number
Not Applicable


View Information About HSR Ratings
Bridge Documentation
This bridge is an extremely rare surviving example of a pin-connected Camelback truss bridge in Canada. Indeed, surviving pin-connected truss bridges of any kind are rare in Canada.
Thanks to Sylvain Perron for helping with the history of this bridge. The bridge was originally called Pont Masson and it crossed rivière Saint-Charles near Nitro on Grande-Île. The road remains today as Rue Masson. In 1936, it was relocated to vieux canal de Beauharnois (Old Beauharnois Canal) in downtown Valleyfield. As part of this relocation, the bridge was shortened by one panel (a center panel was removed). In its new location the bridge was essentially an extension of chemin Larocque to go into parc Delpha-Sauvé. At that time, people called it '"Pont Vert" (green bridge) or "Pont Noir" (Black Bridge). The difference in naming might come from older people remembering its first color (black). The abutments of the bridge at that place on the Beauharnois canal are still present. It was apparently removed and placed into storage in 2006 when that section of canal was to be reopened to boats. Today it has been restored and relocated to a different section of the same canal, further east where it carries pedestrian traffic. This section of canal is separated from the portion that the bridge previously crossed because a section of canal in between has been filled in.
It was reported that only 7-8% of original bridge materials were replaced, which means that historic integrity of the bridge was maintained. Additionally, a video clearly shows the bridge being restored using hot metal riveting. In other words, rivets were actually replaced with rivets, and not substituted for the modern alternative of high-strength bolts. Using rivets maintains the original design and appearance of the bridge. The technique has been used in some states in the United States and has been ignored in other states. This appears to be either the first use or one of the first uses of this essential aspect of historic bridge restoration in Canada. Another aspect of the restoration was that the bridge was completely dismantled for cleaning and restoration. This method of restoration is the most thorough and it will result in a restored bridge that will offer a much longer service life.
Another unique aspect of the restoration of this bridge was the use of winter ice on the water below. The bridge trusses were assembled and laid out right on the ice by the abutments. In addition, falsework to hold the floorbeams also rested on the ice. The use of winter ice to assemble the bridge may be something that was done by bridge builders back in the era of bridges such as this.
Overall, this bridge appears to represent the best in historic bridge preservation work. It is hoped that this bridge will serve as an example to guide the restoration of more bridges in Canada. The consulting engineer was reported as Les Consultants LBCD. This consultant does not appear to have a website and little is known about them. The contractor appears to have been Flash International. Collège de Valleyfield appears to have had some involvement in the project.
Reportedly a documentary was to be made that shows the restoration process for this bridge. Below, the bridge is shown during the restoration.
Above: 1910s photo showing bridge in its original location with the original nine panels. Source: Élie Gendron 1881-1953, Un photographe aux multiples signatures, Marcel Labelle, Les Éditions GID, 2018, p. 32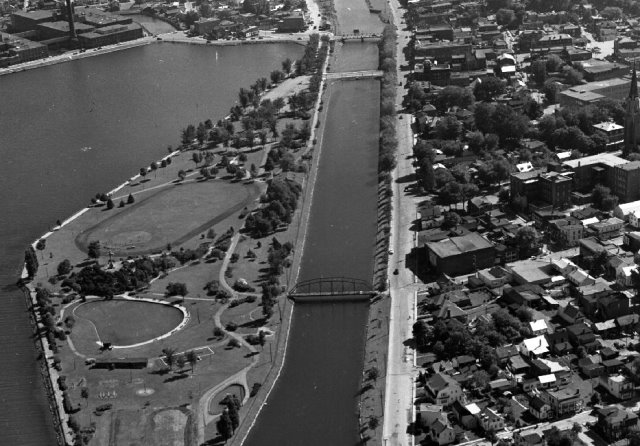 Above: Aerial photo showing bridge in its second location in the 1950s. Photo Credit: Armour Landry. Source: BAnQ numérique

Photo Galleries and Videos: Pont Jean-de-Lalande

Maps and Links: Pont Jean-de-Lalande
Coordinates (Latitude, Longitude):

View Bridge Location In:
Google Streetview (If Available)
Apple Maps (Via DuckDuckGo Search)
Apple Maps (Apple devices only)
Android: Open Location In Your Map or GPS App
Flickr Gallery (Find Nearby Photos)
Wikimedia Commons (Find Nearby Photos)
Directions Via Sygic For Android
Directions Via Sygic For iOS and Android Dolphin Browser


© Copyright 2003-2022, HistoricBridges.org. All Rights Reserved. Disclaimer: HistoricBridges.org is a volunteer group of private citizens. HistoricBridges.org is NOT a government agency, does not represent or work with any governmental agencies, nor is it in any way associated with any government agency or any non-profit organization. While we strive for accuracy in our factual content, HistoricBridges.org offers no guarantee of accuracy. Information is provided "as is" without warranty of any kind, either expressed or implied. Information could include technical inaccuracies or errors of omission. Opinions and commentary are the opinions of the respective HistoricBridges.org member who made them and do not necessarily represent the views of anyone else, including any outside photographers whose images may appear on the page in which the commentary appears. HistoricBridges.org does not bear any responsibility for any consequences resulting from the use of this or any other HistoricBridges.org information. Owners and users of bridges have the responsibility of correctly following all applicable laws, rules, and regulations, regardless of any HistoricBridges.org information.