We Recommend These Resources:

Bach Steel - Experts at historic truss bridge restoration.

Harahan Bridge
Big River Crossing
Primary Photographer(s): Nathan Holth
Bridge Documented: November 6, 2016
Key Facts
Location
Memphis: Shelby County, Tennessee and Crittenden County, Arkansas: United States
Technical Facts
Rehabilitation Date
2016
Main Span Length
790 Feet (240.9 Meters)
Structure Length
4,973 Feet (1515.8 Meters)
Roadway Width
Not Available
Spans
4 Main Span(s)
NBI Number
Not Applicable


View Information About HSR Ratings
Bridge Documentation
This bridge is a nationally significant historic bridge all on its own. What makes this setting even more unique is that this bridge sits right next to an even more significant historic bridge, the Frisco Bridge. To top this all off, the highway bridge that is also next to these two railroad bridges is also historic, and is the Memphis and Arkansas Bridge. Three historic cantilever truss bridges over the Mississippi River side by side, two of those bridges being nationally significant: there is no other historic bridge trio like this in North America.
While the Frisco Bridge was designed by one of the greatest bridge engineers of the 19th Century, the Harahan Bridge was similarly designed by one of the 20th Century's greatest bridge engineers, Ralph Modjeski. As such, works by two of the greatest engineers of their respective centuries can be seen side-by-side. This affords a unique comparison between both engineering thinking, and also changing needs of two different periods in railroad history.
The Harahan Bridge was designed to carry railroad traffic in between truss lines, and highway traffic on cantilevered decks outside of the truss lines. The construction of the Memphis and Arkansas Bridge ended the use of the Harahan Bridge for vehicular traffic. In 2016 however, a unique project converted the north vehicular deck into a pedestrian walkway named the Big River Crossing. This new walkway is unique because of its size, and also because it is rare for a railroad company to allow a public walkway to exist on one of their bridges. As might be expected, substantial fencing separates pedestrians from the railroad tracks. However, the truss is so large that despite the fencing, the walkway still offers excellent up-close views of the impressive details of the truss. Another important aspect of the walkway is that despite addition of modern railing on the outside, the original riveted lattice railings for the vehicular deck were not removed. This helps convey the former vehicular usage of the deck, and also maintains the original appearance of the bridge.
As part of the walkway, a modern full-color decorative lighting system was also installed, allowing for impressive light shows to bathe the entire bridge in a rainbow of animated colors. Note that if you visit this bridge in the evening and do not see the lights in operation, it may be due to a train or barge in the area, as this was a condition for the operation of the lighting system.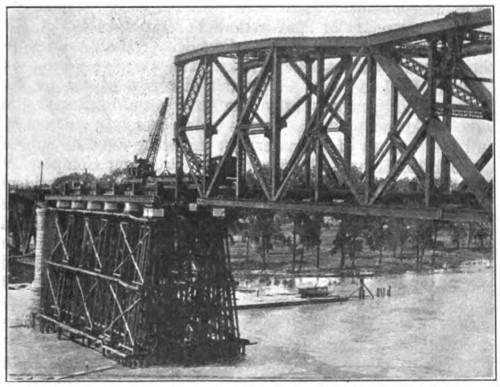 Above: Historical photo showing bridge construction.
Above: Historical photo showing bridge construction. Shown here is a 50 ton wedge used to adjust the position of the top chord near the suspended span. This was needed to fit the pieces together.

Photo Galleries and Videos: Harahan Bridge

Maps and Links: Harahan Bridge
Coordinates (Latitude, Longitude):

View Bridge Location In:
Bridgehunter.com: View listed bridges within a half mile of this bridge.

Bridgehunter.com: View listed bridges within 10 miles of this bridge.
Google Streetview (If Available)
Apple Maps (Via DuckDuckGo Search)
Apple Maps (Apple devices only)
Android: Open Location In Your Map or GPS App
Flickr Gallery (Find Nearby Photos)
Wikimedia Commons (Find Nearby Photos)
Directions Via Sygic For Android
Directions Via Sygic For iOS and Android Dolphin Browser
USGS National Map (United States Only)
Historical USGS Topo Maps (United States Only)
CalTopo Maps (United States Only)


© Copyright 2003-2021, HistoricBridges.org. All Rights Reserved. Disclaimer: HistoricBridges.org is a volunteer group of private citizens. HistoricBridges.org is NOT a government agency, does not represent or work with any governmental agencies, nor is it in any way associated with any government agency or any non-profit organization. While we strive for accuracy in our factual content, HistoricBridges.org offers no guarantee of accuracy. Information is provided "as is" without warranty of any kind, either expressed or implied. Information could include technical inaccuracies or errors of omission. Opinions and commentary are the opinions of the respective HistoricBridges.org member who made them and do not necessarily represent the views of anyone else, including any outside photographers whose images may appear on the page in which the commentary appears. HistoricBridges.org does not bear any responsibility for any consequences resulting from the use of this or any other HistoricBridges.org information. Owners and users of bridges have the responsibility of correctly following all applicable laws, rules, and regulations, regardless of any HistoricBridges.org information.