We Recommend These Resources:

Bach Steel - Experts at historic truss bridge restoration.

Blackfriars Street Bridge
Primary Photographer(s): Nathan Holth
Bridge Documented: July 12, 2005, August 5, 2006, July 20, 2012, and May 25, 2014
Key Facts
Location
London: Middlesex County, Ontario: Canada
Technical Facts
Rehabilitation Date
2018
Main Span Length
225 Feet (68.6 Meters)
Structure Length
225 Feet (68.6 Meters)
Roadway Width
Not Available
Spans
1 Main Span(s)
NBI Number
Not Applicable


View Information About HSR Ratings
Bridge Documentation
This bridge has been altered, resulting in a severe loss of historic integrity and significance!
2018 Update: A rehabilitation project undertaken this year replaced enormous amounts of original material on this bridge with new material that looks drastically different than the original design. During project development, HistoricBridges.org requested opportunities to provide consultation to both the city and engineers but was not engaged in the manner commonly found with similar projects in the United States under what is called Section 106 in the states. Other experts, like Bach Steel, a bridge restoration company, were only consulted for a quote after a scope of work had been determined. This limited consultation left potential opportunities for a less invasive rehabilitation closed. HistoricBridges.org also recognizes the bridge's poor condition prior to rehabilitation, that it had been altered and was also badly deteriorated. HistoricBridges.org also recognizes the desire to keep this crossing open to vehicular traffic. However, the fact remains that an in-kind restoration would have been a better approach, or even a less invasive rehabilitation. With an in-kind restoration, many parts of the bridge would still have been replaced, but they would have been replaced with replicas of the original design. The bridge's bowstring trusses today are almost unrecognizable. For example, the eyebars that would have formed the lower chord of the bridge are today an enormous welded box that looks like it belongs on a modern tied arch bridge. As for the top chord, a couple pieces of the keystone columns which were wrongly called Phoenix columns in local media were welded onto enormous steel boxes which again look like they belong on a modern tied arch bridge. The bridge is essentially a couple pieces of 1875 wrought iron welded onto a small version of the new Blue Water Bridge in Sarnia. If this bridge was located in the United States, this project would have resulted in the bridge being delisted from the National Register of Historic Places. For this reason, HistoricBridges.org is listing the bridge as having a critical loss of historic integrity.
Bridge Closure in 2013 and Current Fate as of 2015
In 2013, this bridge was closed to all traffic due to structural deterioration. What followed was somewhat interesting. Just when you might think that no other historic metal truss bridge in the world had so many unusual alterations, even more unusual alterations were made to the bridge. Unusual plates with cables hanging from them were added to selected areas of the top chord. It also appeared that some of the welded plate that had been added to the top chord long ago was cut out in selected areas and bolts were added at these locations as well. Finally, ugly cyclone-fencing was added to the center of the roadway. The bridge was then reopened to pedestrian traffic only, with pedestrians walking inside the fenced area of the roadway.
As of 2015, a study is underway to determine the future of this bridge. The bridge remains the only known cast and wrought iron bowstring truss bridge in Canada and the longest cast and wrought iron bowstring span known in North America. Its preservation should be considered essential. However the bridge has so many alterations, yet continues to show underlying deterioration, it would appear to HistoricBridges.org that the best solution would be to dismantle the bridge and fully restore it (in-kind restoration) in a shop setting. In-kind restoration means historically correct: rivets would be replaced with rivets, unsightly alterations would be avoided, original material would be retained if possible, and any original material that is missing or is beyond repair would be replaced with an exact replica. Suggested procedure work once the bridge is in the shop, would be to remove all the weird alterations and see how much salvageable original material is left... repair all original material that is not beyond saving, and replicate everything else to match the original 1870s design. The end result would be elimination of all underlying deterioration, and the bridge would return to its original appearance when first constructed in 1875. The bridge as originally built (and as returned to from in-kind restoration) would produce a bridge that could certainly carry non-motorized traffic, and could even carry light vehicular traffic if desired.
Its also worth noting that despite all the crazy alterations on this bridge, the one part of a truss bridge that often gets replaced over the years... but which amazingly remains unaltered on this bridge... is the original built-up floor beams. These should be retained in rehabilitation if at all possible.
General Bridge Information
This bridge is a through bowstring truss bridge, built in 1875. The bridge was a Wrought Iron Bridge Company bridge, as indicated from this document from a catalogue produced by the bridge company. A plaque in London next to the King Street Bridge credits Isaac Crouse as being the contractor for the bridge. Isaac Crouse apparently purchased the bridge from Wrought Iron Bridge Company, and then erected it himself in London. The bowstring features Keystone columns form the top chord of the bridge. There is extensive v-lacing and lattice on the bridge. A sidewalk is on the south side of the bridge, and appears to be original.
Not only is this bridge London's oldest iron bridge, this was also its first iron bridge when it was built way back in 1875! This is the only surviving iron bowstring known in Ontario, and indeed all of Canada. There are still a small number remaining in the United States, with the longest United States single bowstring span being a bowstring in Mankato, Minnesota, of 190 feet (57.9 meters). The Blackfriars Bridge's span rings in at a considerably larger 225 feet (68.58 meters)! For this reason, Blackfriars Bridge appears to be the longest remaining iron bowstring span in North America and perhaps beyond.
The bridge has undergone numerous repairs, resulting in significant alterations to the original design of the bridge, which has had a detrimental effect on the bridge's historic integrity. The most significant alterations include welded plate added to the sides of the Keystone column top chord, which has obscured the trademark Keystone column shape. This document illustrates how the plates are welded on, and what the original Keystone columns would look like as originally created by the iron mill. A number of vertical and diagonal members have had members added and welded to the original members. These added members are also welded to added plate at connection points. A couple added bars of steel run lengthwise through the middle of the truss webs also. Regardless of these alterations, the bridge still manages to be a nationally significant historic structure because it is so rare and old. Additionally, despite the aforementioned alterations, it in contrast retains some original elements that are often lost on old bridges, particularly the original floorbeams. These unique fishbelly style built-up floorbeams have an unusual asymmetrical design that accommodates an extension of the floorbeams beyond the roadway on one side to support the cantilevered sidewalk on the south side of the bridge. Also, the original ornamental lattice railings remain on the sidewalk, albeit with a metal pole welded on above them.
Heritage bridges, with their heritage, beauty, and status as unique local landmarks often can serve as focal points for events perhaps not directly related to the bridge itself. For example, this bridge will be one of several historic bridges featured on an Amateur Radio event hosted by K8CJQ. Amateur Radio operators will gather at this and other bridges for the "Historic Bridge Weekend", which runs from July 19 - 21, 2013.
Above: View of the bridge in 1967. In this photo, the added piece of steel that runs through the truss in a crooked arch shape is visible. Thus, it is clear that this alteration is older than 1967. Photo Courtesy: City of London.
Overview of Bowstring Truss Bridges
Bowstring truss bridges, sometimes called bowstring truss-arch bridges because they also incorporate design aspects of an arch bridge, are one of the rarest types of bridge, with most date in the 1870s. They were the first type of metal bridge to be used and gain popularity in North America, and could be said to be responsible for the transition from wood to metal as a primary bridge material. Built in this early metal bridge era, bowstring truss bridges often display patented and/or experimental designs developed by the particular builder of each bridge. They rapidly fell out of favor after the 1870s as the simpler pin-connected Pratt truss was developed and embraced, which also brought an end to the broad design experimentation as well. Between their age, lightweight design, and relatively short period in which they were being built, very few bowstring truss bridges survive in North America today. Aside from their historic significance, a bowstring bridge like Blackfriars Bridge also has a great deal of aesthetic value. The bridge's numerous members, which are also often built-up beams with patterns of lattice and v-lacing on them, form a complex geometric art. This large amount of complexity is balanced out by the simple, graceful appearance of the arched top chord. The result is a bridge with incomparable beauty and appeal that is unrivaled by any modern bridge type.
Above: Historical photos of the bridge. Courtesy: City of London
Suggested Preservation Work
In addition to the substantial repairs made in past years to the superstructure, this bridge has also been maintained through small repair projects that are undertaken on an as-needed basis. For example, in 2006, the bridge was closed for selected repairs to the timber deck. The time may come in the future however when a more extensive project is needed to prepare the bridge for another century of use. At that time, HistoricBridges.org would recommend a comprehensive in-kind restoration. An in-kind restoration would replace beyond-repair parts of the bridge with exact replicas. Failed rivets would be replaced with failed rivets. Any of the cast iron details on the railing or connection points that are failed or missing would also be replicated. It may also be possible to remove some of the more unsightly alterations on the bridge and either leave them off, or replace them with something less noticeable. For example, some of the added welded plate connections are more bulky in appearance than they likely need to be. The decision on whether an alteration could be left off or needed to be replaced with something else would depend on the load limit needs for the bridge, and what purpose the alterations serve. If the alterations were meant to address loss of strength due to deteriorated original material, the restoration of the original material may render the alteration unnecessary. If the alterations were intended to increase the load capacity of the bridge beyond original design capacity, they would need to be substituted with something else, assuming this loading was to be maintained. One idea to consider would be to restore the bridge, but to turn it into a non-motorized crossing and not allow vehicular traffic on the bridge any more. This could decrease the live load requirements, and thus eliminate the need for the alterations.
Long story short, the technology exists to take this bridge and bring it back to nearly the exact appearance it had when erected in 1875, and to do so while maintaining the majority of original material on the bridge. To see what a bowstring bridge of this design looked like without alterations on it, see this unaltered bridge in Iowa.. Also below is a photo showing the Blackfriars Street Bridge in its earlier years before alteration. Presumably the photo was taken before 1900 because a metal truss seen in the distance in the above 1900 photo is not visible in the photo below. Photo Courtesy: Ivey Family London Room, London Public Library, London, Ontario, Canada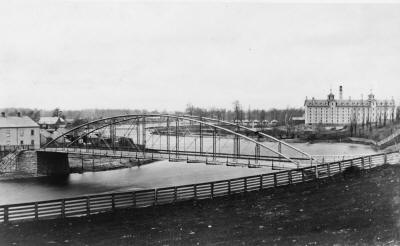 Description of Historic Place
The Blackfriars Bridge, a reinforced wrought-iron bowstring bridge, was constructed in 1875. It spans the North Branch of the Thames River, on Blackfriars Street, in the City of London.

The property was designated by the City of London in 1992 for its heritage value under Part IV of the Ontario Heritage Act (By-law L.S.P.-3140-106). The Blackfriars Bridge has also been listed on the Ontario Heritage Bridge list, a list of provincially significant bridges, maintained by the Ministry of Culture.
Heritage Value
The Blackfriars Bridge is a landmark, in the City of London, and has been a source of inspiration to local artists, writers, photographers, and historians for many years. The gentle curve of Ridout Street onto the east side entrance of the bridge augments the experimental qualities inherent in the structure, including its narrow width, the texture of the wooden deck and the streamlined elegance of its bowed profile. These characteristics and the steep, well-treed riverbanks and parkland create a rural feel in this downtown location.

Formerly the principle link between the City of London and its hinterland, the Blackfriars Bridge was the first iron bridge, in London, to span the Thames River. Constructed, in 1875, under the supervision of local contractor Issac Crouse, it replaced the last of several wooden bridges that had spanned the river, at this location, since 1826. None of these bridges could withstand the severe spring flooding. By 1889, all wooden bridges, in London, were replaced with iron structures and only the Blackfriars Bridge remains.

TThe Blackfriars Bridge is a fine example of bowstring construction and one of the few such bridges still standing, in Canada. It was designed and fabricated to an American prototype that was first patented by the Wrought Iron Bridge Company of Ohio, in 1870. Wrought iron was chosen because of its excellent qualities of strength, malleability and resistance to corrosion. A low parabolic chord tops the bridge and gives it a sense of floating above the river, as it extends over the Thames River, for an unsupported 212 feet. Other distinctive features of this style of bridge construction include; the pin connections, the timber decking and the lattice girders.

Due to a relatively low volume of traffic, Blackfriars Bridge has survived. It is the oldest wrought-iron bridge in North America still used for vehicular traffic. It is recognized as a significant example of early engineering technology.

Sources: City of London By-law (L.S.P.-3140-106); Research article by Harvey Revington and Eila Milne, 2005.
Character-Defining Elements
ChCharacter defining elements that contribute to the heritage value of the Blackfriars Bridge include its:
- prominent location spanning the Thames River providing a gateway between the downtown and former West London areas, of the City of London
- orientation to Ridout Street
- gentle curve that augments the bridge's narrow width, texture of the wooden deck and streamlined elegance of its bowed profiler
- reinforced bowstring bridge construction, based on an 1870 prototype by the Wrought Iron Bridge Company
- wrought-iron construction including the low parabolic chord that tops the bridge
- unsupported length of 212 feet
- pin connections and lattice girders
- timber deck beams
HeHeritage Designation and Type: Yes, Municipal Heritage Designation (Part IV)
This bridge is tagged with the following special condition(s): Keystone Columns

Photo Galleries and Videos: Blackfriars Street Bridge

Structure Overview
Original / Full Size Photos
A collection of overview photos that show the bridge as a whole and general areas of the bridge. This gallery offers photos in the highest available resolution and file size in a touch-friendly popup viewer. Alternatively, Browse Without Using Viewer

Structure Details
Original / Full Size Photos
A collection of detail photos that document the parts, construction, and condition of the bridge. This gallery offers photos in the highest available resolution and file size in a touch-friendly popup viewer. Alternatively, Browse Without Using Viewer

Structure Overview
Mobile Optimized Photos
A collection of overview photos that show the bridge as a whole and general areas of the bridge. This gallery features data-friendly, fast-loading photos in a touch-friendly popup viewer. Alternatively, Browse Without Using Viewer

Structure Details
Mobile Optimized Photos
A collection of detail photos that document the parts, construction, and condition of the bridge. This gallery features data-friendly, fast-loading photos in a touch-friendly popup viewer. Alternatively, Browse Without Using Viewer

2014 Supplemental Photos
Original / Full Size Photos
Additional photos taken in 2014 showing the unusual alterations to the bridge after it was closed to vehicular traffic. This gallery offers photos in the highest available resolution and file size in a touch-friendly popup viewer. Alternatively, Browse Without Using Viewer

2014 Supplemental Photos
Mobile Optimized Photos
Additional photos taken in 2014 showing the unusual alterations to the bridge after it was closed to vehicular traffic. This gallery features data-friendly, fast-loading photos in a touch-friendly popup viewer. Alternatively, Browse Without Using Viewer

Maps and Links: Blackfriars Street Bridge
Coordinates (Latitude, Longitude):

View Bridge Location In:
Google Streetview (If Available)
Apple Maps (Via DuckDuckGo Search)
Apple Maps (Apple devices only)
Android: Open Location In Your Map or GPS App
Flickr Gallery (Find Nearby Photos)
Wikimedia Commons (Find Nearby Photos)
Directions Via Sygic For Android
Directions Via Sygic For iOS and Android Dolphin Browser


© Copyright 2003-2021, HistoricBridges.org. All Rights Reserved. Disclaimer: HistoricBridges.org is a volunteer group of private citizens. HistoricBridges.org is NOT a government agency, does not represent or work with any governmental agencies, nor is it in any way associated with any government agency or any non-profit organization. While we strive for accuracy in our factual content, HistoricBridges.org offers no guarantee of accuracy. Information is provided "as is" without warranty of any kind, either expressed or implied. Information could include technical inaccuracies or errors of omission. Opinions and commentary are the opinions of the respective HistoricBridges.org member who made them and do not necessarily represent the views of anyone else, including any outside photographers whose images may appear on the page in which the commentary appears. HistoricBridges.org does not bear any responsibility for any consequences resulting from the use of this or any other HistoricBridges.org information. Owners and users of bridges have the responsibility of correctly following all applicable laws, rules, and regulations, regardless of any HistoricBridges.org information.