We Recommend These Resources:

Bach Steel - Experts at historic truss bridge restoration.
Historic Bridge Finder App: Find Nearby Bridges

Cortland Street Bridge
West Clybourn Place Bridge
Primary Photographer(s): Nathan Holth
Bridge Documented: August 12, 2006 and May 2009
Key Facts
Location
Chicago: Cook County, Illinois: United States
Technical Facts
Rehabilitation Date
1997
Main Span Length
128 Feet (39.01 Meters)
Structure Length
217 Feet (66.14 Meters)
Roadway Width
36 Feet (10.97 Meters)
Spans
1 Main Span(s) and 4 Approach Span(s)
NBI Number
16601126625

Bridge Documentation
Chicago is today known by bridge enthusiasts as the bascule bridge capital of the world, and this bridge is where that legacy started. The design of this bridge is that of trunnion style bascule bridge. Built from 1901 to 1902, this was in fact the first Chicago style trunnion bridge ever built. The design only became known as the "Chicago" type bascule bridge when Chicago proceeded to populate nearly every movable bridge crossing in the city with this type of bridge over the decades to come. Trunnion bascule bridges rotate up around a giant axle called the "trunnion." This design proved superior to the competing design of a rolling lift bascule, which lifts by rolling back on a short track. The rolling lift design introduced shifting dead load on the abutments, which wore out the abutments quickly in Chicago because Chicago abutments were more susceptible than abutments in other places because the land was essentially swampy and somewhat unstable.
With the Chicago bascule bridge in its infancy and city engineers perhaps occupied enough with just designing the overall structure of the bridge, the first generation bascule bridges like the Cortland Street Bridge have a somewhat cluttered and clunky appearance compared to the graceful, curved, and uncluttered appearance of the second generation bascules where engineers spent more time making the bridges aesthetically pleasing. This is not to say that the first generation bascule bridges are ugly, indeed in today's world of plain and simple bridges, their complex geometry is perhaps equally as beautiful in its own unique way. Where the later bridges would have a beauty that could be described as graceful, these first generation bridges have a beauty that could be described a geometric art. The complex patterns of triangles and curves created by the beams and trusses of this bridge give the eye much to study. Further, the first generation bridges were embellished with non-structural decorations in a way later bridges were not. For example, the Cortland Street Bridge has decorative finals placed on the top of the top chord. In addition, the placement of the plaques up in the sway bracing and on the truss members allows the plaques to have a dual function as an decorative enhancement as well. The plaques on the bridge are not the simple square bronze plaques seen on later generation bascule bridges; rather they are fancy shaped decorative plaques proudly mounted for all to see. In contrast to all of this however, the bridge-tender's tower is much more simple than the fancy stone towers seen in later generation bridge, and is instead a simple wooden building.
This bridge's truss superstructure was built by the American Bridge Company, Lassig Plant. The American Bridge Company would have been a brand new company at the time. As one of the first bridges built by the fledgling company that would become one of the leading bridge builders of the 20th Century, the Cortland Street Bridge gains additional historical significance. The Fitzsimons and Connell Company were the substructure contractors.
Construction of this bridge began with the a contract for this bridge's substructure being let on November 16, 1900 which allowed for the demolition work to begin by December 10, 1900 and be completed by January 1, 1901. The west piers were completed by July 1, 1901. The east piers were completed by October 1, 1901. The superstructure contract was let on February 20, 1901 allowing the erection of the west leaf to begin on August 12, 1901 and the east lead on November 5, 1901.
Today, the bridge no longer raises for boats, which is all too obvious due to the i-beam that was bolted on the middle of the span to lock the bridge closed.
The truss superstructure of this bridge is in good condition, and like many Chicago bascule bridges features rivets that have been replaced with bolts on select portions of the bridge. Original railings appear to have been replaced by pole railings on the bridge itself, although beautiful ornate railings that feature lattice on the bottom and a gothic arch-like design above are present on the approaches, which likely were originally present all the way across the bridge. The bridge was rehabilitated in 1983, and a plaque added to the bridge announces that the bridge was restored in 1997. The bridge was also repainted sometime between 2006 and 2009. It is good to see that this extremely important historic bridge is being maintained and preserved. As of 2014, additional repairs to the bridge are being planned, as is the restoration of the bridge tender house.
Be sure to view the excerpts from the 1901 annual report of the department of public works. It has an interesting discussion of the bridge.
The previous bridge at this location was also the first documented bridge at this location. It was a hand-turned iron/wood combination bridge built in 1873 by Fox and Howard. It was 140 feet long and 32 feet wide.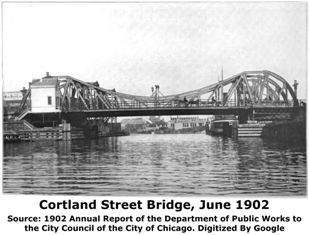 Above: These three views show the bridge after around a year of operation.


Above Left: F. W. Blocki was the Chicago Commissioner of Public Works when the Cortland Street Bridge was built.


Above: Although the City of Chicago's engineers were largely responsible for researching and identifying the fixed trunnion bridge as the bascule bridge of choice for Chicago, they did hire of Board of Consulting Engineers to assist. This board consisted of Byron B. Carter, Ralph Modjeski, and someone cited in Historic American Engineering Record as "F. L. Cooley," a historical July 6, 1902 issue of The Railway Age as "E. L. Cooley", and more likely who was really Lyman Edgar (L. E.) Cooley who was a consulting engineer for the Sanitary District. Ralph Modjeski stands out among that group, since he became famous and is considered one of the country's greatest bridge engineers.



Above: Photos taken in 1904, a few years after the construction of the bridge, show some of the internal machinery and electrical equipment.
City Plaque

1901

CARTER H. HARRISON
MAYOR

F. W. BLOCKI
COMMISSIONER OF PUBLIC WORKS

JOHN ERICSON
CITY ENGINEER

Superstructure Plaque

1901

AMERICAN
BRIDGE CO

LASSIG PLANT

CONTRACTORS
FOR
SUPER
STRUCTURE

Substructure Plaque

1901

THE
FITZSIMONS
AND
CONNELL CO

CONTRACTORS
FOR
SUB
STRUCTURE

Rehabilitation Plaque

1997

BRIDGE RESTORED

NORTH RIVER
INDUSTRIAL CORRIDOR

RICHARD M. DALEY
MAYOR
Information and Findings From Chicago Landmarks Designation
General Information
Address: 1440 W. Cortland St.
Year Built: 1902
Architect: John Ernst Ericson
Date Designated a Chicago Landmark: July 24, 1991

This structure marked a major advancement in the design of movable bridges. The first of its kind completed in the United States, this Chicago-type, leaf-lift (trunnion bascule) bridge became an international model for structures spanning navigable waterways. It also established Chicago as the leader in this form of civil engineering.
This Bridge Is A Designated Chicago Landmark

Historic Bridges of Chicago and Cook County


Browse Bridges In Google Maps
Complete Bridge List
Chicago and Cook County are home to one of the largest collections of historic bridges in the country, and no other city in the world has more movable bridges. HistoricBridges.org is proud to offer the most extensive coverage of historic Chicago bridges on the Internet.
Chicago / Cook County Bridge News
October 2015 - Patrick T. McBriarty, author of Chicago's River Bridges, informs HistoricBridges.org that in recognition for the "outstanding and original reference work that will support future scholarship in the history of technology", the book was awarded the biennial Eugene S. Ferguson Prize by the Society for the History of Technology (SHOT) at the SHOT Annual Meeting's awards banquet. See press release. This is the third award for this book. Order Now Direct From The Publisher! or order on Amazon.
October 23, 2015 - The Franklin Street Bridge celebrates its 95th Anniversary. Please view this announcement prepared by Chicago Loop Bridges or view it on the Chicago Loop Bridges Website.
September 2015 - Fall Bridge Lift Season is Underway. View Schedule.
May 2015 - Michigan Avenue Bridge celebrates its 95th Birthday this month! Click here for a news article.
October 2014 - A visit to Chicago revealed that the Van Buren Street Pedestrian Bridge was not demolished, but instead extensively rehabbed. The railings are new, but replicate the original design. The concrete encasement was removed and not replaced, and instead the exposed riveted steel beams have been painted. The riveted beams look quite nice, and given the condition of the bridge prior to the project this seems like a good outcome. In other news, the rehabilitation and repainting of the La Salle Street Bridge is ongoing, and the project to extend the Chicago Riverwalk under additional bridges on the Main Branch is continuing.
September 2014 - Chicago's dubious distinction of offering numerous boat tours that pass under the bridges but offer narration only of the buildings has ended with the start of a Wendella tour that focuses on bridges! Information is here.
July 29, 2013 - A project study has been initiated for the reconstruction of historic North Lake Shore Drive. This project puts a large number of historic bridges at risk for demolition and replacement. However, it could also be an opportunity to rehabilitate the bridges. Visit the project website.
May 15, 2013 - The Ashland Avenue Bridge over North Branch Chicago River has been recommended for Chicago Landmark designation by the Chicago Art Deco Society.
April 30, 2013 - Illinois Landmarks has included Chicago's Bascule Bridges as one of their Top 10 Most Endangered Historic Places. View The Official Page.
General Chicago / Cook County Bridge Resources
Chicago's Bridges - By Nathan Holth, author of HistoricBridges.org, this book provides a discussion of the history of Chicago's movable bridges, and includes a virtual tour discussing all movable bridges remaining in Chicago today. Despite this broad coverage, the book is presented in a compact format that is easy to take with you and carry around for reference on a visit to Chicago. The book includes dozens of full color photos. Only $9.95 U.S! ($11.95 Canadian). Order Now Direct From The Publisher! or order on Amazon.
Chicago River Bridges - By Patrick T. McBriarty, this is a great companion to Holth's book shown above. This much larger book offers an extremely in-depth exploration of Chicago's movable highway bridges, including many crossings that have not existed for many years. Order Now Direct From The Publisher! or order on Amazon.
View Historic American Engineering Record (HAER) Overview of Chicago Bascule Bridges (HAER Data Pages, PDF)
Chicago Loop Bridges - Chicago Loop Bridges is another website on the Internet that is a great companion to the HistoricBridges.org coverage of the 18 movable bridges within the Chicago Loop. This website includes additional information such as connections to popular culture, overview discussions and essays about Chicago's movable bridges, additional videos, and current news and events relating to the bridges.
Additional Online Articles and Resources - This page is a large gathering of interesting articles and resources that HistoricBridges.org has uncovered during research, but which were not specific to a particular bridge listing.

Photo Galleries and Videos: Cortland Street Bridge

Bridge Photo-Documentation
Original / Full Size Photos
A collection of overview and detail photos. This gallery offers photos in the highest available resolution and file size in a touch-friendly popup viewer. Alternatively, Browse Without Using Viewer

Bridge Photo-Documentation
Mobile Optimized Photos
A collection of overview and detail photos. This gallery features data-friendly, fast-loading photos in a touch-friendly popup viewer. Alternatively, Browse Without Using Viewer

2009 Bridge Photo-Documentation
Original / Full Size Photos
Additional overview and detail photos, taken shortly after a repainting project. This gallery offers photos in the highest available resolution and file size in a touch-friendly popup viewer. Alternatively, Browse Without Using Viewer

2009 Bridge Photo-Documentation
Mobile Optimized Photos
Additional overview and detail photos, taken shortly after a repainting project. This gallery features data-friendly, fast-loading photos in a touch-friendly popup viewer. Alternatively, Browse Without Using Viewer

Bumpercam: Westbound Crossing: Rush Hour
Full Motion Video
Note: The downloadable high quality version of this video (available on the video page) is well worth the download since it offers excellent 1080 HD detail and is vastly more impressive than the compressed streaming video. Streaming video of the bridge. Also includes a higher quality downloadable video for greater clarity or offline viewing.



© Copyright 2003-2018, HistoricBridges.org. All Rights Reserved. Disclaimer: HistoricBridges.org is a volunteer group of private citizens. HistoricBridges.org is NOT a government agency, does not represent or work with any governmental agencies, nor is it in any way associated with any government agency or any non-profit organization. While we strive for accuracy in our factual content, HistoricBridges.org offers no guarantee of accuracy. Information is provided "as is" without warranty of any kind, either expressed or implied. Information could include technical inaccuracies or errors of omission. Opinions and commentary are the opinions of the respective HistoricBridges.org member who made them and do not necessarily represent the views of anyone else, including any outside photographers whose images may appear on the page in which the commentary appears. HistoricBridges.org does not bear any responsibility for any consequences resulting from the use of this or any other HistoricBridges.org information. Owners and users of bridges have the responsibility of correctly following all applicable laws, rules, and regulations, regardless of any HistoricBridges.org information.