We Recommend These Resources:

Bach Steel - Experts at historic truss bridge restoration.

London South Branch Railway Bridge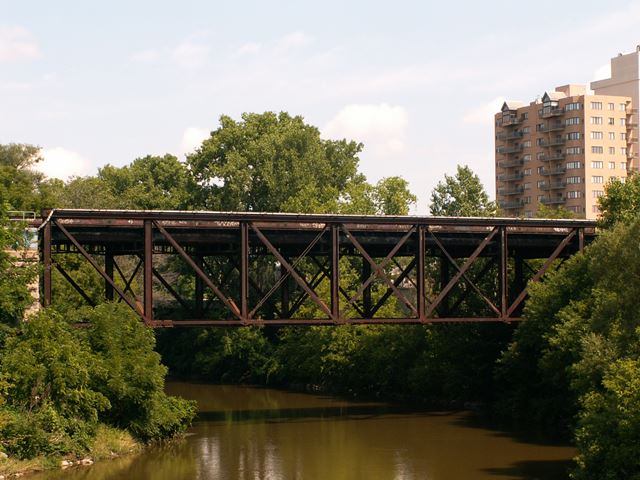 Primary Photographer(s): Nathan Holth
Bridge Documented: July 12, 2005, August 5, 2006, and April 13, 2019
Key Facts
Location
London: Middlesex County, Ontario: Canada
Technical Facts
Rehabilitation Date
Not Available or Not Applicable
Main Span Length
Not Available
Structure Length
Not Available
Roadway Width
Not Available
Spans
1 Main Span(s)
NBI Number
Not Applicable


View Information About HSR Ratings
Bridge Documentation
Most of southwestern Ontario is devoid of pin connected structures, but here in London there are several, although this is the only pin-connected railway bridge in the area. Even more unusual is where the deck is positioned on the bridge. The top chord actually is well above the deck, which gives the bridge a slight feeling of pony truss when you are on the deck. The bridge is in fact mostly a deck truss however, since the vast majority of the truss is below the deck. Chicago often positioned its bascule bridge trusses like this on many bridges, and coined the term "railing height" truss, and the term seems appropriate for this bridge, although when this bridge was built such a term did not exist. The bridge was likely described as a deck truss when it was built. Raising the top chord up a slight distance may have been a way to increase clearance for the river. The end posts on the truss are vertical, which gives the bridge a square appearance. The bridge has v-lacing and lattice on many members. Nice views from below this bridge can be seen from a bike path that travels along the east side of the river here. In fact this path is one of the things that makes visiting bridges in London enjoyable, since it follows the river consistently, leading to several of the heritage bridges in the city. This bridge carries frequent train traffic, which leaves a lot of opportunity for photos of a train crossing the bridge. The bridge sits on stone abutments.

Photo Galleries and Videos: London South Branch Railway Bridge

Maps and Links: London South Branch Railway Bridge
Coordinates (Latitude, Longitude):

View Bridge Location In:
Google Streetview (If Available)
Apple Maps (Via DuckDuckGo Search)
Apple Maps (Apple devices only)
Android: Open Location In Your Map or GPS App
Flickr Gallery (Find Nearby Photos)
Wikimedia Commons (Find Nearby Photos)
Directions Via Sygic For Android
Directions Via Sygic For iOS and Android Dolphin Browser


© Copyright 2003-2021, HistoricBridges.org. All Rights Reserved. Disclaimer: HistoricBridges.org is a volunteer group of private citizens. HistoricBridges.org is NOT a government agency, does not represent or work with any governmental agencies, nor is it in any way associated with any government agency or any non-profit organization. While we strive for accuracy in our factual content, HistoricBridges.org offers no guarantee of accuracy. Information is provided "as is" without warranty of any kind, either expressed or implied. Information could include technical inaccuracies or errors of omission. Opinions and commentary are the opinions of the respective HistoricBridges.org member who made them and do not necessarily represent the views of anyone else, including any outside photographers whose images may appear on the page in which the commentary appears. HistoricBridges.org does not bear any responsibility for any consequences resulting from the use of this or any other HistoricBridges.org information. Owners and users of bridges have the responsibility of correctly following all applicable laws, rules, and regulations, regardless of any HistoricBridges.org information.