We Recommend These Resources:

Bach Steel - Experts at historic truss bridge restoration.

South Bridge (Stone Facing)
Animal Bridge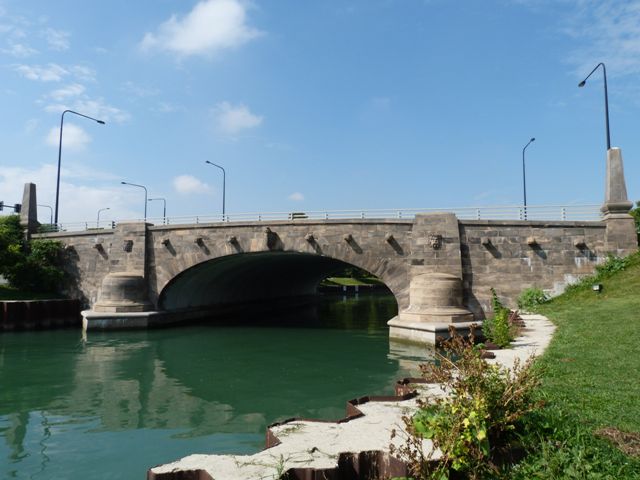 Primary Photographer(s): Nathan Holth
Bridge Documented: September 8, 2011
Key Facts
Location
Chicago: Cook County, Illinois: United States
Technical Facts
Rehabilitation Date
2003
Main Span Length
47 Feet (14.4 Meters)
Structure Length
49 Feet (15 Meters)
Roadway Width
67.3 Feet (20.51 Meters)
Spans
1 Main Span(s)
NBI Number
16619727260


View Information About HSR Ratings
Bridge Documentation
Note: The historic bridge once at this location was demolished and replaced in 2003. The bridge seen here is modern and not historic. This HistoricBridges.org listing refers to the historic stone facing that was salvaged from the placed on this modern bridge.
About The Former Historic Bridge - Today Demolished
Constructed in 1904, the bridge at this location was an exceedingly rare example of a concrete arch bridge which used a type of concrete reinforcing patented by Julius Kahn of the Trussed Concrete Steel Company of Detroit, Michigan. This unique type of concrete reinforcing had a comb-like appearance and had bars that had smaller bars that extended out at an angle from the main bar. The idea of having these angled bars extending from the main bar was to produce a structural effect similar to how a truss works to transfer loads. This system was patented by Julius Kahn in 1902, so the system was relatively new when the bridge was built. Kahn's unusual reinforcing system was one of a number of unusual methods of reinforcing concrete that were developed and patented in the first decade of the 20th Century. At this time, reinforced concrete construction (often called concrete-steel construction) was relatively new and so engineers were inventing and patenting their own ideas for what the best reinforcement method was. Kahn's reinforcing was used at least occasionally on bridges, but it appears to have been far more popular for building construction, based on the content of the company's advertisements.
The replacement of this historic bridge resulted in the loss of this extremely rare reinforced concrete bridge. It is not known how many other bridges if any might survive in the country that have Kahn reinforcing. It does not appear that Chicago salvaged any of the reinforcing during the demolition of the bridge. At the very least, it would have been nice to salvage some of the concrete and reinforcing and create an interpretive display near the bridge that would have explained the reinforcing and its significance.
About The Current Bridge
The bridge seen today is a modern precast arched rigid-frame. The bridge's structure is not historic or noteworthy. However the unique stone facing that was part of the 1904 historic bridge was salvaged and placed on the new bridge and this facing is itself historically and aesthetically significant. It appears that the new bridge's superstructure was designed to match the shape of the historic arch, because the stones line up on the new bridge. The stone facing is unique because it features detailed sculptures that stick out from the stone and include hippopotamus heads, faces, and a boat. These unique details were designed to compliment the themes of wind and water at the park.
The result of this replacement project was that the structural features and technological significance of the historic bridge were destroyed completely, however the historic bridge's architectural features and aesthetic significance was preserved.

Photo Galleries and Videos: South Bridge (Stone Facing)

Maps and Links: South Bridge (Stone Facing)
Coordinates (Latitude, Longitude):

View Bridge Location In:
Bridgehunter.com: View listed bridges within a half mile of this bridge.

Bridgehunter.com: View listed bridges within 10 miles of this bridge.
Google Streetview (If Available)
Apple Maps (Via DuckDuckGo Search)
Apple Maps (Apple devices only)
Android: Open Location In Your Map or GPS App
Flickr Gallery (Find Nearby Photos)
Wikimedia Commons (Find Nearby Photos)
Directions Via Sygic For Android
Directions Via Sygic For iOS and Android Dolphin Browser
USGS National Map (United States Only)
Historical USGS Topo Maps (United States Only)
CalTopo Maps (United States Only)


© Copyright 2003-2022, HistoricBridges.org. All Rights Reserved. Disclaimer: HistoricBridges.org is a volunteer group of private citizens. HistoricBridges.org is NOT a government agency, does not represent or work with any governmental agencies, nor is it in any way associated with any government agency or any non-profit organization. While we strive for accuracy in our factual content, HistoricBridges.org offers no guarantee of accuracy. Information is provided "as is" without warranty of any kind, either expressed or implied. Information could include technical inaccuracies or errors of omission. Opinions and commentary are the opinions of the respective HistoricBridges.org member who made them and do not necessarily represent the views of anyone else, including any outside photographers whose images may appear on the page in which the commentary appears. HistoricBridges.org does not bear any responsibility for any consequences resulting from the use of this or any other HistoricBridges.org information. Owners and users of bridges have the responsibility of correctly following all applicable laws, rules, and regulations, regardless of any HistoricBridges.org information.