We Recommend:

Bach Steel - Experts at historic truss bridge restoration.

Adamsville Bridge
Primary Photographer(s): Nathan Holth and Rick McOmber
Bridge Documented: November 9, 2010 and June 7, 2014
Location
Adamsville: Gallia County, Ohio: United States
Rehabilitation Date
Not Available or Not Applicable
Main Span Length
60.0 Feet (18.3 Meters)
Structure Length
134.0 Feet (40.8 Meters)
Roadway Width
21 Feet (6.4 Meters)
Spans
3 Main Span(s) and 2 Approach Span(s)
Inventory Number
2742322


View Information About HSR Ratings
Bridge Documentation
Bridge Status: This historic bridge is slated for rehabilitation with contract to be let November 18, 2021!
This bridge is one of the most significant and unique historic bridges in Ohio, which given the number of unique and rare historic bridges in Ohio is really saying something. Apparently at one time there were three such structures in Ohio, however this bridge is the last of its kind in Ohio and may be the only example of its type in the country. As such, the bridge is not only extremely significant on a state level, but is also nationally significant as a unique example of an experimental type of concrete bridge. Described as a concrete cantilevered through girder bridge, the bridge is so unusual in appearance that many might find it hard to believe this is a concrete girder bridge. However the appearance and function of the bridge might be compared to a more common type of cantilever bridge, the metal through cantilever truss, such as the Ironton Russell Bridge. Girder bridges function in the same way as truss bridges. Like a cantilever truss, the Adamsville Bridge has towers at the piers, with a top chord that slopes downward away from the piers.
The gentle curves of the top chord of the girder are reminiscent of the shape of a suspension bridge. These curves, along with the paneling and other architectural detailing particularly around the towers of this bridge make this structure equally significant in terms of beauty.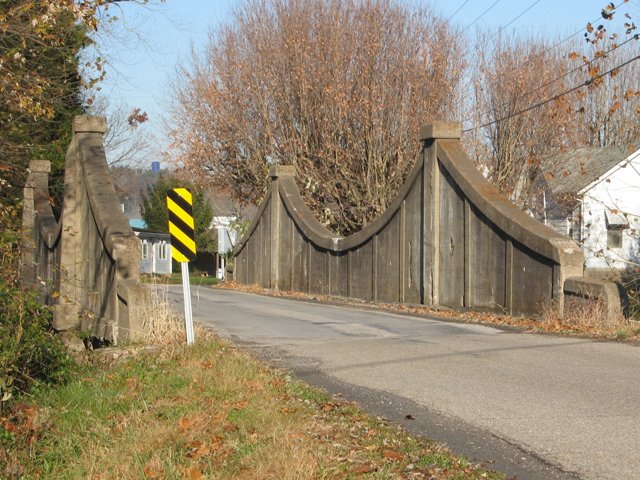 One of the most unusual features of the bridge is the manner in which the designers utilized the cantilever in this bridge. On the end spans of the bridge, the girder extends outward from the tower and essentially ends a little over seven feet from the ends of the bridge. A tiny seven foot three inch girder span which might be described as a half-suspended span runs from the abutment to the ends of the cantilever girder. Visually, these little spans do not match up with the cantilever girder's curve, and they look out of place, however they very clearly and visually demonstrate how the main cantilever spans do not require the support of the abutment to stand.
Currently the fate of this bridge is in question, whether the bridge will be rehabilitated, bypassed, or demolished and replaced. Given the historic significance of this bridge, preservation should be given paramount priority.
Information and Findings From Ohio's Historic Bridge Inventory
Setting/Context
The bridge carries a 2 lane road over a stream in a rural setting. At the southwest quadrant is the Adamsville Log Village, a collection of log cabins and outbuildings moved to the site as a history museum. At the northwest quadrant is a vernacular 1.5-story house. To the southeast quadrant is a field, and to the northeast quadrant is a T-shaped intersection with Fairview Road and beyond that a ca. 1930 Colonial Revival house.
Physical Description
The 3 span, 134'-long bridge is a reinforced-concrete variable-depth thru girder with cantilevered end spans. It achieves the greatest depth over the piers with tower-like posts. The paneled girders, which also serve as the railings, support floorbeams and a slab deck. It has articulated floorbeams. It is supported on concrete cutwater piers and stone abutments. Concrete parapets extend over the U-shaped wingwalls.
Integrity
Loss of original fabric from spalling at the fascia. Core samples have been taken at various locations.
Summary of Significance
According to notes in ODOT's environmental review file, the bridge was determined eligible in 2006 as part of a project to rehabilitate the bridge. It was built in 1922 on the old Gallipolis-Jackson state highway. This is believed to be the only surviving example of a cantilevered thru girder in Ohio. The cantilevered design is also rare nationally, and this standard design may be unique to Ohio. According to plans, it was a design of the Bridge Bureau. At least three other examples are known to have been built, but this is the only known surviving example. The bridge is technologically significant illustrating the innovative practices of the state bridge bureau in the era of development and experimentation with reinforced-concrete as a bridge-building material (Criterion C).
Bridge Considered Historic By Survey: Yes, High Significance
Justification
The bridge is one of the most significant of the more than 60 extant examples built between 1905 and 1938. It is of a high level of significance because of its rare cantilevered design.

Photo Galleries and Videos: Adamsville Bridge
Original / Full Size Photos
A collection of overview and detail photos. This gallery offers photos in the highest available resolution and file size in a touch-friendly popup viewer.
Alternatively,
Browse Without Using Viewer

Mobile Optimized Photos
A collection of overview and detail photos. This gallery features data-friendly, fast-loading photos in a touch-friendly popup viewer.
Alternatively,
Browse Without Using Viewer

Maps and Links: Adamsville Bridge
Coordinates (Latitude, Longitude):

Search For Additional Bridge Listings:
Bridgehunter.com: View listed bridges within 0.5 miles (0.8 kilometers) of this bridge.

Bridgehunter.com: View listed bridges within 10 miles (16 kilometers) of this bridge.
HistoricBridges.org Bridge Browser: View listed bridges within 0.5 miles (0.8 kilometers) of this bridge.
HistoricBridges.org Bridge Browser: View listed bridges within 10 miles (16 kilometers) of this bridge.
2021 National Bridge Inventory: View listed bridges within 0.5 miles (0.8 kilometers) of this bridge.

Additional Maps:
Google Streetview (If Available)
GeoHack (Additional Links and Coordinates)
Apple Maps (Via DuckDuckGo Search)
Apple Maps (Apple devices only)
Android: Open Location In Your Map or GPS App
Flickr Gallery (Find Nearby Photos)
Wikimedia Commons (Find Nearby Photos)
Directions Via Sygic For Android
Directions Via Sygic For iOS and Android Dolphin Browser
USGS National Map (United States Only)
Historical USGS Topo Maps (United States Only)
Historic Aerials (United States Only)
CalTopo Maps (United States Only)


© Copyright 2003-2023, HistoricBridges.org. All Rights Reserved. Disclaimer: HistoricBridges.org is a volunteer group of private citizens. HistoricBridges.org is NOT a government agency, does not represent or work with any governmental agencies, nor is it in any way associated with any government agency or any non-profit organization. While we strive for accuracy in our factual content, HistoricBridges.org offers no guarantee of accuracy. Information is provided "as is" without warranty of any kind, either expressed or implied. Information could include technical inaccuracies or errors of omission. Opinions and commentary are the opinions of the respective HistoricBridges.org member who made them and do not necessarily represent the views of anyone else, including any outside photographers whose images may appear on the page in which the commentary appears. HistoricBridges.org does not bear any responsibility for any consequences resulting from the use of this or any other HistoricBridges.org information. Owners and users of bridges have the responsibility of correctly following all applicable laws, rules, and regulations, regardless of any HistoricBridges.org information.