We Recommend:

Bach Steel - Experts at historic truss bridge restoration.

Western Hills Viaduct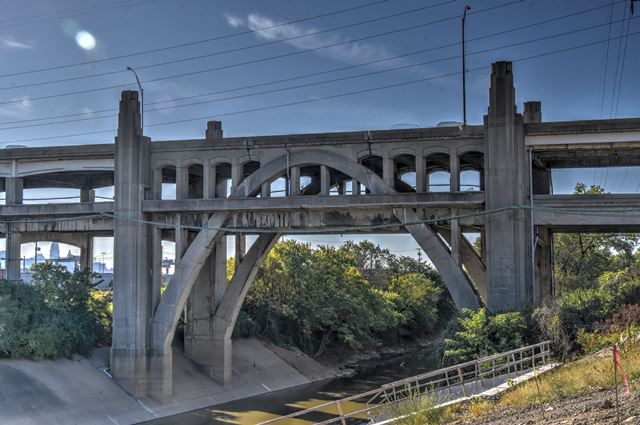 Primary Photographer(s): Nathan Holth
Bridge Documented: September 22, 2019
Location
Cincinnati: Hamilton County, Ohio: United States
Rehabilitation Date
1978
Main Span Length
120.0 Feet (36.6 Meters)
Structure Length
3,145.0 Feet (958.6 Meters)
Roadway Width
48.2 Feet (14.69 Meters)
Spans
2 Main Span(s) and 41 Approach Span(s)
Inventory Number
3137082


View Information About HSR Ratings
Bridge Documentation
This bridge's future is at risk!
Bridge Status: This historic bridge is slated for demolition and replacement!
This is a massive, long double-deck viaduct including a complex system of ramps and two rare double-deck arch spans. Intermediate spans are concrete encased steel girders. While it suffers from a number of alterations, particularly at the east and western ends of the bridge, the two impressive double deck arch spans and the intermediate spans remain intact. The western end of the bridge retains an abandoned underpass. Original railings only remain at the west approach ramps. The western and eastern spans of the bridge have been altered from the original design to accommodate later roads, such as I-75.
Above: Panoramic elevation from northwest quadrant.
Above: General elevation from southwest quadrant.
Above: Looking up at east arch span.
Above: View from east stairway.
Above: Historical photo showing bridge construction.
Above: Historical photo showing bridge construction.
Above: Historical photo showing bridge construction.
Information and Findings From Ohio's Historic Bridge Inventory
Setting/Context
The over 1/2 mile-long viaduct carries a 4-lane street over a major rail yard, IR 75, local streets, and industrial properties. The viaduct was built in 1931 jointly by the Cincinnati Union Terminal and the Cincinnati Department of Public Works as part of improvements to the city's transportation system eliminating several at-grade crossings. "The viaduct was built from 1930-32 as part of the Union Terminal project, replacing the much smaller Harrison Avenue viaduct (1908). Either end of the 2,800ft. double-decked portion is marked by arch spans, the east arch bridging Spring Grove Ave. and the smaller western arch crossing the Mill Creek. The viaduct's western half spans the CSX Queensgate yard and the eastern half provides a grade separated route above local roads. Originally both 40ft. decks carried four lanes but the lower deck has been striped for three lanes for several decades …. In 1960 the easternmost section of the viaduct was demolished to allow construction of I-75 beneath as well as a partial interchange with the expressway …. The viaduct was planned to play a much larger role in the city's expressway network, linking the Queen City and William Howard Taft Expressways. The Queen City Expressway was to run from a Cleves intersection with River Rd., east through Western Hills, and join up with the Western Hills Viaduct, using it as its I-75 interchange and link with the Taft Expressway. The Taft Expressway was to connect the viaduct with Columbia Parkway, along the approximate route of McMillan St. and William Howard Taft, with exits at Ravine St., Clifton Ave., Vine St., Burnet Ave., Reading Rd., I-71, and Gilbert Ave., and Victory Parkway. This expressway was to require a steep snaking climb up Fairview Hill, the demolition of 660 properties, and destruction of Fairview and Inwood Park." From http://www.cincinnati-transit.net/westernhills.html [Aug. 2008].
Physical Description
The Western Hills Viaduct has two open spandrel arch spans of 120' flanked by T beam spans with arched fascia beams. It is a double-deck bridge with multiple breakouts and ramps at either end. The high-rise arches have Art Deco pylons at the abutment corners that are topped by luminaires.
Integrity
The upper deck of the eastern approach spans was replaced with welded steel girders as part of the tie in with IR 75 in 1960. The bridge appears to have been altered in 1978 with replacement railings and cantilevered deck section (not confirmed by plans).
Summary of Significance
The Western Hills Viaduct was determined eligible in 1999 as a result of advancing a project to address safety-related improvements. The bridge's significance is primarily derived from its historic association with the Union Terminal project and transportation planning in Cincinnati (Criterion A). It is a later example of its type/design with alterations, but it incorporates features such as the unusual double-deck arrangement (for this type of bridge) that was intended to provide added traffic capacity and separate traffic movements in the infancy of urban expressway planning. The Art Deco styling is in keeping with the overall theme of the Union Terminal project. "The reinforced concrete open spandrel arch was first constructed around 1906. It was the dominant form for concrete bridges in the 1920s and 1930s. By eliminating the walls and fill material of the closed spandrel, dead loads were reduced and cost savings were seen in materials with the open spandrel. Aesthetics was another factor with the open spandrel. They had a lightness and visual appeal and were used in prominent or scenic locations. Open spandrel construction marked engineering prowess during the 1930s and 1940s. By the 1940s, the open spandrel concrete structure began to be supplanted by the more pre-stressed beam and reinforced concrete girder structures. Open spandrel arch bridges have pierced spandrel wall with no fill material, and the spandrel columns transmit dead and live load from the deck to the arch. The arch ring may be either solid (barrel) or ribbed. Open spandrel arch bridges require more formwork to construct than filled spandrel bridges. Open spandrel concrete arches, while not uncommon, are not as common as many other bridge types built during this same era. They are significant because they represent the evolution of concrete technology. To be considered significant, open spandrel arches should have integrity through the retention of their character-defining features, which include arch ribs, ring or barrel; spandrel; spandrel columns; railing or parapet; and piers, abutments, and wingwalls." [From: A Context for Common Historic Bridge Types by Parsons Brinckerhoff, October 2005]
Justification
Because of the early emphasis on aesthetics at the local and state levels, Ohio has an impressive assemblage of long and shorter open spandrel arch bridges dating from 1907 through World War II. Twenty-three of the 25 predate World War II. This example, although massive and associated with a significant transportation planning challenges, has a moderate level of significance in comparison with the population.
Bridge Considered Historic By Survey: Yes
This bridge is tagged with the following special condition(s): Double-Deck

Photo Galleries and Videos: Western Hills Viaduct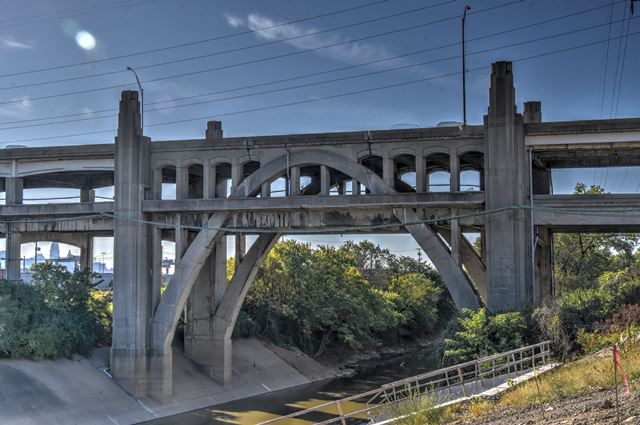 Original / Full Size Photos
A collection of overview and detail photos. This gallery offers photos in the highest available resolution and file size in a touch-friendly popup viewer.
Alternatively,
Browse Without Using Viewer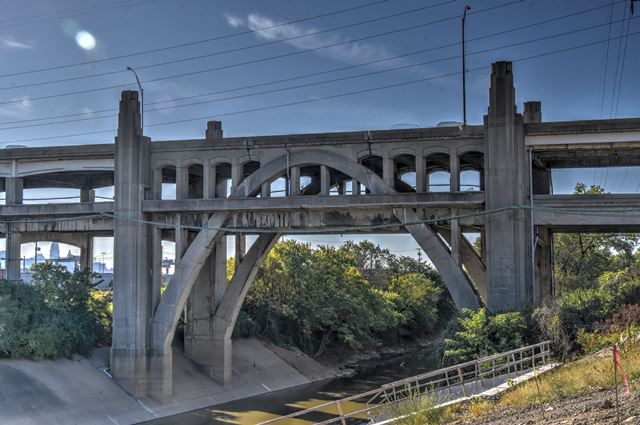 Mobile Optimized Photos
A collection of overview and detail photos. This gallery features data-friendly, fast-loading photos in a touch-friendly popup viewer.
Alternatively,
Browse Without Using Viewer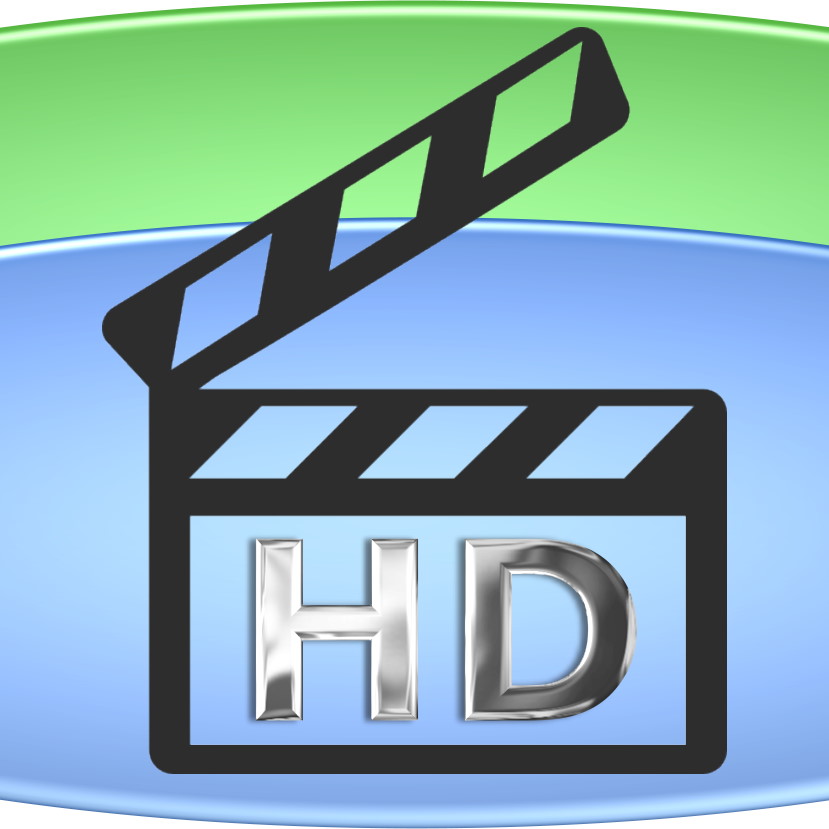 Full Motion Video
Note: The downloadable high quality version of this video (available on the video page) is well worth the download since it offers 4K detail and is vastly more impressive than the compressed streaming video. Streaming video of the bridge. Also includes a higher quality downloadable video for greater clarity or offline viewing.

Maps and Links: Western Hills Viaduct
Coordinates (Latitude, Longitude):

Search For Additional Bridge Listings:
Bridgehunter.com: View listed bridges within 0.5 miles (0.8 kilometers) of this bridge.

Bridgehunter.com: View listed bridges within 10 miles (16 kilometers) of this bridge.
HistoricBridges.org Bridge Browser: View listed bridges within 0.5 miles (0.8 kilometers) of this bridge.
HistoricBridges.org Bridge Browser: View listed bridges within 10 miles (16 kilometers) of this bridge.
2021 National Bridge Inventory: View listed bridges within 0.5 miles (0.8 kilometers) of this bridge.

Additional Maps:
Google Streetview (If Available)
GeoHack (Additional Links and Coordinates)
Apple Maps (Via DuckDuckGo Search)
Apple Maps (Apple devices only)
Android: Open Location In Your Map or GPS App
Flickr Gallery (Find Nearby Photos)
Wikimedia Commons (Find Nearby Photos)
Directions Via Sygic For Android
Directions Via Sygic For iOS and Android Dolphin Browser
USGS National Map (United States Only)
Historical USGS Topo Maps (United States Only)
Historic Aerials (United States Only)
CalTopo Maps (United States Only)


© Copyright 2003-2023, HistoricBridges.org. All Rights Reserved. Disclaimer: HistoricBridges.org is a volunteer group of private citizens. HistoricBridges.org is NOT a government agency, does not represent or work with any governmental agencies, nor is it in any way associated with any government agency or any non-profit organization. While we strive for accuracy in our factual content, HistoricBridges.org offers no guarantee of accuracy. Information is provided "as is" without warranty of any kind, either expressed or implied. Information could include technical inaccuracies or errors of omission. Opinions and commentary are the opinions of the respective HistoricBridges.org member who made them and do not necessarily represent the views of anyone else, including any outside photographers whose images may appear on the page in which the commentary appears. HistoricBridges.org does not bear any responsibility for any consequences resulting from the use of this or any other HistoricBridges.org information. Owners and users of bridges have the responsibility of correctly following all applicable laws, rules, and regulations, regardless of any HistoricBridges.org information.